NewMarket Corporation (NYSE:NEU) engages in the development and manufacture of petroleum additives through its subsidiaries Afton Chemical and Ethyl Corp. NewMarket was founded in 1887 in Richmond, Va., where it is currently headquartered. The company is headed by Thomas Gottwald, with the Gottwald family having been involved with the company since the early 1940s. Its petroleum additives business -- which makes up 99% of its revenue -- provides lubricant, engine oil, industrial, and fuel additives for oil companies, refiners, and manufacturers. The petroleum additives business is a slow growth industry, which actually benefits NEU's competitive position. We believe that NewMarket is an excellent long-term play in the petroleum additives industry, as its niche and economic moat will continue to allow the company to appreciate high returns on invested capital and increasing margins for years to come.
Investment Opportunity and Thesis
Looking back to the 2008-09 crisis, NEU has certainly paid off as an investment as shares are up nearly sixfold. That said, it may seem as if a significant amount of appreciation potential has been lost from the firm's prospects. Nonetheless, this is where significant value opportunities emerge as the stock trades at a modest valuation to earnings capability. Since NEU's economic moat is what really will allow shareholders to generate wealth over long periods of time, let's begin by analyzing it.
We believe that NewMarket has a narrow economic moat in the petroleum additives business, which has emerged through switching costs. NewMarket is only one of four major players in the lucrative petroleum additives industry. This industry has created incredibly high barriers to entry. Matched with the slow growth of the petroleum additives business -- which only grows 1%-3% each year -- a sudden large flock of competitors entering the industry is heavily discouraged. These high barriers to entry are achieved for the industry due to the sophisticated technology needed to develop the petroleum additives, and the significant amount of capital expenditures needed to develop this technology.
Luckily for NewMarket, its development of this technology was done in the late 1990s, and the firm has been able to keep costs low now that it simply has to adjust to whatever the demands of the refiners are. Refiners have become a lot more oriented toward product differentiation, which in turn puts refiners in a situation where they have become dependent on producers. This degree of retention for NEU's clients helps the firm generate economic profits years down the road, as the retention level to NewMarket's products has become so high. NewMarket is able to supply the needed product in bulk at a moment's notice, which has historically kept its clients within its ecosystem.
Although the petroleum additives industry is not regulated via a cartel, the top four producers (which includes NEU) have a strict practice of pricing discipline, meaning that none of them undercut each other's selling prices in order to gain a temporary increase in market share. This allows for a more predictable revenue stream, and these unofficial practices provide a higher degree of certainty for NewMarket's prospects. Nonetheless, the presence of capitalism is always present in a business setting, and NEU's ability to gain or lose market share depends on its economic moat. The firm's fundamentals clearly outline this moat, as the company has been able to produce abundant levels of efficiency over the last 10 years.
We can begin by viewing what earnings have done over this time span, as they are ultimately the driving force for a company's growth persistence.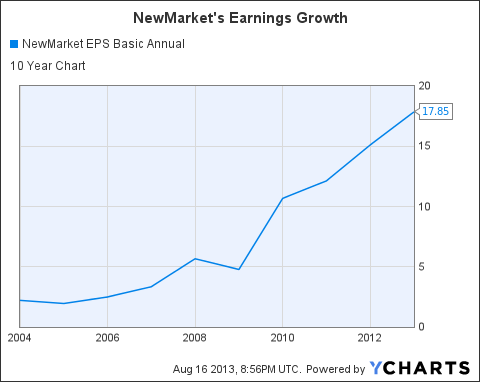 As one can easily tell, an increase in earnings of twentyfold is certainly nothing to scoff at, and this growth has certainly created a mass amount of wealth for shareholders. How is it, then, that the highest multiple the company has ever traded at was 17x? During the recession people must have thought that all refiners were going to go out of business, therefore leaving NewMarket and its peers with a huge surplus of unusable petroleum additives. In reality, however, earnings continued to increase through the recession and so did efficiency metrics.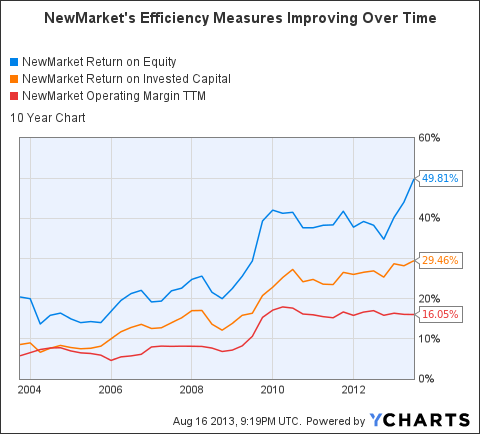 On top of this, free cash flow generation is robust, as capital expenditure requirements are minimal once manufacturing critical mass has been achieved. This has allowed NewMarket to continue growing through acquisitions, as it seeks to capture international market share, being able to serve clients more efficiently than other competitors. This approach to M&A has also led us to believe that NewMarket's moat is expanding, as efficient scale may one day evolve the company into a wide moat firm.
Meanwhile, NewMarket is continuing to buy back a large portion of its own stock and pay a salubrious dividend yield, at less than a 20% payout ratio. The company also has an impressively clean balance sheet (even after a series of acquisitions) with total assets more than quadrupling total liabilities.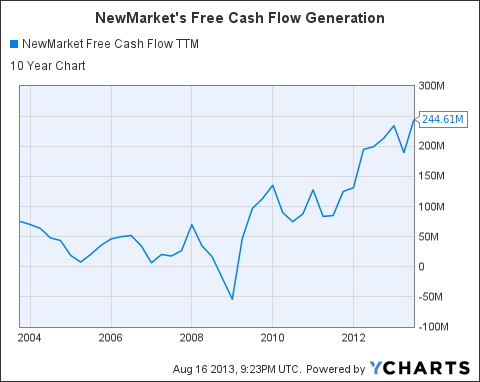 Conclusion
In conclusion, shares of NewMarket look especially compelling at current levels in establishing a long-term position. The company has consistently been able to generate high returns on invested capital and equity, along with healthy margins thanks to its narrow economic moat. We believe this will continue to be the case for years ahead as the relationship between NewMarket and its clients has shifted significantly toward NewMarket's advantage, as there is an incredibly high level of retention for NewMarket's products.
The moat erected from switching costs is especially important because refiners know that it is not worth switching to a different petroleum additives company, due to how switching would have an adverse effect on the refiner's prospects. It wouldn't be worth risking that scenario to simply cut costs by a small fraction of a percent. Global demand for NewMarket's additives will only increase as more miles will be driven by more people, especially in emerging markets such as China, India, and South America -- which all plays into NewMarket's strengths.
Disclosure: I am long NEU. I wrote this article myself, and it expresses my own opinions. I am not receiving compensation for it (other than from Seeking Alpha). I have no business relationship with any company whose stock is mentioned in this article.