BCE Inc.(NYSE:BCE) is a telecommunications company that provides residential, business, and wholesale customers with a range of solutions to their communications needs. During the Q2 ended June 30, 2013, the company operated in four segments: Bell Wireline, Bell Wireless, Bell Media, and Bell Aliant. Bell Canada (Bell), which encompasses its core operations, consists of Bell Wireline, Bell Wireless and Bell Media segments. Bell Media is multimedia company with assets in television, radio and digital media, including CTV Inc. (CTV), Canada's television network based on viewership.
Company Overview
Bell is Canada's largest communications company with approximately 21 million customers, 55,500 employees, and last-twelve-month revenues of over $20B. Its products include: Bell Fibe and Satellite TV, Bell Mobility and Virgin Mobile, Bell Internet, Bell Home Phone, Bell Business Markets, and Bell Media. In 2013, the company plans to generate over 80% of its revenues from Wireless, TV, Internet and Media. This suggests that customers are turning away from traditional voice communications: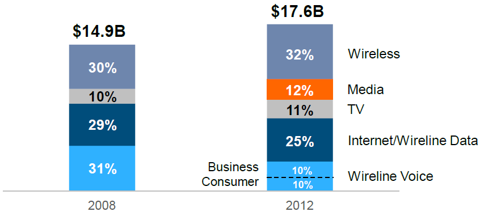 (In 2008 the company did not have Media segment, which was obtained in 2010 through the acquisition of CTV Networks.)
Recently, the Canadian Radio-television and Telecommunications Commission approved BCE's revised $3.4B bid for Astral Media, a Quebec media giant. The company will be merged into the Bell Media division.
In the annual shareholder meeting held on May 9, 2013 the company set out 6 Strategic Imperatives:
1) Invest in Broadband Networks and Services
2) Accelerate Wireless (segment)
3) Leverage Wireline Momentum
4) Expand Media Leadership
5) Improve Customer Service
6) Achieve a Competitive Cost Structure
Invest in Broadband Networks and Services
Bell operates Canada's largest 4G LTE network, covering more than 22 million Canadians. This is about 73% of Canada's population. The company continues to invest $3.5B a year on average in the expansion of Fibe TV and Fibe Internet, data hosting centers, and the Integrated Broadcast Management System. By the end of 2013 Bell plans to grow the total number of Fibe-TV ready homes to 4.3 million, which is a 30% increase from the existing levels.
Accelerate Wireless
Bell offers its customers a wide array of cell phones: approximately 68% of its postpaid customers have smartphones. In addition to that, Bell Mobile TV offers 30 live TV channels to its 800,000 subscribers, who hold tablets and cutting-edge smartphones: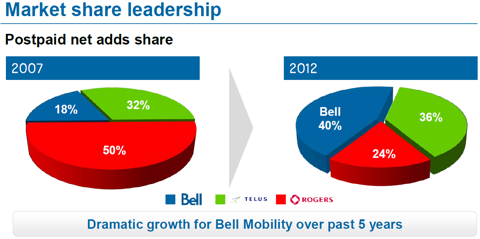 Leverage Wireline Momentum
Bell boasts an extremely high B2B penetration rate: 96 of the top 100 Canadian companies operate on Bell's networks and technology. The company has the largest data hosting footprint in Canada with twenty data centers. Fibe TV competes with Netflix on the On Demand arena with 2.3 million customers as of Q1 2013 versus Netflix's ~1M. Bell's technology allows simultaneous recording of 4 shows with one PVR. In the near future, the company plans to introduce Canadians to wireless TV. The company has been successful in conducting bundled sales, which helped increase the blended Average Revenue per User (ARPU) in 2012 by 2.7% to $56.85 and raised the total subscriber base to 7.7M.
Expand Media Leadership
Bell's Media segment is relatively new: it entered BCE's corporate umbrella with the acquisition of CTV networks in 2010. Apart from offering the company numerous growth opportunities, the CTV acquisition has been accretive to BCE's shareholders. Recently acquired French-Canadian Astral automatically makes BCE a leader in Quebec content, catching the company up with Quebecor and Videotron. Finally, Astral flows about $800M in revenues into BCE's coffers.
Improve Customer Service
From personal experience I can testify that the "Big Three" of Canadian telecommunications landscape have not been showing any sort of "service" to me, personally.
Bell is trying to break ahead of Rogers and Telus and has made notable achievements in the field of Customer Service: Same Day/Next Day repair service is at a mark of 94%, technicians show up on time in 98 cases of 100, inside support wait time (my guess is this is your call waiting time) is claimed to be around 2 minutes, and total customer satisfaction with technicians is 92% (not sure how they calculated that and what this actually means).
What has really been a great contribution of Bell's IT department to the corporate well-being is the introduction of Bell smartphone app, which has enabled self-serve features such as tracking usage, making payments, getting help, adding features to existing plans, etc. This has undoubtedly saved customers a great deal of time and nerves. There have been 6.1 million self-serve transactions since launch.
As a result of properly taken measures, Bell's Forrester's score enjoyed a 48% gain (North American Technographics® Telecom and Devices Online Survey, Q4 2010 and 2012).
Achieve a Competitive Cost Structure
BCE's aggregate savings of $1.5B, resulted from cost reductions, have been reinvested in acquisitions and strategic investments in brands such as Montreal Canadiens, Toronto Maple Leafs, The Source, Q9 Networks, Toronto Raptors, and others. In 2013, the company plans to save another $170M by minimizing warehouse costs, trimming vendor fees, saving on energy, printing and postage, and optimizing operations further.
Industry Overview
S&P Capital IQ's outlook for the global integrated telecommunication services sub-industry for the next year is neutral, the August 10, 2013 report suggests. Free cash flow growth is expected to be modest and supported by broadband expansion and cost savings that will support dividends. The sub-industry is dominated by US carriers Verizon Communications (NYSE:VZ) and AT&T (NYSE:T).
The wireless segment is expected to show good revenue growth with the introduction of new smartphones but will continue to experience pressure on margins.
In the Wireline segment, modest subscriber gains are expected. The segment will experience continued pressure from satellite and cable providers. Cost savings from recent mergers and optimization of operations will balance the scale to an extent.
Major telecoms will continue investing in fiber-based services to further support growth of broadband, while also improving coverage and data speeds.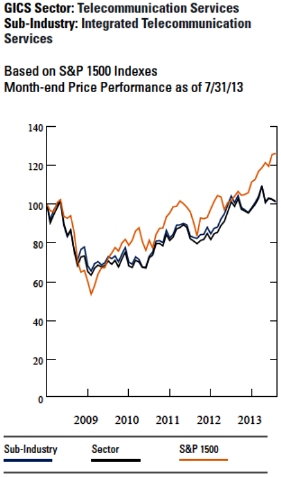 Market Activity
BCE Inc. is trading 6% above 52wk low on a P/E ratio of 13.9X (10% above 5yr low of 12.6X) its LTM earnings: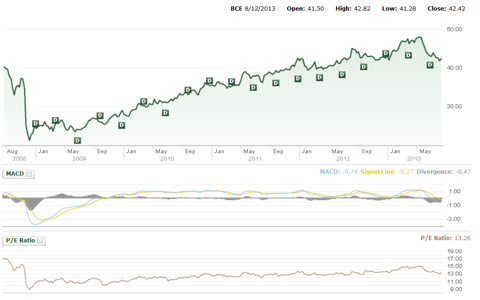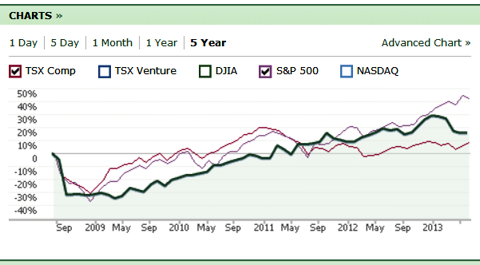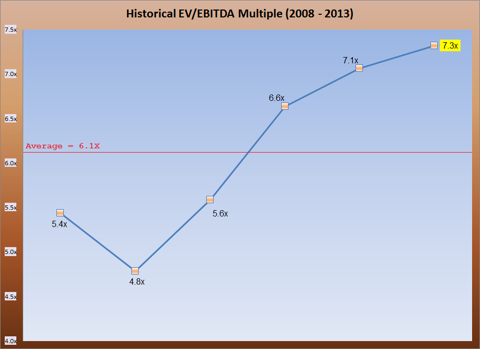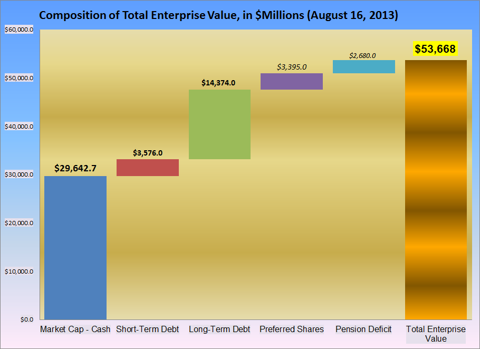 At current levels, the company's annualized dividend of $0.5825 offers a compelling yield of 5.52%, twenty-five basis points above AT&T's and 1.2% more than Verizon's. A table with relative data is given below: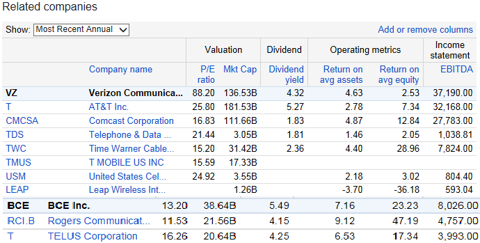 BCE Inc. has the second highest ROA and ROE on the list and the highest dividend yield among its peers. It ranks 4th by absolute EBITDA. BCE's composition of Return-on-Equity (ROE) is as follows: Net Profit margin is 14.59%, Asset Coverage of 48.99%, and Financial Leverage of 3X. ROE is calculated by multiplying all three components together to achieve an ROE of 21.4%, close to the number that Google Finance supplies.
Financial Analysis and Outlook
BCE Inc. has been in existence for 133 years, many thanks to prudent financial and capital management. We shall assess BCE's growth metrics, profitability, and liquidity.
Growth
Five-year sales growth rate has been 5.9% CAGR. Segmentally, the worst-performing division has been Bell Wireline, which has contributed -1.8% CAGR to the revenue mix. BCE Inc. has been growing EBITDA at a rate of 2.4% CAGR for the past five years. Net Income from Continuing Operations has almost tripled since 2008 (CAGR of ~24%). The company has been increasing dividends by a rate of 6% CAGR for the past 10 years: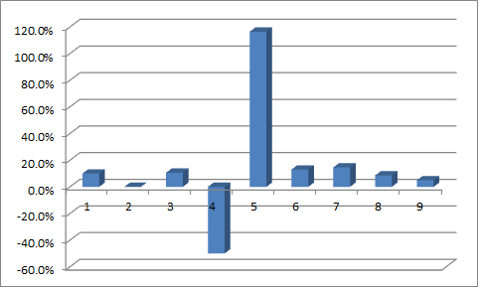 Profitability
BCE Inc. has managed to hold EBITDA margins above 39% during the last five years with Gross margins of around 70%. EBIT margin stands above 18.5%, which is ~130bp above the company's 5yr average. TTM Net Profit margin is 200+bp above its 5 year average of 12.11%. BCE has been able to utilize tax strategies to bring effective tax rate in the range of 21%-24%, which is 2-5% below Canadian corporate tax rate (~26%). Average Free Cash Flows margins totaled 11% during the past 5 years, partially due to higher capital expenditures in the last two years compared to the three preceding ones.
Financial Strength
BCE Inc. is a leveraged company which, partially explains its high ROE. As of 2013Q2 Total Debt is ~$17.8B, which is $2B more than the same quarter last year. As a result, Debt/Equity ratio is 121%, Total Liabilities-to-Assets is 66%. Quick ratio stands at 0.74, which means the company has a negative Net Working Capital. However, this should not raise concern about the company's ability to meet short-term financial commitments. TTM Interest Coverage ratio stands at 5.85X. This by a large margin surpasses the minimum theoretical coverage requirement (at least 1.5X).
Overall, BCE Inc. has been able to keep major margins intact and managed to offset negative pressures on the Wireline segment's revenues by growing newer segments (i.e., Bell Media) at faster rates. High debt levels did not affect BCE during the 2008-2009 turmoil and have been magnifying returns since then.
Valuation and Recommendation
BCE Inc.'s valuation consists of two parts: fundamental and technical. Fundamental analysis includes a P/E sensitivity analysis and a DCF+SOTP model. Technical analysis consists of Recognia Inc.'s intermediate-term trend signals.
Fundamental Analysis
P/E Sensitivity Table
The following EPS estimates were obtained from TD Waterhouse research. We will be using current P/E multiple because it not only stays within the historical range but also remains in the lowest quartile in the bandwidth, which mitigates multiples expansion/contraction bias.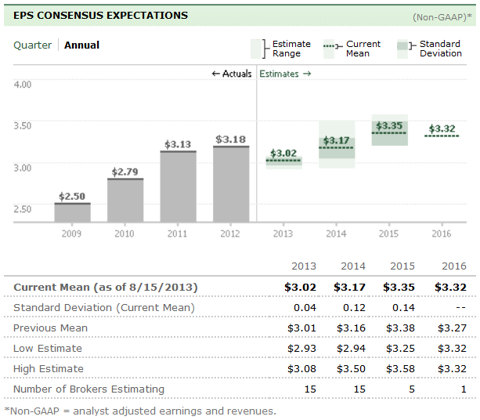 The sensitivity table is given below. Implied share prices are discounted by the Cost of Equity in 2014 and 2015:

As we can see, given medium EPS estimates the current stock price of $41.05 is at the fair value range. High EPS estimates offer little upside potential.
Discounted Cash Flow and Sum-of-the-Parts Analyses
DCF approximately has a 70% influence on the output of the model, while SOTP has the remaining 30%. I used SOTP only to project revenues by segment; DCF took care of margins, dividends, and free cash flows. The output, which is the result of calculations performed in the workbook, is given below: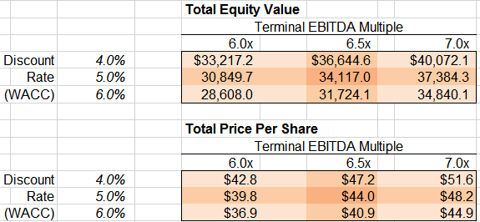 Graphical representation is as follows: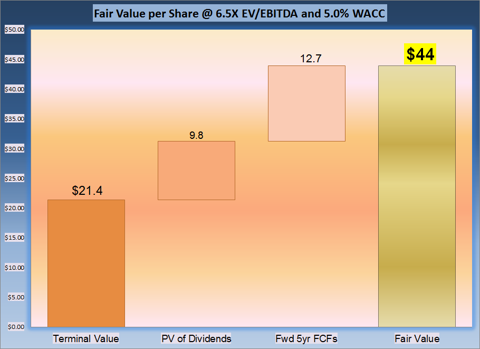 Relative values of the drivers are as follows: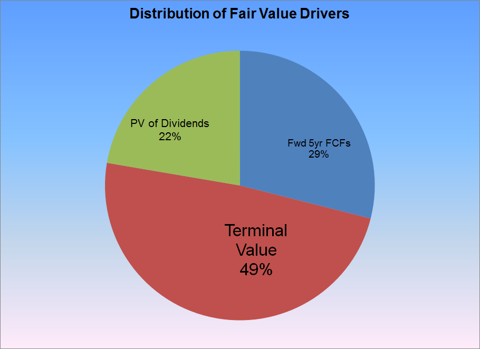 Observations
Terminal Value represents less than a half of the total fair value distribution schedule. It is quite rare that this highly-sensitive driver is modestly small in comparison with the overall picture. Free cash flow projections make up almost a third of the total value distribution schedule. This is an indicator of the company's ability to deliver strong free cash flows. Dividends are expected to represent almost a quarter of the overall fair value of the stock. They are projected to grow at 6% CAGR over the next 5 years and discounted by the company's Cost of Equity.
Technical Analysis
The analysis is courtesy of Recognia Inc. It has been accessed through the TD Waterhouse Technical Research option on the trading platform: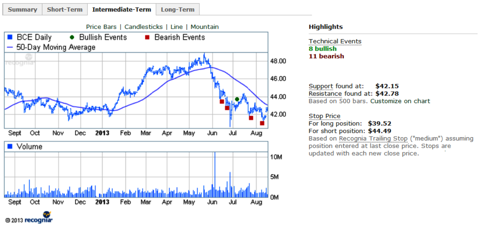 We can see that there is an increased interest in the stock at levels below $40 per share (end of June 2013) and at levels before $42. The price has been below its 50-Day moving average since the end of May 2013. During the last week there has been a surge, and the gap between the daily price and the moving average now has a propensity to close.
Summary
Shares of BCE Inc. offer little opportunity to profit from capital appreciation. This is largely because of slow revenue growth and lack of margin expansion (we have seen margins have been solidly stable). However, strong free cash flows resulting from cost savings and changes in revenue mix have enabled the company to continuously increase dividends. The management plans to distribute between 65% and 75% of earnings, keeping payout ratio high while focusing on the ever-increasing CAPEX demand.
Conclusion
I issue a "HOLD" recommendation on BCE Inc. Dividend-seeking investors may find the stock attractive at the current price level. I recommend utilizing options strategies for current shareholders in order to be compensated for the recent price volatility.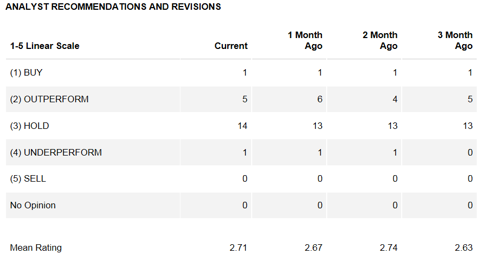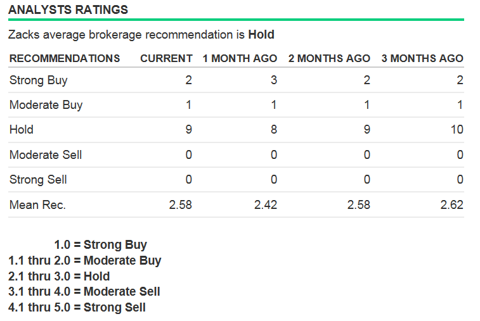 Disclosure: I have no positions in any stocks mentioned, but may initiate a long position in BCE over the next 72 hours. I wrote this article myself, and it expresses my own opinions. I am not receiving compensation for it (other than from Seeking Alpha). I have no business relationship with any company whose stock is mentioned in this article.