So far this year the housing sector has performed especially well as exuberance for the sector is once again live and well. Seemingly everything with the slightest exposure to housing has done well this year as investors reached for gains. Next week there will be a number of housing behemoths reporting their second quarter results amid mounting fears of a housing slowdown. Officially into a bear market, the Philly housing sector is down over 20% from its highs back in May. Some analysts are blaming rising interest rates, but rates do not appear to be affecting homebuilder sentiment, which was up 3 points.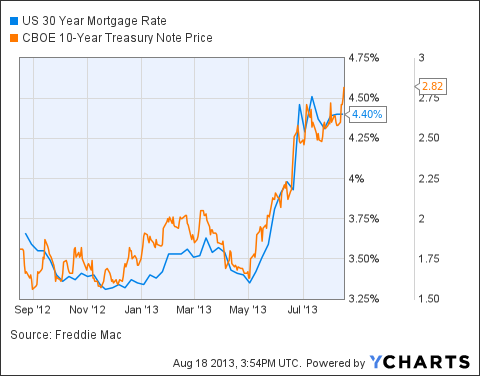 US 30 Year Mortgage Rate data by YCharts
Since bottoming earlier this year, mortgage rates have soared alongside 10 year bond prices. As the days of loose monetary policy come to an end, the Street is left wondering how high will rates end up going? I would expect as interest rates continue higher the housing sector will continue to find weakness. The higher interest rates go, the less demand we can expect to see as the costs of owning a house rise. However, even with rising rates confidence is getting a boost from the very limited supply of homes for sale. People are looking to buy but unfortunately there isn't much to look at. U.S. home prices surged 11.9% in June from a year earlier. In this brief article, I want to highlight a few names set to report this week.
Atlanta Baby
Home Depot Inc. (NYSE:HD), the nation's largest home improvement retailer, will reports its second quarter results before the market opens on Tuesday. Analysts expect the company to report earnings of $1.21 per share on revenue of $21.72 billion. Should Home Depot report in line on the topline, the company would be effectively reporting a 36% increase in revenue in comparison to the second quarter of last year. I will be looking for an update regarding the company's information technology spending. $450 million of the company's $1.5 billion capital spending this year will be spent on IT, hopefully these improvements will lead to improving efficiencies and customer service. With shares up 22% this year, a disappointment could send shares further off the 52-week highs around $81 per share.
#2
The nation's second largest home improvement retailer, Lowe's Companies, Inc. (NYSE:LOW), will report its fiscal first quarter results before the market opens on Wednesday. Analysts expect earnings of $0.79 per share on revenue of $15.04 billion, an increase in earnings per share of 16% on a year over year basis. As with Home Depot, shares have performed very well up until this point. At $44 per share, shareholders are up 24% this year alone. It will be interesting to see if the company's new pricing strategy, everyday low prices on some items, has helped to regain market share. Additionally updates regarding the Orchard Supply Hardware acquisition are expected.
Homebuilding
Shares of the homebuilders haven't done as well as some had hoped this year. Shares of Toll Brothers Inc (NYSE:TOL) in particular are down 2% amid broad market strength and positive housing data. Trading at $31.75 a share, we are well off the 52-week highs at $39.25 back in late May. It is expected the company will report earnings per share of $0.26 on revenue of $696.12 million, compared with EPS of $0.36 on revenue of $554.32 million in the third quarter of last year. Toll's report and conference call will hopefully give us more clarity on the true strength of the housing sector.
Wrap Up
I fully expect another volatile week in the market as the end of quantitative easing draws near. I will be watching these housing names next week as their earnings reports should offer us guidance and tell the true strength of the economy. These reports follow a slew of poor retail earnings last week, hopefully these home improvement names have faired better than their retail counterparts. Higher fuel prices were to blame for Walmart's (NYSE:WMT) lackluster quarter; it is possible rising fuel prices could have affected sales within the home improvement space as well.
Disclosure: I have no positions in any stocks mentioned, and no plans to initiate any positions within the next 72 hours. I wrote this article myself, and it expresses my own opinions. I am not receiving compensation for it (other than from Seeking Alpha). I have no business relationship with any company whose stock is mentioned in this article.