Jos. A. Bank (JOSB), Zacks Rank #5 (Strong Sell), is an apparel retailer specializing in menswear. Although their clothes can help make a fashion statement, the stock is not likely to look good in your portfolio.
Recent profit warning
On August 15th, the company guided its Q2 profit outlook lower. Earnings per share were seen somewhere between $0.49 and $0.53 compared to a Zacks Consensus Estimate of $0.66. In the press release, Jos. A. Bank noted that customers did not respond well to promotion and total sales declined 11% in the quarter.
The profit warning comes in the wake of a longer term downtrend in gross margin. Gross margin peaked at 62.93% in the April 2011 quarter and has since fallen to 57.78% in the April 2013 quarter. Margins have compress to levels last seen in 2004.
A struggle to post positive earnings surprises
Over the last ten quarters, the company has posted four positive earnings surprises and five negative earnings surprises, meeting estimates one time. The inconsistent track record is unappealing for investors and highlights execution risk in a competitive industry.
Earnings estimates are falling
As the price earnings estimate revision chart displays, earnings estimates have been steadily declining, and the downtrend is unlikely to stall given the company's recent announcement.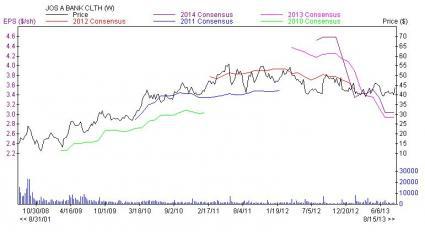 Valuation is unexciting
The stock is trading about 13.7 times expected 12 month forward earnings per share. This is about 1.0 above the ten year median. The stock is not cheap at a time when there are questions around the future earnings outlook.
An alternative
Those who want exposure to the men's apparel space may want to try on Men's Warehouse (MW). It is a Zacks Rank #2 (Buy). Earnings revisions for FY 2013 and FY 2014 have been creeping higher over the past 30 days. The stock is also trading about 13.3 times forward 12 month earnings per share which is about 1.0 under the ten year median. On a relative basis, it looks more attractive than Jos. A. Bank.
JOS A BANK CLTH (NASDAQ:JOSB): Free Stock Analysis Report (email registration required)
MENS WEARHOUSE (MW): Free Stock Analysis Report (email registration required)