If you've followed Navidea Biopharmaceuticals (NYSEMKT:NAVB) stock this year, you know that the price action has been somewhat disappointing, given that its first drug candidate, Lymphoseek, received FDA approval back in March. This was a very big deal, since it took the company from being an unprofitable, development stage company, to potentially having a decent recurring revenue stream.
Yet the share price dropped substantially on high volume in response to the news, and only slowly recovered. NAVB is still well below its 2013 high around $3.40 set back in March--just before Lymphoseek was approved--and its 52-week high of $4.10. I had been very bullish on the stock and had hoped for the elevated short float to cover en masse and drive the share price to new highs. Instead, the opposite happened, and my NAVB investment turned into dead money for a while amidst a bull market. Below is the year to date price chart of NAVB and the S&P 500 index for comparison.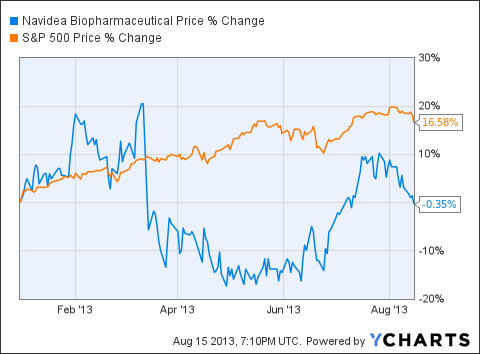 NAVB turned out to be a terrible prospect for a quick trade, however, its resistance to gaining value in light of a series of positive news flows and an emerging revenue stream make it an extremely attractive longer term investment at this time. There is no question in my mind that the share price has been depressed in no small part because of the actions of short sellers of the stock, and that given sufficient time (although "sufficient" thus far has certainly been longer than I initially thought it would be), investors will be handsomely rewarded by share price appreciation.
Lymphoseek Market Likely to Expand Quickly
Lymphoseek's approval has certainly been the big development for Navidea this year, but there are several other likely positives on the horizon. With regard to Lymphoseek, these include expanded labeling and European distribution.
Based on positive results from a head and neck study that closed early, Navidea is likely to file a Supplemental New Drug Application with the FDA in the near future. This is good news, because it will expand Lymposeek's target market and use, adding nearly 50,000 head and neck cases in the U.S. annually to the larger number of breast cancer and melanoma cases it is already approved for. Better yet, this positive study and an accepted sNDA will suggest that Lymphoseek could be used for other types of solid tumor cancers as well, further adding to Lymphoseek's market potential in the future. A colorectal cancer study is also currently underway.
The other big developments expected for Lymphoseek relate to expanding its market to Europe. The European Medicines Agency is expected to approve Lymphoseek for use in the EU and Navidea Biopharmaceuticals to announce a distribution partner by the end of the year. Obviously these developments would greatly expand Lymphoseek's market.
Positive News for NAV4694
NAV4694 is a pipeline imaging agent for the detection of Alzheimer's and other cognitive impairment diseases. The potential market for NAV4694, or any drug that is linked to Alzheimer's for that matter, is large and growing.
Recently, evidence that NAV4694 is a superior imaging agent to Pittsburgh Compound B (PiB) has been mounting. On July 16, Navidea announced that a large Australian study would be switching its imaging agent from PiB to NAV 4694 for the research of Alzheimer's disease and Mild Cognitive Impairment (press release). This amounts to a vote of confidence from a very well regarded study that NAV 4694 is safe and more effective than the current standard.
Then, just a few days later on July 22, the results from a study at McGill University were released indicating that NAV 4694 compared very favorably against PiB. Its benefits are highlighted in the excerpt below.
"Our research indicates that NAV4694 shows strong performance characteristics as an amyloid imaging agent for AD research and clinical use," said Pedro Rosa-Neto MD, PhD, Assistant Professor of Neurology, Neurosurgery and Psychiatry at McGill University, Quebec, Canada. "This study indicated that unlike PiB, the benchmark PET amyloid agent, NAV4694 was capable of differentiating controls from AD in all brain regions and also exhibited a wider dynamic range and fewer false negatives as compared to gold-standard pathology."
Short Interest Action
Now here is a graph that should be of keen interest to current shareholders.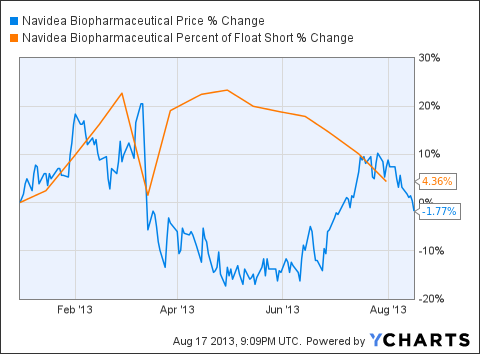 After Lymphoseek's approval in March, short interest in the stock rose dramatically while the share price plummeted. Since June, however, those trends reversed: the stock price began to run up while short interest steadily declined from a high of over 20% of the float. The latest short interest numbers were reported at the end of July, right before a pullback in NAVB's share price. It will be very interesting to see with the next set of numbers if this strong correlation continues (ie. short interest rose along with the price dip) or if shorts have continued to cover their positions. The way I see it, if the price dip is mirrored by a rise in short interest, the stock is still being held captive and near term upside will be hard to come by despite any good news. If, however, the stock pulled back in part because of the broader market pullback or even profit taking on that minor run in June and July, and short interest continues to decline, I would take that as an extremely bullish signal.
I have my doubts that NAVB's short seller's are going to stampede for the exits and cause a sudden run up. Frankly, they've done a great job of managing the share price to this point. At the end of the day, I just have to remind myself that as a shareholder, it's far better for NAVB to be trading as low as it is with a large short interest than without one--short shares have to be covered some time. More historical information for NAVB's short interest can be found here.
Conclusion
Navidea Biopharmaceuticals is in the strongest position it has ever been in, and its share price simply does not reflect that. The stock has struggled to reach its pre-Lymphoseek approval price and since then numerous other positives have emerged:
Recurring revenue stream from Lymphoseek sales
Lymphoseek label expansion
Expected European approval for Lymphoseek
Growing evidence for NAV 4694 superiority over current standard
Navidea recorded net sales for Lymphoseek of $128,000 in its latest quarterly filing. Do not take that as a sign of things to come, however, as Lymphoseek was only on the market for a short time before the filing and management has stated that margins are expected to improve and results were impacted by one-time fees.
Presently, I believe that NAVB represents a tremendous risk/reward profile given the strides the company has made this past year that is nowhere reflected in the stock price.
As ever, perform your own due diligence and consider the risks of investing in a small cap biopharmaceutical company before initiating any position.
Disclosure: I am long NAVB. I wrote this article myself, and it expresses my own opinions. I am not receiving compensation for it (other than from Seeking Alpha). I have no business relationship with any company whose stock is mentioned in this article.