With an equity value of $155 billion, Bank of America (NYSE:BAC) ranks third in terms of market capitalization for large-cap financial stocks only behind JP Morgan (NYSE:JPM) with $202 billion and Wells Fargo (NYSE:WFC) with $227 billion. It is ahead of Citigroup (NYSE:C) with $153 billion, Goldman Sachs (NYSE:GS) with $76 billion and Morgan Stanley (NYSE:MS) with $51 billion. I believe that despite fetching a big market cap BofA can meaningfully grow its valuation. I admit that I have been early in purchasing my BofA shares but I added to my lot when the stock was demolished 2011. The question investors are asking is whether the reward of owning BofA is larger than the risk associated with it. Said otherwise: Are the cold and naked fundamentals supporting the long or the short?
I favor a sober look at fundamentals rather than giving in to fear or listening to rumors. As fellow SA contributor Quoth the Raven summarized in his article, "Why you should ignore Bank of America's legal woes":
In all seriousness, this legal onslaught is a battle that the company has been at since earlier this year, as CEO Brian Moynihan has been systematically knocking lawsuits out of the way slowly, steadily, and one at a time.
I think this is an important point that deserves acknowledgement. The most productive and efficient approach in dealing with legal risks is to sequentially work through them and tackle them one at a time. BofA, and the other banking franchises, face a continuous stream of suits from regulators, competitors and customers. This should not be perplexing. It also should not cloud people's views about the true intrinsic value of a firm. As entertaining as it might be, it does get the investor nowhere in terms of valuing a firm.
The short side of the trade played the legal card very well. BofA was (and still is) exposed to an unusual degree of headline risk. In 2012 49 state attorneys general and the federal government announced a joint settlement with America's largest banks amounting to $25 billion.
Shortly thereafter, BofA's settlement with MBIA (NYSE:MBI) dominated the headlines. As The Street acknowledged:
Bank of America has notched some big wins on the legal front over the past week, with several objectors to a key $8.5 billion mortgage settlement dropping out. As with the $8.5 billion settlement, the legal battle with MBIA involves disputed mortgage BofAked securities (MBS) that bundled home loans extended by Countrywide Financial.
I think that the progress on the legal front is really underreported as the negative news machine keeps on attacking BofA. In May, Forbes reported that further legal woes related to the robo-signing settlement may be ahead:
New York Attorney General Eric Schneiderman is going after the two big mortgage providers for allegedly violating the terms of last year's $25 billion national mortgage settlement.
Forbes also put a price on the legal battles, singling BofA out as the firm most hit:
BofA has bore the brunt of the troubles. It's $42 billion legal tab makes up 66% of the total amount the top six biggest banks have agreed to pay in 2010, 2011 and 2012. Of the $25 billion from the national mortgage settlement BofA was subject to pay roughly $11 billion of it.
To make things worse, American International Group (NYSE:AIG) entered the legal arena again, throwing another big-attention case into BofA's legal department: It is suing for $7 billion over losses suffered from mortgage securities.
With such negative attention it is difficult to keep the eyes on the ball and not be distracted. If investors put attention-grabbing headlines to the side and look at the fundamentals instead, I believe BofA offers an interesting value proposition based on the following three developments.
Sales growth in all segments
BofA's five main operating segments posted impressive growth rates and earnings y-o-y:
Compared to the second quarter 2012 CBB net income ballooned to $1.4 billion (vs. $184 million prior year) in the second quarter driven by higher net interest- and noninterest income. Despite banking center consolidation, average deposits are up 10% y-o-y and both credit- and debit card purchases increased (the number of mobile banking customers increased almost 30%). Real estate services managed to come in with $1 billion in revenue and marks a great improvement over last year's -$186 million. Revenues in investment management literally skyrocketed 10-fold to $4.5 billion with net income increasing 261% to $758 million. The segment now has a 17% net income-margin. Global banking revenues increased to $4.1 billion up from $231 million in the same period last year driven by investment banking activity and loan origination. Global banking now has a 31% net income-margin and is highly profitable. Global markets revenue, driven by equity revenue came in at $4.2 billion and profits at $959 million.
Lower net charge-offs and allowances for loans
BofA's consumer real estate portfolio has been a burden on the stock for a long time and the market should focus more on facts than past history. Net-charge-offs are down 42% compared to the same quarter last year and provisions for credit losses have declined 33%. I think this trend will continue and I estimate that net-charge offs will fall below $1.9 billion and credit provisions below $1 billion in Q3 2012. Allowances for loans are down 30% y-o-y which is also encouraging and reflect a better financial condition of BofA than a year ago. Overall, the downward trend reflects a disciplined attempt in working through its legacy portfolio and higher asset quality (on average).
A lot has been said about BofA's capital position and whether the bank can afford to pay a dividend (I believe it can and it will). Better financial results as presented in Q2 2013 should further strengthen BofA's balance sheet making it more likely that it can sustain a higher dividend and additional complementary share buybacks. The Basel 3 Tier 1 common ratio has increased 0.35 percentage-points in the last two quarters.
Valuation
BofA is undervalued because it is the financial franchise with the lowest valuation of its peer group with a book value discount of 28% and a forward P/E of 10.5. Based on my estimates (see below) with regard to BofA's 2014 revenues and earnings, BofA stock has upside of up to 60%. Even then the stock would only trade at a 15% premium to today's book value.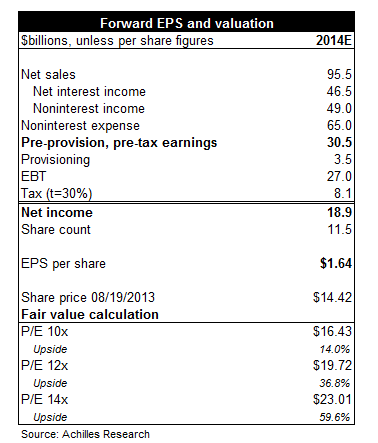 Bottom line
Investors who want to look past newspaper headlines and short-term outrage should consider an investment in BofA shares. Bank of America combines a market-leading, deposit-strong banking franchise with impressive sales and earnings growth, declining/encouraging delinquency and loss trends, and a low valuation. Dividends and share buybacks can further add fantasy to the stock.
Disclosure: I am long BAC, C, GS, AIG. I wrote this article myself, and it expresses my own opinions. I am not receiving compensation for it (other than from Seeking Alpha). I have no business relationship with any company whose stock is mentioned in this article.