There are a number of companies in the oil sector that not only appear undervalued, but could also be potential takeover targets. With signs of strength in the global economy, things could heat up in the oil sector. For example, GDP data in key European countries like France and Germany recently came in stronger than expected, China is still growing, and the U.S. has seen strong demand for autos and housing this year. Unless there is another unforeseen and highly negative event that hits the global economy, oil consumption and prices are likely to rise and take the sector higher in the coming years.
The worst of the 2008 financial and European crisis seems to be past us now, and with years of potential growth ahead for this industry due to a rebounding economy and increased energy demand from emerging market consumers, stocks in this sector are likely to rise. There are also likely to be more merger and acquisitions in the oil industry.
This sector has already seen a number of takeovers in the past several months, and more deals are likely. For example, General Electric (NYSE:GE) agreed to buy Lufkin Industries (NASDAQ:LUFK) for about $3 billion. This deal caused a 40% gain in Lufkin which is a oilfield equipment maker. General Electric and other companies could be poised to make additional acquisitions in the energy sector. A USA Today article states:
GE is putting particular focus on oil and gas, hoping to capitalize on the boom in extracting oil from difficult places, such as deep offshore, shale formations under several U.S. states, or older depleting oil fields. GE bought Wellstream, a maker of flexible pipes for gathering oil undersea, in 2010, and a division of the John Wood Group, a maker of pumps and control systems, in 2011.
In spite of a significant stock market rally in 2013, many oil stocks either remain undervalued when considering the longer-term potential, or have even declined sharply due to a recent earnings miss. A big recent pullback could make some of these stocks even more attractive as takeover targets. However, it does not make sense to buy a stock for the hope of a takeover alone, and that is why I am focusing on stocks that appear undervalued and have upside potential even without a takeover bid. Here are some stocks to consider now:
I recently wrote about TravelCenters of America (NYSEMKT:TA) since it declined sharply over an earnings miss. It now appears to be a bargain and it could have takeover potential. With nearly 250 fueling stations which also offer convenience stores and even restaurants, this company is poised to benefit from an economic rebound. This stock is trading down from about $11.50 before earnings, to just below $8 now. That is cheap based on earnings estimates of over $1 per share, and also because book value is $12.12 per share. It also seems that the market has not appreciated the takeover potential for this stock. Here is why a deal for this company could make a lot of sense for a private equity firm or a major oil company:
TravelCenters has annual revenues of roughly $8 billion and yet the market capitalization is just around $230 million. While selling fuel is generally a high volume and low profit margin business, it still generates major profits and a huge amount of revenues. The annual revenues generated by this company is equivalent to $288, on a per share basis which gives it one of the cheapest valuations in terms of price to sales ratios.
A private equity company might find the billions of dollars in revenue that TravelCenters generates very interesting, since this company could possibly be acquired for a reasonable premium to the current market capitalization of only about $230 million. Capturing a revenue stream of about $8 billion seems very attractive, with the market capitalization at just around $230 million. It also appears that the company could "leverage up" and go private in a management led buyout. This company could also make sense for a major oil company to consider acquiring for two reasons: one reason would be for branding as the nearly 250 locations would increase national exposure, and the other reason would be to buy this company in order to supply it with the fuel it sells at nearly 250 stations.
This stock has been in an uptrend and squeezing shorts for most of this year. This recent drop in the stock is the best opportunity that has come along for shorts to cover in the past several months. The shorts have been wrong all year about shorting this stock, but now finally have a chance to cover well below the highs for 2013. According to Shortsqueeze.com, there are about 1.24 million shares short. This is equivalent to nearly 5 days worth of average trading volume. Because of this, shorts could help fuel a rally from oversold levels as soon as they see it starting to move up again.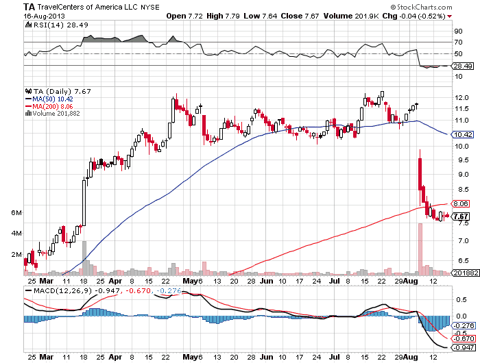 As the chart above shows, this stock is very oversold now after the big drop and it has a relative strength index of about 28. Stocks that reach these oversold levels are often poised to rebound sharply. These shares have now stabilized in the $7.60 to $7.85 range, and it has been building a base at these levels from which it could soon rebound. With the 200-day moving average at $8.06 and the 50-day moving average at $10.42, the stock could be poised to rally back over $8 in the coming days. Analysts see substantial upside potential with the average opinion coming in with an outperform rating and an average price target of nearly $12 per share. For more details on the risks and reward potential of this stock, read my last article on it here.
Here are some key points for TA:
Current share price: $7.72
The 52 week range is $4.18 to $12.50
Earnings estimates for 2014: $1.06 per share
Earnings estimates for 2015: $1.30 per share
Annual dividend: none
Weatherford International Ltd. (NYSE:WFT) shares have been trending higher through most of this year. However, from a longer-term perspective, this stock still appears undervalued, and it has takeover potential according to some analysts. Weatherford is based in Switzerland, and it provides offshore drilling and other services to many of the world's largest oil and gas companies.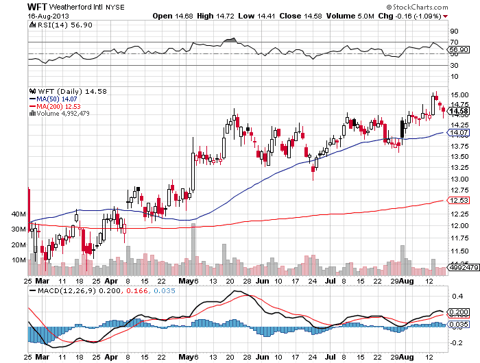 The chart above shows a solid uptrend for this stock. It is now trading above the 200-day moving average of $12.53 and above the 50-day moving average of $14.58. Because of this, patient investors should consider waiting for pullbacks before establishing a full position in this stock. While these shares could see a short-term pullback, that should be used as a buying opportunity, since this company appears poised to grow profits, and also because it could be a potential takeover target.
There are a number of risk factors to consider. First of all, this company has had a number of issues in recent years which include accounting restatements and potential liabilities with investigations for possibly violating the Foreign Corrupt Practices Act. It also has a heavy debt load, which could increase risks for investors. It has about $295 million in cash on the balance sheet and around $9.24 billion in debt. This is a very significant debt load that could be difficult to manage in the event of an industry downturn or in a global recession. It also might make the company less attractive as a takeover target. However, some analysts still find upside and takeover potential for Weatherford, particularly after seeing the valuation set by the General Electric deal for Lufkin. As a recent article points out, the price paid by GE valued Lufkin at about 17 times Ebitda, while Weatherford trades at just over 7 times Ebitda. The article goes on to say:
The transaction implies that Weatherford, Lufkin's closest
competitor, is undervalued and also may be an appealing takeover
candidate, said Laurence Balter, chief investment strategist at Oracle Investment Research, which owns Weatherford stock.
Aside from any takeover potential that it may or may not have, Weatherford appears to have upside in the long run. It trades for just a small premium to book value which is around $11 per share. Analysts expect the company to earn about $1.29 per share next year and that implies a price to earnings ratio of just around 11 times earnings, while the average stock in the S&P 500 Index (NYSEARCA:SPY) trades for about 16 times earnings. Furthermore, a couple of analysts recently reiterated bullish views on this stock. On July 31, Cowen reiterated an outperform rating and raised the price target from $19 to $20. On August 12, analysts at Barclays reiterated an overweight rating and raised the price target from $18 to $24. This price target implies upside of roughly 80%, and that could make the stock worth owning whether or not a buyout deal is ever made.
Here are some key points for WFT:
Current share price: $14.58
The 52 week range is $8.84 to $15.08
Earnings estimates for 2013: 83 cents per share
Earnings estimates for 2014: $1.29 per share
Annual dividend: none
Nabors Industries, Ltd. (NYSE:NBR) share have been in the doldrums for a while. However, the long-term outlook appears positive since this company is a leading provider of drilling, fracking, engineering, transportation and other services to the oil and gas industry. With around 500 drilling rigs, it has one of the world's largest fleets in the industry and that, along with future growth prospects, could make it an attractive takeover target. Furthermore, the stock appears undervalued when considering some key valuation metrics as well as analyst opinions.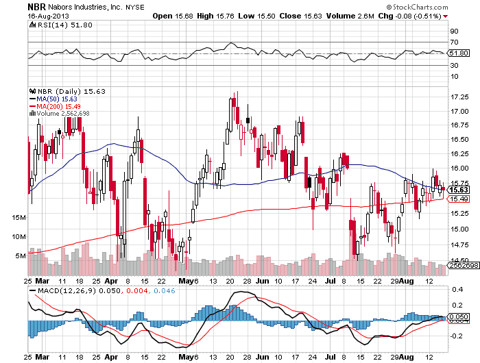 As the chart above shows, this stock has been trading around the $15 range with a few spikes above and below that level. The 50-day moving average is $15.63 which is right where the stock is trading now, and the 200-day moving average is $15.49. With the stock right around these levels now, it appears to be in an area of strong support and this could mean the downside is limited. However, it could also mean this stock is stuck at these levels until some additional catalysts come into play. Downside risks could include management execution issues, persistently weak conditions in the natural gas industry, or even another economic recession. Upside potential could include the fact that this stock looks cheap with a book value of about $20 per share. Furthermore, some top analyst firms and investors appear to be taking notice and that could create more interest and awareness from other investors in general:
1) A Goldman Sachs analyst recently developed a list of the top 40 most undervalued stocks in the market, with each stock expected to have at least 20% upside. Nabors made the list and was ranked #21.
2) Nabors is also considered to be a potential takeover target. Earlier this year, Nabors was listed as a top takeover target in a report by Morgan Stanley. According to the report, Nabors could be an attractive takeover target because of the strong potential for a long-term trend of higher energy prices and a economic rebound. Nabors seems to be aware of the takeover potential and it has taken steps to protect shareholders under a rights plan, in the event of a hostile bid.
3) The company has also been in discussions with "Pamplona Capital" which disclosed an 8.8% stake in Nabors, earlier this year. Pamplona Capital apparently finds this stock undervalued and it is pushing for management to find ways to unlock and create shareholder value.
Nabors has a solid balance sheet, which reduces risks for investors. It has about $608 million in cash and around $4.08 billion in debt. Analysts expect the company to earn 83 cents per share in 2013 and $1.21 for 2014. That puts the price to earnings ratio at just about 12 times estimates for 2014. One word of caution is that this stock could be or become a "value trap" if management fails to deliver on a big jump in earnings for next year. While the stock looks cheap based on estimates for 2014, it does not look so good based on estimates of just 83 cents for this year (which implies a PE ratio of nearly 20 times earnings). When there are stocks in the market like TravelCenters trading for just around $8 and delivering about $1 per share in profits, a stock like Nabors is not going to look cheap unless management is able to deliver significant earnings growth, or to sell the company.
Here are some key points for NBR:
Current share price: $15.63
The 52 week range is $12.75 to $18.24
Earnings estimates for 2013: 83 cents per share
Earnings estimates for 2014: $1.21 per share
Annual dividend: none
While all three of these companies look cheap for investors with a longer-term view, I believe TravelCenters is currently the biggest bargain, as it has short-term rebound potential, plus, it has earnings estimates that are just over $1 per share for 2014, which are similar to the estimates for Nabors and Weatherford as well. This big difference is that Nabors and Weatherford trade for nearly double the price of TravelCenters' share. This makes TravelCenters one of the biggest bargains, and a lot of that could be because Weatherford and Nabors receive more coverage from analysts. Nonetheless, all three look undervalued if these companies deliver on the earnings estimates in the coming years, and all three trade at a discount to the market average in terms of the price to earnings ratio and also appear to have takeover potential.
Disclaimer: Data is sourced from Yahoo Finance. No guarantees or representations are made. Hawkinvest is not a registered investment advisor and does not provide specific investment advice. The information is for informational purposes only. You should always consult a financial advisor.
Disclosure: I am long TA, NBR, WFT. I wrote this article myself, and it expresses my own opinions. I am not receiving compensation for it (other than from Seeking Alpha). I have no business relationship with any company whose stock is mentioned in this article.