For investors, news of Solazyme's (SZYM) latest protein product launch appeared to have been met with limited enthusiasm. The renewable oils and bioproducts company jointly announced with Twinlab Corporation on August 6 the launch of Twinlab's CleanSeries Veggie Protein Powder featuring Solazyme's algal protein ingredient. The press release was quickly overshadowed the next day by Solazyme's announcement of a new relationship with Sasol (SSL), a large $30 billion petrochemicals company. Yet for investors who have followed the development of Solazyme's technology for some time, the protein product announcement brings into focus a key area of growth for the company that should not be taken lightly.

Demand for protein is on the rise with multiple factors contributing to this trend. On the one hand, protein's appeal is beginning to grow among everyday people who are becoming more aware of their health and find themselves moving into a higher welfare class. Reports indicate that China, India and other developing countries are registering strong growth when it comes to animal protein. In turn, this is expected to increase consumer demand for alternative sources of protein that are more affordable than animal sources.
On the other side of the equation, there is a rising demand for protein associated with the growing class of health-conscious consumers. The image of protein as a body-builder's food is changing as products now begin to target a wider consumer audience. Protein powders and everyday foods fortified with protein have become more mainstream.
The Search For Additional Protein Sources
When it comes to specialty protein today, there is no denying that whey protein is king due to its price and protein quality. Whey is the liquid remaining after milk has been curdled and strained. Whey protein is derived from whey and is a key ingredient in everything from nutritional supplements, to weight management applications, and even to infant formulas. However, the explosion of the protein market has sent the price of whey significantly higher. It has gotten to the point that some supplement companies are now taking the time to explain the increase of whey prices. The following charts were used by this company here to illustrate the increase in input costs.

There remains few viable alternatives to whey, with the next largest market resting in soy protein. The problem with soy protein has been the biological value of the protein. According to the article found here, researchers have suggested that soy protein remains inferior as it contributes to less protein synthesis in the body. Likewise, there are also concerns that soy might decrease a man's testosterone production and increase his estradiol production, which is often associated with female hormone production. At least for men, this is hardly a convincing selling point when considering a product to choose.
According to Thane Slagowski, vice president of product development at Twinlab, the decision to utilize Solazyme's algal protein made sense on multiple levels. In the article found here, he noted that the product was a complete protein, naturally free of contaminants, had a good taste profile, and surpassed the alternatives when it came to texture and formulation. Slagowski also had the following to say when it came to the cost profile:
"The other parameter that was kind of important to us was the cost of the protein; it couldn't be too crazy. (Solazyme's ingredient) was reasonable in cost when compared to other kinds of vegetable proteins."
Slagowski noted that whey protein dominates the market because of price and protein quality. Yet concerning the new veggie protein powder in the CleanSeries line, Slagowski noted that there will always be a portion of the population in need for an alternative to whey and soy. This could be due to consumers with allergies, or for vegan consumers, or for those with lactose intolerance. Summarizing his thoughts on the newly developed product, Slagowski states the following:
"It's the flagship of our CleanSeries line. It's the product we are forecasting to sell the most of."
Addressing The Broader Need For Protein
To constrain Solazyme's new algal protein to just the nutritional supplement market would neglect the true intention behind the company's thrust into food and nutritionals. Solazyme's ambition to ultimately provide a lasting social good strikes head on when it comes to the existing food markets. This is why Solazyme's Ken Plasse, vice president of business development, openly acknowledges a company dream in the article found here. He states that one of Solazyme's dreams is to improve the school lunch program. Pertaining to the attractiveness of the new technology to industry, Plasse was also quoted as saying the following:
"You don't appreciate the public health implications of this technology. There are no GMOs. It's non-allergenic, vegan, natural. It hits the sweet spots of a lot of developers."
Armed with the ability to create crackers rich in protein and chocolate milk that tastes good while still being low in fat, it appears that Solazyme may indeed have a realistic goal in mind when it comes to targeting child nutrition. With child obesity on the rise, every improvement made to food profiles without compromising taste or texture reigns in the ongoing fight for health. Seen in the graphic below, this was a profile comparison of two crackers made prior to the dissolution of Solazyme's joint venture with Roquette. Today, Solazyme is now in control of this technology. Demonstrated below, we see that with a meager 5.5% introduction of algal "flour", the improved outcome of the product is clearly noteworthy.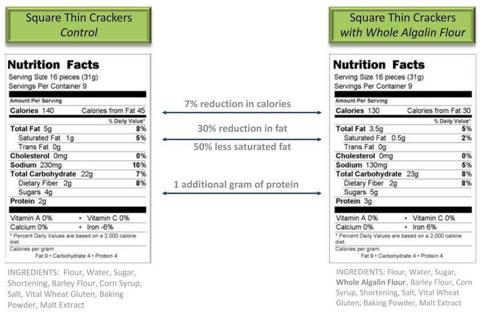 Introducing A Sustainable Solution
By introducing a new source of protein altogether, the applications appear almost limitless. Moving beyond school lunches, Solazyme has already filed patent applications to create new food compositions high in protein and fiber. One such U.S. patent application (US20100303990 A1) is named "High Protein and High Fiber Algal Food Materials." Among other things, the patent application describes making meat substitutes and meat enhancers. The claims within it imagine utilizing algal biomass comprising of at least 40% protein by dry weight.
Such technological achievements address an even greater need now developing around the world. As rising incomes in developing nations give way to greater animal consumption, the need to realistically supplement these markets also continues to also grow. This is especially the case as a reliance on meat as a staple exhausts key resources such as water and land and significantly contributes to the release of greenhouse gases.
To some extent, the transition to cheaper (but just as effective) replacement products already marks a turning point in that regard. Taco Bell's "beef" might have sparked a controversy not long ago when it was made public that the meat filling wasn't entirely made out of beef. Yet there is also a rational argument to be made that our way of eating food now will ultimately need to change. As is, current animal production is already reaching an inhumane level of sustainability in light of overconsumption. A reminder of this is visually captured in the video found here. Ultimately, providing alternative solutions to inefficient meat production while still providing adequate protein intake remains a unique long-term aspect of Solazyme's algae technology.
A Look At The Numbers
By no means will Solazyme's algal protein be the primary product marketed by the company. After all, the company's product range extends across personal care, chemicals, nutrition and fuels. Yet a look at the growing market size gives a glance of the potential now brewing at this developing company. According to the article found here, global soy and milk protein ingredients were estimated to have a market worth $8.5 billion in 2010. Over the next 5 years, this market is expected to grow at a CAGR of 6%. In 2018, this market has been estimated to be worth $13 billion, or 53% greater than it was in 2010.
The limited amount of practical alternatives that can directly compete against milk and soy proteins gives an edge for an algal protein producer like Solazyme. The opportunity only increases as long as pricing pressure continues to hinder the dry whey market. At the time Twinlab was developing the CleanSeries Veggie Protein Powder product, Solazyme's protein was the only algal-based protein available. The almost vacant market for a protein able to address those with allergies or other restrictions also helps to practically secure a portion of those growing sales.

Solazyme has continually backed its estimated margins for its product divisions. These can be seen in the graphic above. With the CleanSeries Veggie Protein Powder qualifying as a specialty nutrition supplement, it remains reasonable to expect that gross margins for this product will be much higher than the 40% projected for nutrition as a whole. That category is largely comprised of both bulk food and specialty products.
Solazyme now trades with a market capitalization of $744 million at its current price of $11.94 as of August 18. The company trades with a rather high price-to-sales ratio of 21.39 and price-to-book ratio of 5.15. However, neither of these ratios adequately reflect the position the company has now placed itself in. For instance, much of the value in the joint venture facility with Bunge (BG) and the collaboration capability with Archer-Daniels-Midland (ADM) haven't been taken into account on the balance sheet. The Moema facility with Bunge is alone estimated to be worth over $120 million.
Estimates of fair valuation continue to resort to the potential in revenue growth. This too appears misleading if one were to strictly consider Solazyme's prior performance. With its primary facilities now under construction, Solazyme's past growth has largely been restricted to its shifting research revenues and limited product sales. Nevertheless, investors are sure to soon see the growth potential of the company. With analysts estimating $53 million in revenues for 2013, this number sharply increases to $232 million in 2014 as the company's new facilities come online.
Conclusion:
Solazyme remains one of the few companies where it remains ideal to put the bigger picture into perspective. The developing company has spent the last 10 years carving out a proven conversion platform that takes a variety of sugars and utilizes heterotrophic algae to create more valuable products. Solazyme has now come to the point where it is ready to commercialize its products and simultaneously enter into multiple market spaces on the backs of its partners' capital and expertise.
At the same time, Solazyme has prioritized its market entry with a heavy focus on its most valuable product lines first. Even before owning a commercial facility, the company had moved into selling high-end cosmetics. Now, before opening its first large-scale commercial plant in Brazil, Solazyme has also entered into high-end nutritional supplements.
High expectations now ride on the success of algal protein which competes in a rapidly growing market with few practical alternative sources available. Solazyme has teamed up with Twinlab Corporation, a company who's history dates back to 1968 and extends well beyond that of its new arrivals/competitors in the growing market. Yet despite its first market launch of a specialty brand with a proven market leader, Solazyme's algal protein will eventually have the most meaningful impact when it comes to bulk foods.
Investors watching Solazyme should continue to monitor the company's entry into its distinct markets. It remains an impressive accomplishment that the company's business model allows for such diversification prior to ramping up production. This reach into multiple markets is made possible by the use of the same infrastructure and by the leading position of its partner companies.
But overall, Solazyme's potential has yet to be touched upon. In the protein market alone, Solazyme now provides direct competition for a market expected to be worth $13 billion in less than 5 years. This figure is before considering the additional value-added impact Solazyme can have in creating novel food compositions enhanced with favorable protein attributes. Ultimately, that is not too bad for a side market when you consider the original intention of the company was to just make fuels. But for now, it just leaves one wondering what is the next opportunity on the company's agenda.
Disclosure: I am long BG, SZYM. I wrote this article myself, and it expresses my own opinions. I am not receiving compensation for it (other than from Seeking Alpha). I have no business relationship with any company whose stock is mentioned in this article.