On Friday August 18th it was announced that ConocoPhillips (NYSE:COP) had closed the sale of Trinidad and Tobago Holdings LLC to the National Gas Company of Trinidad and Tobago Limited. The deal is worth an estimated $600 million, and COP expects to realize a gain of $290 million after taxes. Investors should note that along this deal, ConocoPhillips says it has sold $14.1B in non-strategic assets as part of its 2012-13 asset disposition program.
In the wake of the company's recent asset sale, I not only wanted to take a closer look at some of the fundamental catalysts driving shares higher, but a number of reasons why I continue to remain long on the company's stock.
Performance And Trend Status
On Friday shares of COP, which currently possess a market cap of $82.86 billion, a P/E ratio of 10.92, a forward P/E ratio of 11.02, and a forward yield of 4.10% ($2.76), settled at $67.38. Based on Friday's closing price, shares of COP are trading 1.66% above their 20-day simple moving average, 6.18% above their 50-day simple moving average, and 14.26% above their 200-day simple moving average. These numbers indicate a short-term, mid-term and long-term uptrend for the stock, which generally translates into a buying mode for traders. From a cash and debt perspective, it should be noted that ConocoPhillips has roughly $3.98 billion in cash and an estimated $24.92 billion of debt on its books.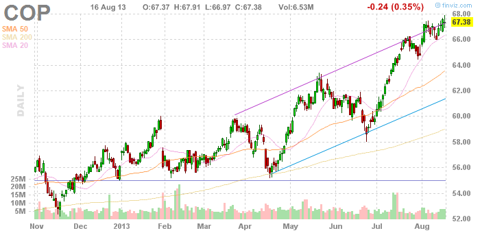 Recent Dividend Behavior
On Thursday, July 11, and for the first time since February 17, 2011, COP had declared an increase of its regular quarterly dividend distribution. The increase of $0.03/share or 4.5% was the first time in just over two years ConocoPhillips had adjusted its payout. From an income perspective, the company's forward yield of 4.10% ($2.76), coupled with a payout ratio of 44.00%, could make this particular stock a very viable income option for long-term investors in search of a higher-yielding play in the oil and gas sector.
Prospecting Alaska
When it comes to discussing ConocoPhillips, it's not often that investors associate this particular oil and gas behemoth with an enhanced appetite for risk. In my opinion that association has become a bit more common, especially since the company made what could be one of its more interesting announcements on August 10th. It was on that day the company announced that in conjunction with Anadarko Petroleum (NYSE:APC), it would be applying for permits to develop a new field in the National Petroleum Reserve in Alaska.
Why am I considering the company's permit application a high-risk maneuver? Simply because the permits were to develop a new field on federal land that has yet to yield commercially produced oil. Although I consider the move to be a bit on the riskier side, the company's exploration wells located in an area that is known as the Greater Moose's Tooth have yielding some very appealing results. If the company's collaborative production well, dubbed GMT-1, can produce and sustain viable results, then I strongly believe this particular venture could in fact have a considerable impact on the company's earnings as well as its long-term growth.
Conclusion
For those of you who may be interested in establishing a position in ConocoPhillips there are at least three catalysts I'd keep my eye on over the next 12-24 months.
I'd begin by watching the company's earnings a bit closer, as its most recent performance could be a sign of things to come, especially since quarterly estimates were surpassed by about $0.11/share. The next catalyst I'd watch a bit closer is the company's dividend behavior as I strongly believe income-investors could be in for at least one more dividend increase within the next 12-18 months, especially since COP raised its Q3 production forecast to 1.46B-1.49B boe/day and its FY 2013 production forecast to 1.515-1.53B boe/day. Lastly, and although a bit riskier, I'd pay close attention to any breakthrough that may occur as a result of the company's prospective drilling at the GMT-1 well, since positive results could present a strong argument for an increase in US-based operations in the next 24-48 months.
Disclosure: I am long COP. I wrote this article myself, and it expresses my own opinions. I am not receiving compensation for it (other than from Seeking Alpha). I have no business relationship with any company whose stock is mentioned in this article.