A junior producer with an awkward name is producing modest heavy oil amounts in the greater Lloydminster area along the Alberta and Saskatchewan border in Canada. At first, I believed it was "another producer" like any other but the more I read about it, the more interest I had towards the company.
I decided to take a deeper look in case I was passing over a "diamond in the rough". This article will recap the findings I picked up all along my research while this junior producer is trying to develop its assets to achieve profitability. A brief presentation of the company followed by its assets in western Canada will be discussed. Then, I will look at its financials and future outlook to get the whole picture of this small company and assess its overall potential. Is this junior producer really the buried gem that every investor is looking for? We are about to find out.
Twin Butte Energy (OTC:TBTEF)
Twin Butte is an intermediate oil & gas company based in Calgary, Alberta. The company's combined production is weighted approximately 83% to heavy oil, 5% to light oil and NGLs (natural gas liquids) and 12% to natural gas. Its production has an average of 17,800Boe/d (barrels of oil equivalent per day) and has a moderate production growth of 3% to 5%.
Twin Butte is focused on a low-risk development in the Lloydminster heavy oil fairway where its capital efficiency would allow it to fund both the dividend payment and its capital program within cash flow. Let's take a closer look at the deposit.
According to the Alberta Research Council's report study of the region, the Lloydminster deposit extends from the top of the Cummings coal to the top of the main Lloydminster sandstone, which throughout most of the area is marked by a coal unit. This coarsening-upward, mudstone-sandstone unit forms a continuous sheet throughout the area. The total thickness of the unit averages between 49 feet to 66 feet, except in the area overlying the sub-cretaceous ridge, where it is less than 33 feet thick.
The Wildmere area is part of the same sandstone sheet and has a similar coarsening upward well-log profile. Lloydminster core from this area displays essentially the same characteristics that would be present in West-Central Lloydminster.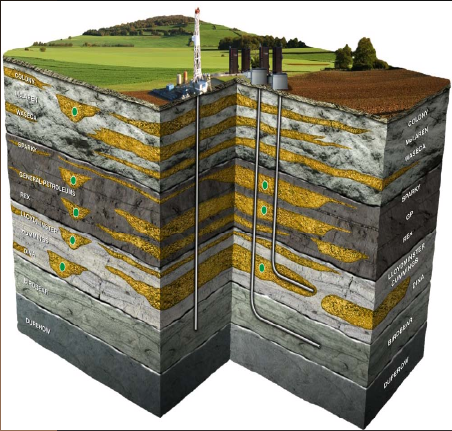 Source: Twin Butte Q3 2013 Presentation
Deposition in West-Central Lloydminster was confined by the topography of the sub-cretaceous unconformity, which created a sub-basin in this area. Within this sub-basin a shallow, semi-enclosed, tidally-dominated, brackish-marine bay developed. The interaction of the sediment types deposited in this setting is highly complex.
A range of sub-environments occur from the supratidal to the subtidal zone, incorporating such diverse settings as upper and lower sand and
mud flats, tidal, estuarine and fluvial channels as well as tidal deltas and washovers.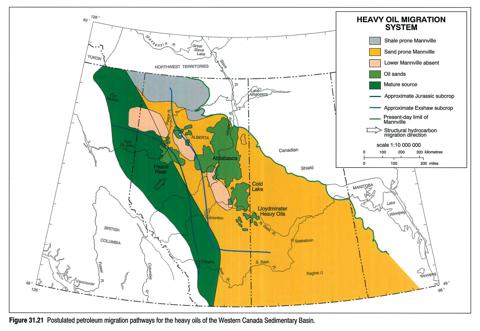 Source: Alberta Geological Survey
A Conservative Strategy
Twin Butte's sustainable moderate growth and income model relies on a disciplined capital program where projects have to provide lower risk opportunities with shorter payout and high rates of return on capital deployed.
Key attributes of its strategy are to maintain a conservative financial structure with a focus on maintaining its debt at or below 1.5 times its cash flow, conducting low-risk drilling and recompletion activities on oil, targeting an all-in payout ratio of about 34% in dividends and 66% in capex, monetize undeveloped land base through sale and acquire additional long-life, reasonable netback, oil assets to ensure sustainable cash flow and growth.
I believe that a conservative strategy is a prudent way to start for a junior producer. Slowly but surely is a wise approach. Let's now take a look at its assets.
Lloydminster Heavy Oil Fairway Assets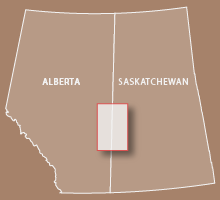 Source: Twin Butte Energy
Twin Butte's future growth is focused in the heavy oil fairway from Frog Lake at the North end, to Primate at the South end. The producer expects to allocate 100% of its 2013 capital in this area. Approximately 87% of the company's current production comes out of this heavy oil area.
This fairway is a conventional heavy oil play that is delivering recycle rates of approximately 3 times, where the company has pinpointed in excess of 700 net drill ready locations identified with geology and the use of 3D seismic. The areas of Frog Lake, Meridian, Swimming and Lashburn would count 310 net wells; areas of Primate, Edam and Celtic would count 330 net wells and areas of Soda Lake, Carruthers and Wildmere would count 60 net wells.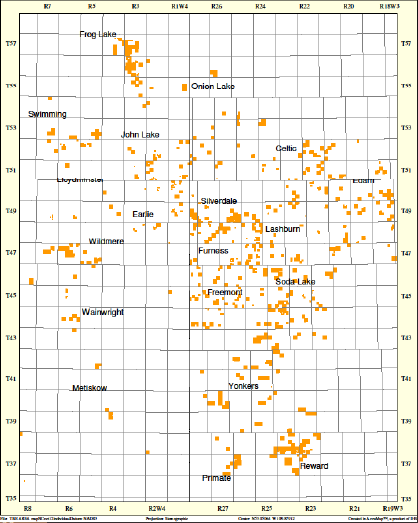 Source: Twin Butte Energy
The company owns a focused and concentrated asset base with a year-round access. Notably, the current heavy oil production amounts to 13,500Bls/d in the area. Twin Butte planned to drill approximately 90 net wells in this fairway for this year's program. Total undeveloped net acres in the heavy oil fairway is estimated at 220,000 where 88% would be oil and 12% natural gas.
According to the company's Q3 of 2013 Presentation, it estimated that the use of a vertical well would cost between $550,000 and $615,000. The average initial production would be about 40-80Boe/d, and generate an average of $7,700/Boe/d to $13,750/Boe/d.
Notably, the average reserves per well are expected between 40Mboe (thousand barrels of oil equivalent) to 80Mboe and generate approximately $7.68/Boe to $13.75/Boe. Finally, the estimated internal rate of return per well is estimated between 100% to 300% with a short payout period of less than one year.
Wildmere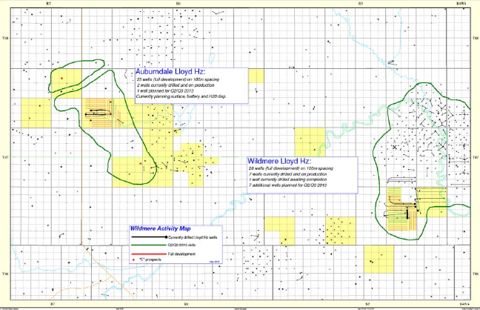 Source: Twin Butte Q3 2013 Presentation
The Wildmere asset was acquired by Twin Butte in October 2012. At the time of the acquisition, Wildmere was producing 420Boe/d. It currently produces an average of 900Boe/d.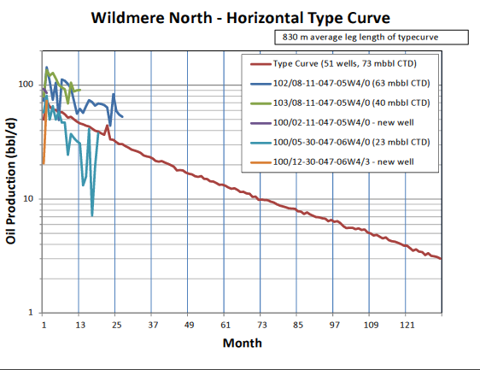 Source: Twin Butte Q3 2013 Presentation
With an area totaling 35 net wells in horizontal inventory, the company tested the horizontal concept in January 2013 with 2 wells and it was followed up with 8 wells in Q2 of 2013. Four of the wells were brought on late in Q2, the fifth well commencing production in July and the last three commencing production in early August. Performance monitoring of the wells continues, but positive early results has led the producer to the drilling of an additional eight wells thus far in Q3 at Wildmere, with production that would be started late in August.
Frog Lake
Twin Butte drilled an horizontal gravel-packed well in October 2011 which after 16 months of production, has proved the economic viability of a larger scale program. Since then, it recorded a cumulative 25Mbls (thousand barrels) with a current rate of 45Bls/d.
At Frog lake, the company's most active area in 2012, 46 gross (28.7 net) wells were drilled at an 86% success rate. The Rex Formation was the primary focus in 2012 which has provided very consistent results for the past two years.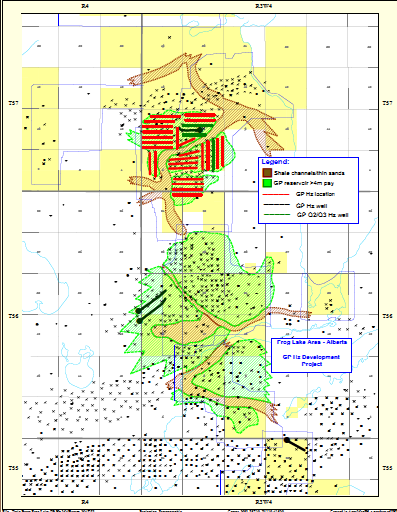 Source: Twin Butte Q3 2013 Presentation
According to its Q2 of 2013 results, one horizontal well was drilled in the quarter, on the South end of the lands. A three-well program is scheduled for Q4 of 2013 to focus on the exploitation of the Mannville Formation. Furthermore, Frog Lake has a potential inventory of over 30 wells for 2014.
Primate
At primate, in western Saskatchewan, the company's second most active area in 2012, 14 gross (14 net) successful wells were drilled in 2012. This drilling, in combination with the installation of water disposal facilities, allowed Twin Butte to materially grow production from 1,100Bls/d in early 2012 to 3,400Bls/d. Over 2012, this property produced one million barrels of oil, generating in excess of $32 million of cash flow according to the company.
Unfortunately, the producer encountered some reservoir performance issues in late December 2012 and early January 2013 that reduced property production to approximately 2,500Bls/d. Even though the property had suffered a drop in production, the company's year end independent reserve evaluation increased the property reserves from 2011 to 2012 by 350Mmbls (million barrels) after production of one million barrels. The 2012 drilling program and positive property performance had enhanced reserves, year-on-year by 1.4Mmbls.
According to its Q2 of 2013 results, Twin Butte encountered additional reservoir performance issues in early July. Current production on the property is approximately 1,400Bls/d but the company has modeled this property to exit 2013 at approximately 400Boe/d, which is under 3% of year-end volumes.
Swimming
At Swimming, the producer, through a combination of well optimization and the drilling of 6 gross (6 net) wells, has more than doubled its production from just over 300Bls/d to approximately 650Bls/d. Plans for the company are to remain active on this property through 2013, with a number of vertical and horizontal development and extension wells planned.
Remaining Western Canadian Assets
The balance of the company's production, which is about 13%, is scattered in West-Central Alberta, Pincher Creek, Peace River Arch and northeast British Columbia. The production in these areas are gas-weighted and the producer planned to spend only minimal capital expenditures within the remainder of 2013.
Twin Butte was very active in western Saskatchewan during 2012, drilling on the acquired properties from Emerge, Avalon, and Waseca. This activity has continued through early 2013 with 22 successful wells drilled to date in this area.
Operational Activities During The Second Quarter
During Q2 of 2013, due to break-up and wet weather, Twin Butte was restricted to drilling 12 gross (12 net) wells, achieving a 100% success rate. The high success rate continues to demonstrate the predictable and repeatable potential of the company's drilling inventory, which remains estimated to be over 700 net conventional heavy oil wells. The producer's drilling continues to focus within the core heavy oil fairway.
As part of an ongoing effort to maintain and improve the company's capital efficiencies, Twin Butte continues to expand its horizontal drilling inventory. Of the twelve wells drilled in Q2 of 2013, nine were horizontal wells, which continues to meet or surpass the capital efficiency and production criteria of the company. The producer now anticipates upwards of 35 horizontal wells will be drilled during 2013, a trend that Twin Butte sees continuing in its heavy oil fairway.
Although the initial focus is on enhancing well costs and initial productivity to maximize capital efficiency, reservoir modeling suggests that horizontals should achieve ultimate recoverable reserves that will lower overall decline rates and improve finding and development costs.
According to its Q2 of 2013 results, to optimize its heavy oil pricing, approximately 18% of its heavy barrels were transported via rail car in the second quarter. This marketing operation has generated an increase of approximately $6.00 to $8.00 per railed barrel net to the producer in Q2, or an increase of approximately $1.45 per barrel on a corporate average.
During Q2 of 2013, Twin Butte completed construction of a cleaning and staging facility at Lashburn which will potentially allow increases of its rail car shipments to approximately 30% of oil volumes.
Financials At A Glance
According to its Q2 of 2013 results, Twin Butte recorded quarterly production of 16,849Boe/d, an increase of 19% over the same period of 2012.
Cash flow from operations for Q2 were up approximately 2% at $33.1 millions from Q1 as a result of stronger pricing, which was somewhat offset by hedges in place, an approximate 2% decrease in production volumes, higher royalties and operating costs. The following chart illustrates Twin Butte's generated cash flow, quarterly.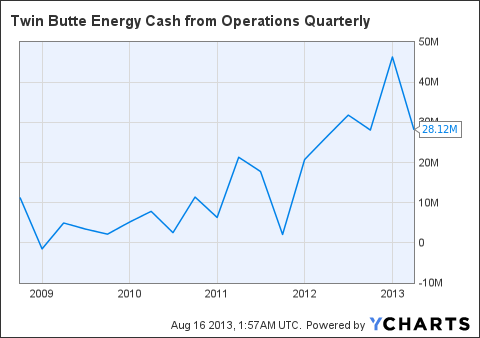 Capital spending for the quarter was $14.9 million after netting $3.3 million of non-core property dispositions. This was significantly below the company's budgeted $20 million. This lower level of spending was due to the extended spring break-up conditions explained earlier, which led to a total payout ratio of only 77% in Q2 as compared to its annual target range of 95% to 100%. As a result, Twin Butte plans to increase its capital spending in Q3 and bring the annualized ratio back into the target range.
Furthermore, consequently to a lower payout ratio, the company's net debt was reduced from Q1 to $193.8 million, which provided a debt to annualized cash flow ratio of 1.5 at the end of Q2, and increased financial flexibility with the $280 million in its credit facility. With increased spending expected in Q3, it is anticipated that its net debt will increase slightly over the remainder of 2013, but it should remain below the 1.5 ratio.
Notably, the company managed to reduce its long-term debt by 7.1% at $175.21 million compared to $188.64 million of Q1 of 2013. With a long-term debt to equity ratio of 43.62, Twin Butte is using much of its financing capital to develop its current projects. I find it a little high but compared with an average of 68.24 of its industry, it is not that bad. And with the expected rise of its cash flow, the producer would be able to reduce the use of its financing capital over the long run.
Although hampered by difficult field operating conditions, the sale of 70Boe/d of non-core production, and unplanned turnarounds at its major heavy oil purchaser's facilities, the producer still reported a 19% increase in its quarterly production over Q1. With current production capability of approximately 16,400Boe per day, I believe that Twin Butte remains on track to achieve its forecasted 2013 production average of 16,100Boe/d to 16,400Boe/d.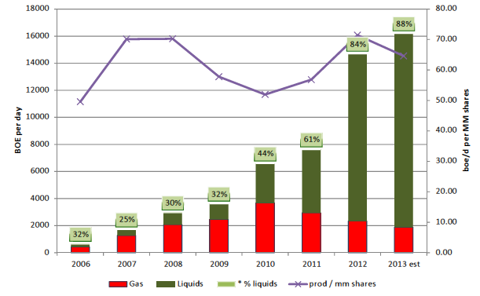 Source: Twin Butte Q3 2013 Presentation
Operating costs in Q2 increased to just under $23.00/Boe, mainly as a result of unseasonable weather conditions which resulted in higher than normal trucking, road and lease maintenance, work-over expenses, and snow clearing costs. The company spent over $2.00/Boe on these weather-related costs and it expects its operating costs in the range of $20-$22/Boe for the balance of the year.
Currently, Twin Butte has approximately 63% of its oil volumes for the second half of 2013 hedged at an average WCS (Western Canadian Select) price of $75.19, and an additional 23% of oil volumes hedged at an average WTI (West Texas Intermediate) price of $97.43.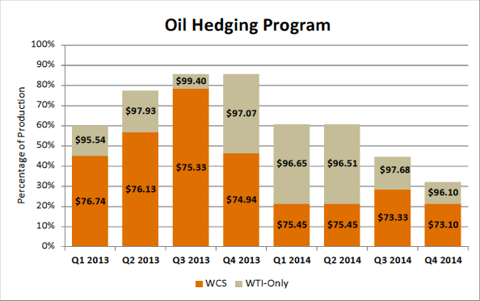 Source: Twin Butte Q3 2013 Presentation
Moreover, the producer has approximately 65% of expected 2013 natural gas volumes hedged as well. Twin Butte's focused hedging program should be an effective way to protect the cash flow levels that will provide sustained positive corporate netbacks.
Future Outlook
Twin Butte remains on track to meet its previously reported operating and financial guidance of $112 million in cash flow and between 16,100Boe/d to 16,400Boe/d of average production. Level of capital expenditures, which is currently estimated at approximately $70 million according to the company, will be monitored and potentially increased if cash flow less dividends shows an increase.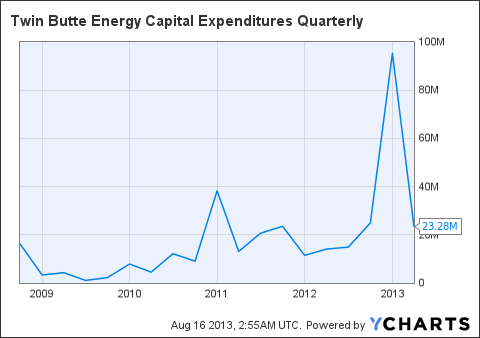 According to its Q3 of 2013 Presentation, Twin Butte owns more than 100,000 net undeveloped acres, excluding heavy oil lands, with 150 net gas drilling locations to develop. Its Bruce property in the Viking shale play is estimated to provide 25Bcf (billion cubic feet) per section with the use of horizontal drilling and multi-stage frac wells in a proven area.
The Ansell and Jayar properties are also very promising since the company reported significant original gas in place that was proven by existing wellbores. Horizontal Cardium locations such as Notikewin and Wilrich show potential as well.
Twin Butte grew its corporate proved and probable reserves by 58% from 35.6 Mboe (million barrels of oil equivalent) at December 31, 2011 to 56.2 Mboe at December 31, 2012. Notably, it increased its proved plus probable reserves liquids, weighting to 73% at December 31, 2012 from 55% at December 31, 2011.
The company said that it will continue to look for consolidation opportunities in its operating areas including both heavy and medium grade oil assets. A sustained pace of repeatable development drilling and disciplined capital spending will maximize capital efficiencies, economic returns and minimize payout times, providing visible sustainability to Twin Butte's dividend and anticipated company growth.
Bottom Line
After reviewing the company's operating activities and its financial datasets, I can now assert with confidence that Twin Butte is not the "diamond in the rough" I thought it could be. That said, I believe that the company with an awkward name owns fair assets in western Canada, but I am a little concerned about the its ability to generate enough cash flow to pursue its development operations without relying heavily on its financing capital.
On the other hand, the producer impressed me by being able to achieve a 19% increase of quarterly production over the precedent quarter while being plagued by harsh weather that affected its operations during the second quarter. Its production level should even increase with better weather combined with the settlement of its reservoir performance issues that the company encountered during the last quarter.
Twin Butte will have to monitor its operating costs more closely because the costs are high at almost $23/Boe. Having its costs at more acceptable levels, around $18-$20/Boe, would provide a better cash flow sustainability model that the producer is using as reference, in order to develop its company's growth.
Therefore, Twin Butte could be an interesting investment for long positions, if investors are willing to be patient and have a good degree of risk tolerance because of the unpredictable long-term sustainability of its capital growth model, including maintaining its current yield level of dividend offered to its shareholders.
Here are the upsides identified that are very interesting for an investment in Twin Butte Energy:
Impressive quarterly production achievement despite operating issues
Active hedging strategy to protect cash flow
Heavy oil inventory of over 700 net wells, providing over 4 years of high capital efficiency drilling inventory
Net undeveloped lands of 220,000 acres in heavy oil fairway
100,000 net undeveloped acres of light oil and natural gas in other properties
Conservative financial structure
On the downside, some risks should be taken into account:
A rather high long-term debt to equity ratio
High operating costs impede the producer's cash flow growth
A prolonged weak commodity price environment could put pressure on operating costs and the long-term debt
Doubtful sustainability of its current dividend yield in the short term
Disclosure: I have no positions in any stocks mentioned, and no plans to initiate any positions within the next 72 hours. I wrote this article myself, and it expresses my own opinions. I am not receiving compensation for it (other than from Seeking Alpha). I have no business relationship with any company whose stock is mentioned in this article.