Rarely can we look to the future and accurately predict revenue for a company. While we can't predict the entire future of McGraw-Hill Financial (NYSE:MHFI), I think fast growth is imminent for half of the company. Great products, great margins and great management should easily take care of rapid growth in the other half.
Let's start with a quick history lesson, going all the way back to March, 2013. McGraw-Hill, best known for educational materials, sold their entire educational business on March 22, 2013 and changed their name to McGraw-Hill Financial. This name reflects the remaining financial intelligence businesses. No more textbooks - McGraw-Hill is all financial now and brands include Standard and Poor's Rating Services, S&P Capital IQ, S&P Dow Jones Indices, Platts and McGraw-Hill Construction.
As you can see here, they are doing quite well due to the resurgence in financial markets, coupled with re-issuances of maturing debt.
| | | | | |
| --- | --- | --- | --- | --- |
| Year | 2010 | 2011 | 2012 | 2013 guidance |
| Revenue (millions) | 3,639 | 3,954 | 4,450 | |
| EPS | 1.91 | 2.09 | 2.75 | 3.15 - 3.25 |
| Shares Outstanding (millions) | 312.3 | 303.6 | 284.6 | |
Enough history, let's now move to the future, particularly 2014-2016. McGraw-Hill Financial earns 45% of their revenue (and 55% of profit) from Standard & Poor's Rating Services. Due to the nature of that business, I think we can forecast a likely path of revenue growth. An imminent and significant increase in revenue is the basis for this article.
This chart shows S&P Rating Services' bread and butter - corporate debt. Here is expected debt maturing in the next few years from McGraw-Hill's 2012 Investor Fact Book. This includes US, Europe, Africa and the Middle East.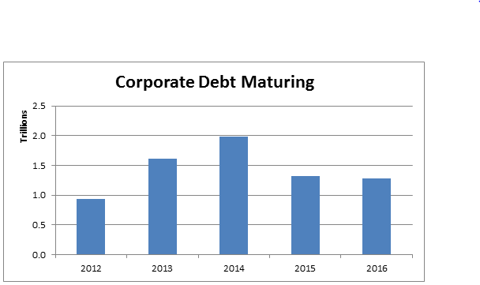 As you can see, maturities in 2013 increased 72% over 2012 which explains the revenue growth. 2014 will be the peak of debt maturities and resulting reissuance with 22% more than 2013. Assuming no change in market share, this increase of 22% should directly correlate to revenue.
As a long term investor, my eyes go to the drops in 2015 and 2016. For these years I am counting on the remaining McGraw-Hill divisions to make up for reduced ratings business. So far, I have only been talking about the 45% of revenue attributable to Rating Services. The other 55% of revenue is divided mostly between S&P Capital IQ and commodities/commercial. S&P Dow Jones Indices also contributes a little with about 9% of revenue. Each of these divisions has an impressive track record of at least 9% compounded annual revenue growth over the last three years.
My price target of $74 is based on my expectation of $3.71 2014 EPS multiplied by a price/earnings multiple of 20, which I think is suitable for a company experiencing this kind of growth. I have assumed midpoint 2013 guidance of $3.20 is achieved and 2014 has 16% revenue and profit growth over 2013 (22% growth for ratings services and 10% for other divisions.)
Additional Positive Factors
40 years of dividend increases and demonstrated actions toward stockholder value.
Aggressive stock buybacks in 2013
Low debt
Successful and structured cost cutting, part of the "Growth and Value Plan", has resulted in an improvement in operating margins from 28% in 2011 to 34% in the first quarter of 2013.
The market has reacted positively to the election of Douglas Peterson, formerly head of S&P, to be President and CEO effective November 11. Current President and CEO Harold McGraw III is retiring but will remain Chairman of the Board. Mr. Peterson promptly made a large stock purchase upon his election. He now holds more than 100,000 shares with options for another 100,000.
Risks
Management has warned of difficult quarterly comparisons for the third and fourth quarters. But this is long term investing right? At least looking out to 2016.
There is some risk that Moody's, much smaller but still the largest competitor, will regain market share. Even if this is the case, I think there is enough business to go around.
And there is the big one - a $5 billion lawsuit from the Department of Justice that is has not be settled or reached court. That's quite a hunk of money for a company of McGraw-Hill's size. Management claims the lawsuit is "unjustified and without legal merit" and if fact tried (unsuccessfully) to get it dismissed. The original lawsuit is recent so it will likely be a long time until this is resolved. McGraw-Hill is constantly bombarded with similar lawsuits in state courts, most of which have been won, dismissed or settled.
McGraw-Hill also has one of the best Investor Relations websites I have seen. Check out the investor presentations and the Factbook. Lots of information there.
Disclosure: I am long MHFI. I wrote this article myself, and it expresses my own opinions. I am not receiving compensation for it (other than from Seeking Alpha). I have no business relationship with any company whose stock is mentioned in this article.