Activision Blizzard (NASDAQ:ATVI) is the dominant player in the fast growing video game industry, owning 3 of the biggest franchises, Call of Duty, World of Warcraft, and Guitar Hero, among others.
With the upcoming release of Call of Duty: Modern Warfare 2 in November, I felt it timely to review ATVI's investment characteristics and to try to determine why the market is over looking this undervalued space. During the first three quarters of 2009, video game sales have suffered from the combination of the largest financial crisis and recession in the post-WWII period, and what has been a weak video game release slate.
However, with the economy climbing out of recession and an extremely strong Q4 release slate coming out of Activision Blizzard, along with much easier comparison numbers going forward, I believe that this industry is ripe for expanding earnings, multiples, and stock prices.
Below I review the results of my research into Activision Blizzard and discuss why I think that ATVI represents a very compelling investment.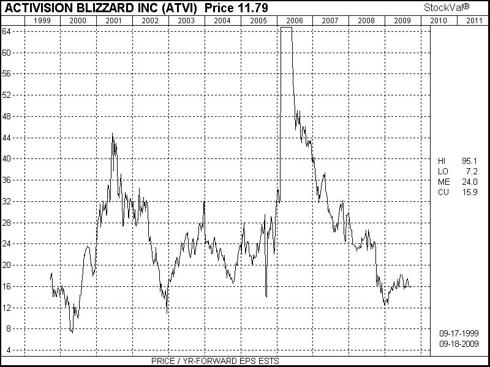 Large Cap Growth Company for a Low Multiple
Global video game software revenue has grown at a 20.4% CAGR from 1996 to 2009, and ATVI is the dominant player in this industry. The company has historically sold at a forward median p/e multiple of 26.5x (ex extreme periods like 2006), and is currently selling for 15.5x 2010 estimated EPS of $0.78, and for 1.3x BV.
Excluding the $2.23 in net cash per share on ATVI's balance sheet, is appears even cheaper, selling at just 12.6x 2010 estimated EPS. These multiples are low considering that ATVI is expected to grow EPS by 20% in 2009 and 20.5% in 2010, and will most likely expand as concerns about ATVI's overhangs fade.
Estimates/Mults: 2008; 2009; 2010; 2011
EPS: $0.58; $0.65; $0.78; $0.94;
Exp Growth: 17.0%; 20.0%; 20.5%
EBITDA: 1,249.0; 1,453.0; 1,538.0; 1,785.0
Exp Growth: 16.3%; 5.8%; 16.1%
Revenue: 4,980.8; 4,551.0; 5,111.0; 5,517.0
Exp Growth: -8.6%; 12.3%; 7.9%
P/E: 18.5x; 15.4x; 12.8x
EV/EBITDA: 8.5x; 8.1x; 7.0x
P/S: 3.3x; 3.0x; 2.8x
Long-Term Growth Rate: 17.0%; 17.0%; 17.0%
PEG: 1.09x; 0.90x; 0.75x
Installed base: 103; 151; 190 (millions);
84.0%; 46.6%; 25.8%
Cheap Relative to History and the Overall Market
Forward multiple for shares of Activision before the reverse acquisition with Blizzard had a range of roughly 14x-40x over the past five years versus a current valuation level of 15.4x 2010 estimated EPS.
Additionally, ATVI shares are also cheaper than the overall market. Consensus GAAP estimates for the S&P 500 for 2010 call for $64 in earnings, and at 1029 the S&P is trading at 16.1x consensus estimated 2010 GAAP EPS (14.5x consensus 2010 operating EPS estimate of $71).
Excluding the $2.23 in net cash on ATVI's balance sheet, ATVI is selling at just 12.6x 2010 estimated EPS of $0.78. Given this undervaluation relative to history and relative to the overall market, I believe that ATVI shares have the potential to exhibit significant multiple expansion as investors become more familiar with the combined Activision Blizzard company, the World of Warcraft China transition, and most importantly, the music genre sales.
Upside from DJ Hero
ATVI shares are cheap because they are over-discounting music genre fatigue (Guitar Hero) and the World of Warcraft transition in China to NetEase. Concerning the slowing music genre sales, DJ Hero stole the show at this year's E3 conference, an industry trade show, and could reinvigorate music genre sales and expand the market beyond fans of rock and roll to those who enjoy mash-ups, dance and club music, a whole new demographic.
Despite some early consumer skepticism, reviews of this game continue to come in very favorably. I was skeptical myself until watching the demo videos on the game's website, and I have to admit that it looks like it will be very successful. Furthermore, ATVI is being cautious with its guidance for DJ Hero, leading me to believe that there could be upside from a well received release.
Moreover, the Call of Duty and World of Warcraft franchises are more important to the company's financial results than Guitar Hero, representing about 85% of operating income (GS), and as the main earnings drivers, Call of Duty and World of Warcraft strength should more than offset any weakness in music genre sales.
Video Game Console Cycle Stage Beneficial for Game Publishers
Industry hardware price cuts should accelerate console sales, which should improve video game sales. Analysts at Goldman Sachs estimate that the video game industry's installed base is set to grow by 46% in 2009, with the Nintendo Wii and the PS3 leading the way.
Growth is being fueled by video game console price cuts. Sony (NYSE:SNE), Microsoft (NASDAQ:MSFT), and Nintendo (OTCPK:NTDOY) all reduced the prices of their systems by $50 to $100 in Q309. More consoles lead to more software revenues for video game publishers at the same time as margins are expanding from scale efficiencies in game production.
Moreover, this video game console is likely to be longer than the 5 year cycles we have seen in previous years, with the current cycle, beginning in 2006, already in its fourth year with no hints of new consoles any time soon. Industry insiders like video game publishers usually get a two year heads up about new consoles so they can begin working on the engines that will build the games, and none of the people I have talked to at these companies have heard anything about new consoles.
These factors are both net positives for earnings.
Price Target
Applying a 20% discount to ATVI's historical 26.5x median P/E multiple to account for the current limited transparency into the combined Activision Blizzard business and for any possible integration issues, we get a forward multiple of 21.2x. Applying this 21.2x multiple to ATVI's estimated 2011 EPS of $0.94, we arrive at a price target of $19.92, representing 66% upside from current levels.
Catalysts
Improved visibility into 2010 EPS potential and sustained earnings power from a very strong second half 2009 game release slate, improved visibility surrounding the WoW transition in China, fading of concerns about the slowing music genre sales from a successful DJ Hero launch, and higher game sales from installed-base growth resulting from higher console sales after Q3's price cuts.
Risks
Risks include a lack of popular titles and retail softness relative to higher production and marketing costs which could negatively affect ATVI's results, any possible weakness in the company's key franchises such as WoW or CoD, a weakening console cycle with declining tie ratios (games sold per console), and any possible integration issues or problems realizing synergies from the Activision / Blizzard combination in 2008.
Disclosure: Author and author's firm both have long positions in ATVI.