Nokia (NYSE:NOK), a company once known for the cell phone just about everyone owned, may be headed toward a brighter future reminiscent of the early 2000's. When the company launched the 1100 series in late 2003, it was selling more than a million phones / week and outpaced sales of Apple's (NASDAQ:AAPL) iPod. (Source: Reuters, 2007).
A decade later the company appears to be making moves to re-gain its lost position at the top of the mobile phone podium.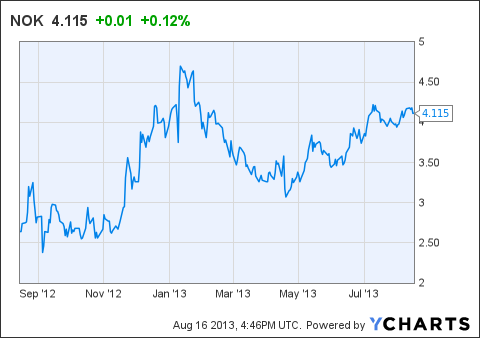 Three Reasons To Consider Nokia
Nokia Lumia 1020 Smartphone Launch
Acquisition of Siemens' Nokia Siemens Networks (NSN) Stake
Growth in Windows Phone OS
With the strategic acquisition of Siemens' stake in Nokia Siemens Networks, the launch of new devices, and growth in Microsoft's (NASDAQ:MSFT) Windows Phone OS... investors should look for an increase in the share price of Nokia relative to today's levels.
Nokia Lumia 1020 Launch
It's hard not to notice a commercial for Nokia's new Lumia 1020 smartphone on TV today. The Finnish handset maker has been aggressively advertising its new device launch. The Lumia line is the flagship device for Windows Phone OS, and the 1020 gives current Lumia owners a reason to consider an upgrade. After launching in the US, the Nokia Lumia 1020 launched in China on August 15th. Nokia is already doing exceedingly well with its 520 model in China.
Google Trends Results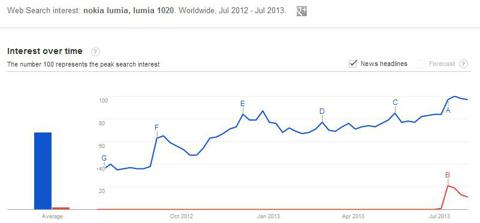 With 41 megapixels and very impressive software, amateur photographers need to think twice about their smartphone over expensive camera equipment.
"... we can confidently say that the Lumia 1020 is the best Windows Phone device to date."

- Engadget, 7/24/2013

"There really is nothing else quite like the Lumia 1020 on the high street if you're taking pictures with your phone."

- Forbes, 8/3/2013
When considering whether the Lumia 1020 will do well in the marketplace, a prospective investor should take into account how often they use their own smartphone to take pictures and record video.
Nokia Siemens Networks
On 8/7/2013, Nokia announced the completed acquisition of Nokia Siemens Networks, now renamed Nokia Solutions and Networks (NSN). NSN was formed in 2006 as a joint venture between Nokia Corporation and Siemens AG. The company operates in more than 150 countries and provides wired and wireless infrastructure supporting data networks. The purchase of Siemens AG's stake was announced on July 1st, for a total purchase price of $1.7 billion euros. The terms of the deal announced were $1.2 billion in bank financing and $0.5 billion financed by Siemens, due one year from closing. NSN operates primarily in EMEA and is signing contracts for the installation of 4G LTE and other network infrastructure.
Prior to the buyout, it was rumored that NSN would either be sold to private equity or IPO. Analysts estimated the value around $8.9 billion euros, considerably higher than the valuation attached to NSN after Nokia's buyout. (Source: Reuters, 4/4/13)
In 2012, NSN began generating positive free cash flow, a notable change from 2011. Since 2011, the company has been going through a restructuring which includes the focusing of services provided, as well as significant reductions in headcount. While 2Q 2013 sales were down year over year, second quarter operating profit was approximately $429.5 million, an increase of 1,078% from 2Q 2012. Moving forward, charges related to the acquisition and restructuring should soften and NSN will likely continue to improve key metrics like operating profit and free cash flow.
Recently, ratings agency Fitch didn't upgrade Nokia, but they did affirm their outlook with positive notes including: better performance than Fitch's expectations, the majority of net cash restructuring charges being paid, and the beginnings of the Lumia smartphone portfolio gaining traction in the market. (Source: Barrons, 8/13/2013).
With cross-company synergies, increased operating profit and free cash flow, as well as the global need for telecommunications infrastructure, Nokia's complete ownership of NSN was a strategic acquisition sure to provide considerable value to the company.
Windows Phone OS
Many may argue that we have become a Smartphone saturated world. With Apple's iOS and Google's (NASDAQ:GOOG) Android dominating the market, it seems there is little room for other phone operating systems to gain market share.
(click to enlarge)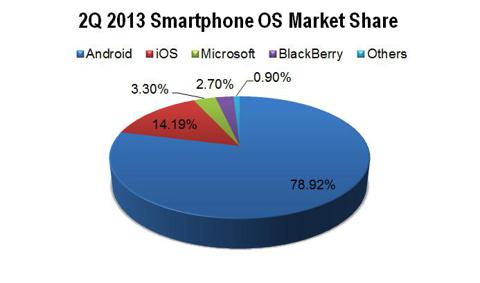 Looking at August data from Gartner, unit shipments and OS market share for all three major phone operating systems increased, while BlackBerry (BBRY) continued to struggle. With fledgling OS's like Symbian and others declining, as well as BlackBerry losing significant market share, Windows Phone OS may benefit.
| | 2013 | 2012 | Growth |
| --- | --- | --- | --- |
| Android | 177,898,200 | 98,664,000 | 80% |
| iOS | 31,899,700 | 28,935,000 | 10% |
| Windows | 7,407,600 | 4,039,100 | 83% |
| BlackBerry | 6,180,000 | 7,991,200 | -23% |
Windows Phone OS has its own challenges. It is often criticized for a limited selection of popular apps, and Google recently blocked the new YouTube app citing a violation of Google's Terms of Service. Fortunately, Microsoft is well aware of their need to increase the number of apps available through their OS.
To address the lack of apps, Microsoft recently launched Windows Phone App Studio, a WYSIWYG editor opening app development opportunities to the masses. They are also allowing developers to unlock and register a phone for free and discounted the cost of a developer account. (Source: TechCrunch, 8/6/2013)
Nokia is the flagship handset device manufacturer for Windows Phone OS. The Microsoft website for Windows Phone lists eight Nokia models, one HTC, one Samsung, and one Huawei. With so few competitive handsets, growth in the Windows OS segment has a high correlation to growth in Nokia device sales.
(click to enlarge)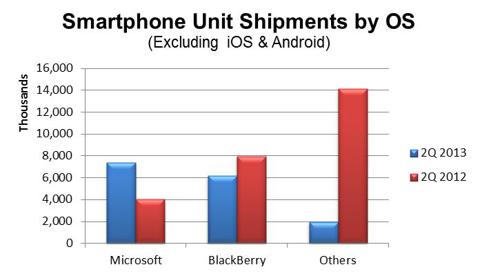 (Source: ZDNet, 8/14/2013)
Competitive Factors
Nokia and Windows Phone OS still have a considerable hill to climb, battling strong growth in Android smartphones. Investors should also watch Apple's heavily anticipated new device launch in September. Lenovo is also making a little noise in the industry, hoping to gain market share with their Android smartphone portfolio.
Conclusion
Going forward, look for continued strength in the three main points featured in this article:
Strength in Windows Phone OS market share, indicating growth in sales of Nokia smartphones.
New deals signed by Nokia Solutions and Networks paired with streamlined business operations.
A continuation of positive press and increased device sales for Nokia's new Lumia 1020 smartphone.
Disclosure: I am long NOK. I wrote this article myself, and it expresses my own opinions. I am not receiving compensation for it (other than from Seeking Alpha). I have no business relationship with any company whose stock is mentioned in this article.