One month ago, I alerted you to a high-stakes game of chicken unfolding in the market between the homebuilders and everyday investors. Believe it or not, in just four short weeks the situation has intensified dramatically. But the data clearly points to one party emerging victorious -- even more so than it did before -- which makes this one of the most compelling buying opportunities in the market. Here's a full rundown of what's going on so you don't miss out.
A Historic Divergence
The latest reading of the National Association of Homebuilders (NAHB) sentiment index jumped to 59, its highest reading in almost eight years. Remember, any reading above 50 means that more builders think sales conditions are good rather than poor. You'd think the enthusiasm would inspire investors to bid up homebuilding stocks. Not so much.
They're too busy freaking out about the impact of rising interest rates, which are a non-issue. And they're bailing on homebuilding stocks, instead. The end result? The divergence between sentiment and performance keeps widening. Take a look.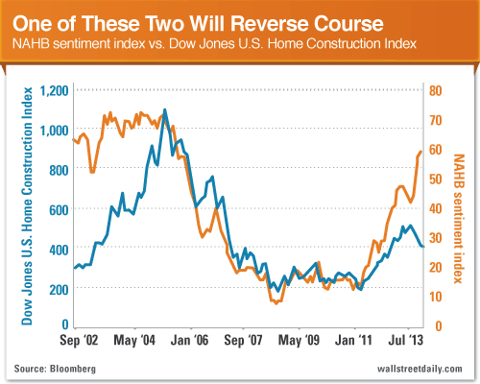 Somebody eventually has to cave. So who's it going to be?
Homebuilders Know Best
Homebuilders obviously understand market conditions better than anyone else. They have their boots on the ground. Literally. So for them to be this ebullient about market conditions means they're either hopped up on opiates -- or the recovery is too legit to quit (hey, hey). Trust me, it's the latter.
All we have to do is look at the latest hard data coming out of the Census Bureau. It reveals that single-family housing starts hit a seasonally adjusted rate of 591,000 in July. That's down slightly month over month, as many media reports are pointing out (fear mongers). But don't be misled. There's too much noise in short-term readings.
To discern legitimate trends, we need to look at year-over-year figures. And when we do, it's clear that homebuilders' enthusiasm is justified. Housing starts on single-family homes are up 15.4% year over year.
What's more, as you can see in the chart below, we're nowhere near the overheated level of 1.8 million starts hit during the peak. So it's not a case of investors looking to the future and bailing because the real estate recovery doesn't have room to run. We've still got a long way to go before that becomes a concern. In fact, economists insist that we need more than 1.5 million new homes each year to meet demand.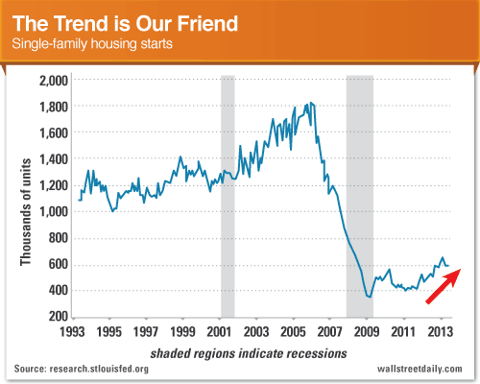 Lest you think this is merely an anomaly in the housing starts data, we have the building permits data to instruct us. And it also favors homebuilders in this game of chicken. Although permits for single-family homes dipped 1.9% from June to July, they're up 17.9% year over year.
Building permits are traditionally viewed as an accurate gauge of future demand. So the data clearly jives with the observations of builders that there are "more motivated buyers walk[ing] through their doors than they have [seen] in quite some time," as reported by NAHB Chairman Rick Judson.
Two More Telling Stats
There's one more data point that strongly supports homebuilders: the National Association of Realtor's Housing Affordability Index (HAI). It takes into account median home prices, 30-year mortgage rates and median family income. According to the NAR, "A value of 100 means that a family with median income has exactly enough to qualify for a mortgage on a median-priced home."
Even after the run-up in interest rates and real estate prices, the HAI remains well above 100 at 145, according to Barron's. Considering that less disposable income is going to service debt (10.4%) compared to a few years ago (16%), the average American is in a much better position to borrow the money required for a home purchase, too. Bottom line: Investors' fears over real estate investments are completely misplaced. Homebuilders know best.
So treat this lopsided game of chicken as a buying opportunity. Either scoop up an ETF like the iShares Dow Jones U.S. Home Construction Fund (BATS:ITB) or an individual homebuilder like Hovnanian Enterprises (NYSE:HOV), which analysts expect to generate double-digit earnings growth this year (and next).