The first article of the series introduced the Carbonate Triangle of the renowned Canadian oil sands. The region is the world's third largest oil reserve with its rich carbonate-hosted bitumen deposit located in northern Alberta's deep underground. Precisely, the Carbonate Triangle is situated between three major bitumen areas, Athabasca, Cold Lake and Peace River.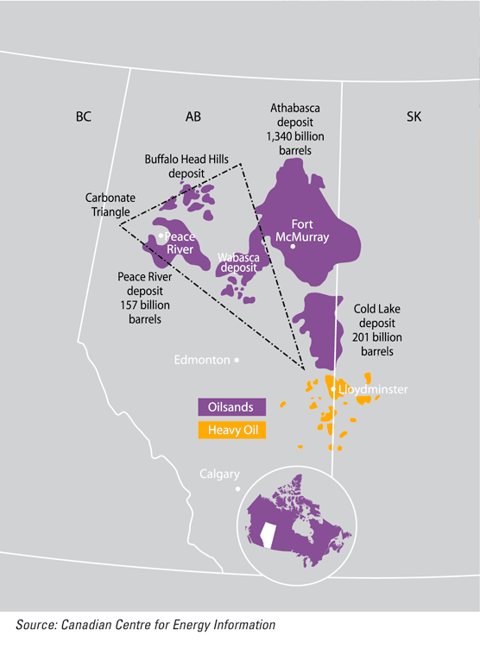 Source: ERCB
In today's investment guide on the Carbonate Triangle, I will present the main characteristics of the Athabasca area to have a better assessment of its potential. Then, I will review one great oil producer that owns a few assets in Athabasca. So far, I looked into several producers involved in Peace River and Cold Lake regions of the Carbonate Triangle:
Peace River's most notable producers:
Cold Lake's most notable producers:
Athabasca's most notable producers:
An analysis of the current operations of the company will be examined with the objective to provide the most complete information available to potential investors before deciding to seize the opportunity that the 54,132 square miles of the Carbonate Triangle has to offer. Let's start by introducing Athabasca, a famous and most prolific region in the Canadian oil sands as well as one of the largest reserves in the world.
Athabasca Region
The Athabasca oil sands are named after the Athabasca River which cuts through the heart of the deposit, and traces of the heavy oil are readily observed on the river banks. Commercial production of oil from the Athabasca oil sands began in 1967, when Great Canadian Oil Sands Limited, now incorporated into an independent company known as Suncor Energy, opened its first mine, producing 30,000Bls/d of synthetic crude oil.
The Athabasca region can be defined with two major oil sands deposits: the Grosmont Formation and the Wabiskaw-McMurray Formation. The Grosmont Formation is a late-Devonian shallow marine to peritidal platform carbonate consisting of four recognizable units within the deposit. All of the hydrocarbons are located in an updip position, structurally trapped along the erosional edge and contained by the overlying Clearwater Formation.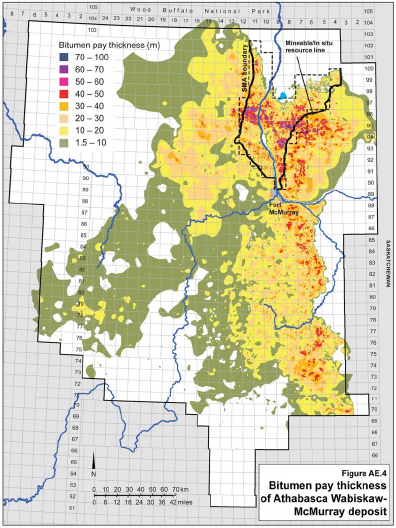 Source: ERCB
The McMurray Formation was deposited on an exposed karstic landscape of ridges and valleys and varies in thickness from being absent over Devonian highs to over 426 feet thick in the Bitumont Basin. Bitumen-rich reservoirs formed within estuarine valleys stacked above the Lower McMurray channel sands and are assigned to the Upper McMurray Formation.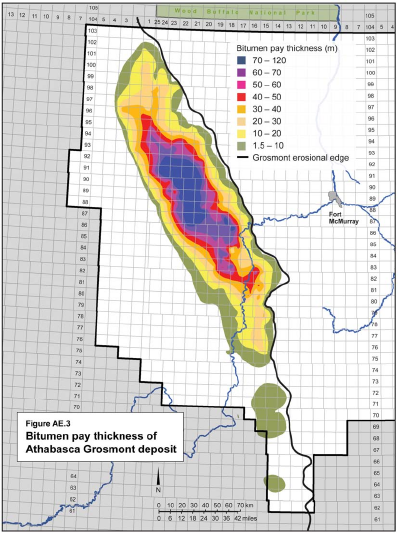 Source: ERCB
The Athabasca region is estimated to hold total reserves of 1.34 trillion barrels of oil. Approximately 8-10% would be recoverable with current technology, which would represent a total reserve of 134 billion barrels. Compared to the estimated 7 billion barrels contained in Peace River and approximately 16 billion barrels in Cold Lake, the Athabasca region is the most prolific and the most promising of the three, located in the Carbonate Triangle.
Devon Energy
Devon Energy is a leading independent oil and natural gas exploration and production company. Its operations are focused onshore in the U.S. and Canada. The company also owns natural gas pipelines and treatment facilities in many of its producing areas, making it one of North America's larger processors of NGLs (natural gas liquids).
The company's portfolio of oil and gas properties provides stable, environmentally responsible production and a platform for future growth. The company's production mix is about two-thirds natural gas and one-third oil and NGLs, such as propane, butane and ethane.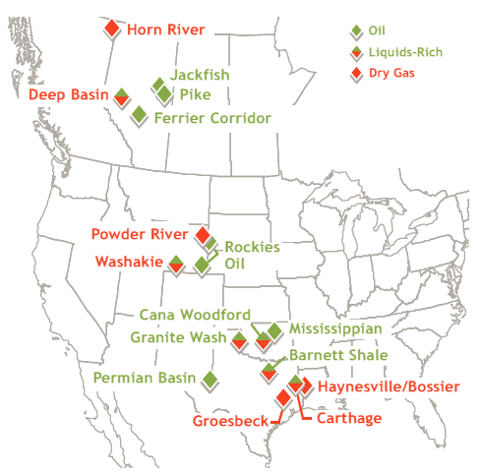 Source: Devon Energy
Devon holds 13 million net acres, of which roughly two-thirds are undeveloped. This deep inventory of opportunities in premier North American growth plays will provide stable production and a platform for its future growth. Devon produces about 2.6 billion cubic feet of natural gas each day, more than 3% of all the gas consumed in North America.
However, this article will focus exclusively at Devon's oil assets in the Athabasca region of the Carbonate Triangle. Headquartered in Oklahoma City, the company is included in the S&P 500 Index. Notably, Devon's Canadian oil and natural gas fields account for 28% of the company's total production. Furthermore, the company land holdings are among the largest in Canada, comprising about 7 million net undeveloped acres as Devon was the first U.S.-based independent energy company to develop and operate an oil sands project in Canada.
Devon's other major production operations include the Foothills, Deep
Basin, Lloydminster and Peace River Arch regions. The company is also
active in central and southeast Alberta as well as Alberta's northern plains and northeast British Columbia.
Athabasca Heavy Oil Assets
Devon's thermal heavy oil operations, located in the Athabasca oil sands in northeast Alberta, use the SAGD extraction process. Heat from a steam injection well liquefies very dense bitumen allowing it to migrate to a production well located beneath. The company owns about 100,000 acres of land on which 71 wells are producing heavy oil.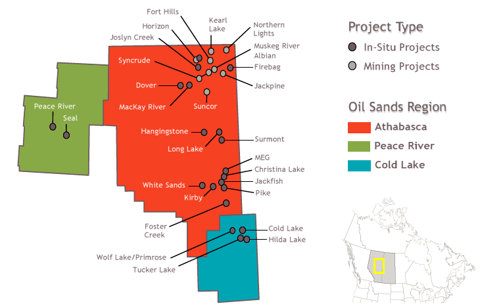 Source: Devon Energy
Jackfish Thermal Oil Project
Jackfish is owned at 100% working interest by Devon, and it counts over 34,000 net acres in eastern Alberta's oil sands.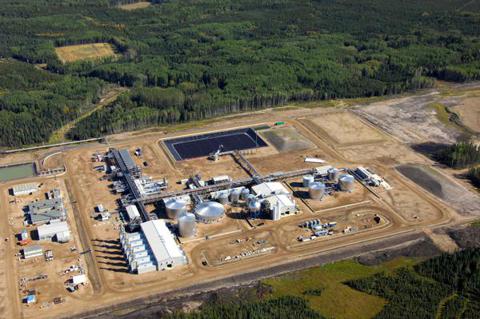 Source: JuneWarren-Nickle's Energy Group
Devon saw first production from Jackfish, a first phase of 35,000Bls/d (barrels per day) capacity project, in 2007. As measured by production per well and steam-to-oil ratio, Jackfish is one of Canada's most commercially successful SAGD projects. As a matter of fact, four years after start-up, a comparison to the industry's other SAGD projects shows Jackfish is producing twice the daily amount of oil per well, with a steam-oil ratio 30% below the industry average.
Source: Devon's Investor Meeting, July 2013
Construction of Phase 2, another 35,000Bls/d capacity project, began in the fall of 2008 and was completed in Q1 of 2011. Devon began steam injection in Q2 of 2011, with first oil production coming in the second half of the year. Production is currently ramping up.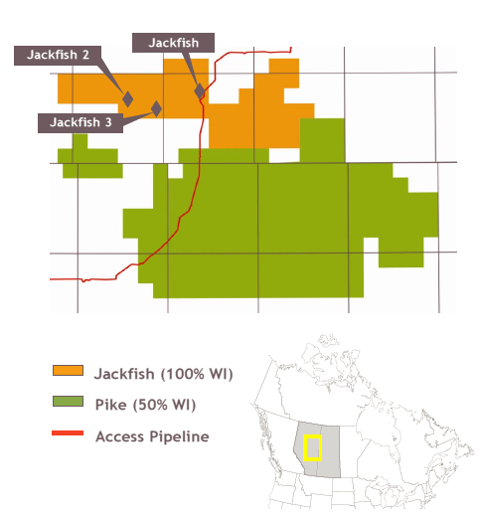 Source: Devon's Investor Meeting, July 2013
Construction of Phase 3 is well under way with plant start-up targeted around year-end 2014. Phase 3 would add 35,000Bls/d capacity, bringing the total production capacity to about 105,000Bls/d.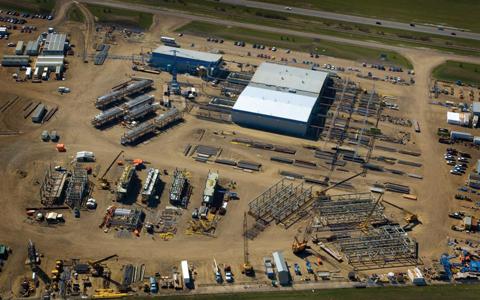 Source: Ledcor Group
Devon said that production at Jackfish continues to achieve record rates, averaging 54,000 barrels per day in Q1 of 2013, an 18% increase over Q1 of 2012. Construction on Phase 3 is approximately 60% complete. Furthermore, the producer announced an expansion, Jackfish East, that would add 20,000Bls/d to the total production. Start-up is expected for 2018.
During the development of Jackfish, Devon endeavored to use only a brackish aquifer to create the steam needed for oil production. The experiment proved successful, and this innovation has been applied for Phase 2 and is planned for Phase 3 and its Pike project as well.
Devon is testing a variety of productivity enhancements at Jackfish, including the use of solvents and natural gas co-injection. During 2012, Devon spent $530 million in capital expenditures for its Jackfish project. The corporate guidance for this year is planned to be approximately $750 million.
Pike Thermal Oil Project
In March of 2010, Devon substantially increased its footprint in the Canadian oil sands by acquiring a 50% interest in BP's (NYSE:BP) Pike leases, in which it will act as operator. The joint-venture has approximately 59,000 net acres in eastern Alberta, located immediately adjacent to Jackfish acreage.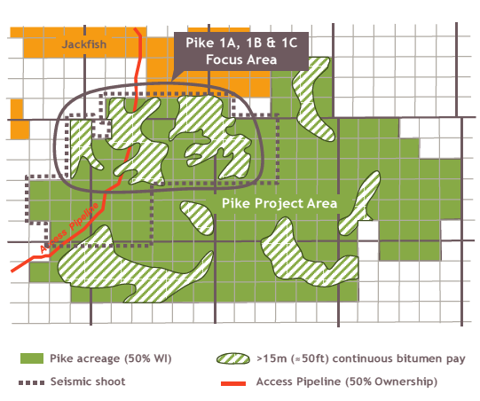 Source: Devon's Investor Meeting, July 2013
Devon said the Pike project continues to move through the regulatory process. The company scheduled three phases of 35,000Bls/d of production capacity and start-up for Phase 1A is expected for 2016 while the last phase would be commissioned for 2018.
Devon spent $155 million last year in capital expenditures for the Pike project. The corporate guidance for this year is planned to be approximately $120 million.
Combined with Jackfish, Pike will allow Devon to grow its oil sands production to at least 175,000 barrels per day by 2020. This low-risk oil production is a significant contributor to Devon's future growth. Furthermore, as of December 31st, 2012, Devon had 528 Mmboe (million barrels of oil equivalent) of proved reserves in the oil sands, representing nearly 18% of the company's total liquids.
Midstream Operations
Devon has several midstream operations contributing to its substantial increasing operational effectiveness. The company estimated enhancement margins by 2$ per Boe and an estimated operating profit of approximately $450 million.
Devon's marketing and midstream business includes marketing the company's U.S. and Canadian production. The company's domestic midstream operations are the largest among U.S. independent producers, encompassing approximately 6,500 miles of pipelines, 300 compressor units, and 6 gas processing plants with net inlet capacity approaching 1.4 billion cubic feet per day, including expansions due to come online in mid-to-late 2013.
Devon's Access Pipeline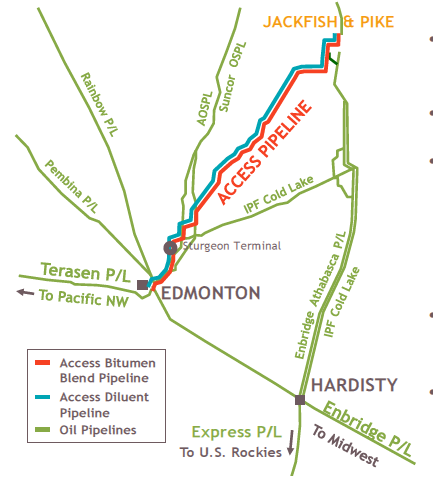 Source: Devon's Investor Meeting, July 2013
Of these 6 plants, Devon's Bridgeport plant is one of the largest plants in the U.S. with more than 63,000 barrels per day of NGL production capacity (after its expansion).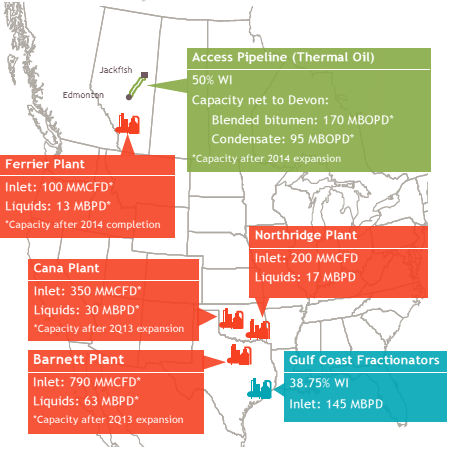 Source: Devon's Investor Meeting, July 2013
In Canada, Devon owns an interest in another 56 plants with a net inlet capacity of 1.2 billion cubic feet per day. The majority of these facilities are concentrated near Devon's core operating areas in the U.S. and western Canada, enabling the company to gather and process its gas.
Devon's net production totals approximately 2.5 billion cubic feet of natural gas, 150,000 barrels of oil and 110,000 barrels of NGLs each day. In total, the company sells in excess of 3 billion cubic feet of natural gas per day throughout North America. Devon's gas customers include pipeline companies, utilities, gas marketing firms, industrial users and local distribution companies.
On June 6th, 2013, Devon announced a plan to form a publicly traded midstream MLP (master limited partnership). The MLP is expected to initially own a minority interest in Devon's U.S. midstream business, including natural gas gathering and processing assets located in Texas, Oklahoma and Wyoming.
Devon expects the MLP to file a registration statement in Q3 of 2013. The company will own the general partner of the MLP, all of its incentive distribution rights, and a majority of its common units following completion of the initial public offering. Devon expects to utilize proceeds from the sale of MLP common units to fund its continuing operations.
Financials At A Glance
According to its Q2 of 2013 results released August 7th, Devon reported net earnings of $683 million or $1.69 per common share for the quarter, compared with Q2 of 2012 net earnings of $477 million or $1.18 per common share.
Total production increased to an average of 698,000Boe/d in Q2 of 2013, exceeding the top-end of the company's guidance range by 8,000 barrels per day. This is the highest average daily rate in Devon's history from its North American property base. Second quarter production benefited from better than expected results from several core development areas, including the Permian Basin and Barnett Shale.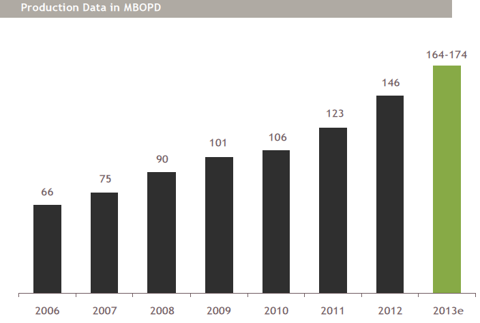 Source: Devon's July 2013 Investor Meeting
Devon's strong growth in oil production continued in the second quarter. In aggregate, oil production averaged 169,000Bls/d, a 14% increase compared to Q2 of 2012 and a 4% increase compared to Q1 of 2013. Driven by the Permian Basin, the most significant growth came from the company's U.S. operations, where oil production increased 36% year-over-year.
Net production in the Canadian oil sands came from Devon's Jackfish Phase 1 and Jackfish Phase 2, averaging 53,000Bls/d in Q2 of 2013, a 4% increase over the year-ago period. Construction of the company's third phase of Jackfish oil sands project is now approximately 70% complete. Phase 3 is expected to produce 35,000Bls/d before royalties for more than 20 years with plant start-up expected in Q3 of 2014.
Notably, revenue from oil, natural gas and natural gas liquids sales totaled $2.2 billion in Q2 of 2013, a 37% increase from the same period last year. The significant increase in revenue was attributable, according to the company's results, to improved natural gas and oil price realizations combined with higher oil production. In the second quarter, oil sales increased to more than 50% of Devon's total upstream revenues.
Devon generated $1.4 billion of cash flow before balance sheet changes in Q2 of 2013, a 31% increase over the year-ago period. During the quarter, the company comfortably funded its total capital program and reduced its debt balances by $2 billion, reported Devon's second quarter of 2013 results.
Bottom Line
Devon has proved reserves of three billion barrels of oil equivalent, from which 47% are estimated to be liquids. By 2016, the producer expects oil and natural gas liquids to account for more than half of its total production. In that regard, all 2012 capital was allocated toward oil and liquids-rich projects, as its North American onshore portfolio will ultimately offer greater risk-adjusted returns.
I believe that Devon represents a terrific investment opportunity because its shares are currently trading around $57-$59 while Morningstar is assessing its stock's value at $99/share, a discounted price of more than 41% currently.
Devon's strengths are:
Disciplined focus on per share results
Deep inventory of development opportunities
Significant positions in emerging oil plays
Strong balance sheet
Furthermore, several achievements are worth noting:
Reduced net debt by 20% since 2003
Reduced net share count by about 20% since 2004
Average annual increase of 24% since 2004
Disclosure: I have no positions in any stocks mentioned, and no plans to initiate any positions within the next 72 hours. I wrote this article myself, and it expresses my own opinions. I am not receiving compensation for it (other than from Seeking Alpha). I have no business relationship with any company whose stock is mentioned in this article.