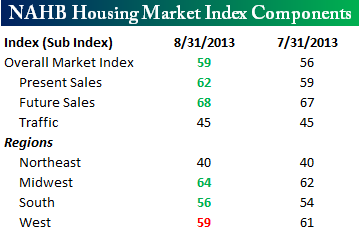 Homebuilder sentiment rallied to its highest level in nearly eight years this month, rising from 56 to 59 (anything over 50 indicates optimism). In spite of rising interest rates, both Present and Future Sales increased while Traffic was unchanged. For each of these components, the current levels are at or tied with their highest levels since 2005.
On a regional basis, sentiment is more mixed. In the Northeast, overall optimism is still depressed at 40, which is unchanged from last month and down slightly from the post-recession high of 41 earlier this year. In the West, builders are still optimistic but not by as much as they were last month. Finally, in the Midwest and South, sentiment is at levels not seen in at least seven years.
Investors have been selling homebuilders for the last several months on fears of how higher interest rates are going to impact mortgage payments. For now, though, the actual people building the homes remain optimistic.