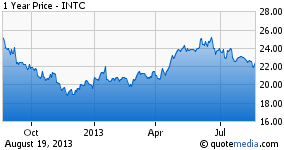 This past week Baird downgraded Intel (NASDAQ:INTC) to Neutral setting a new price target of $23 per share. Baird based their new price target on a Price-to-Earnings ratio of 12 to 13 with a reduced earnings estimate of $1.85. The downgrade was received after Baird returned from a recent trip to Asia sighting weaker than average demand in the second half of the year in the semiconductor industry, which they believe is going to play out into Intel's second half earnings. Additionally, Baird expects PC sales to post double digit declines later this year putting even greater pressure on the stock price.
After receiving this downgrade this past week Intel shares ended the week lower at $21.92 per share. Intel back in June was trading for around $25 per share. Since then the stock is now down almost 12% from those highs. Intel in past year has been getting a very bad press from the street for its inability to enter the ever growing mobile chip and tablet market. Intel which was famous for having their stickers on PCs and Laptops identifying that the computer's processor was running on an Intel has had a hard time jumping into these new and ever growing markets.
Historically, Intel's competition when it came to processors was mainly isolated to Advanced Micro Devices (NASDAQ:AMD). This competition has since grown to include the likes of Qualcomm (NASDAQ:QCOM), ARM Holdings (NASDAQ:ARMH), NVIDA Corp (NASDAQ:NVDA), Texas Instruments (NYSE:TXN), Juniper (NYSE:JNPR), Seagate (NASDAQ:STX), and Applied Micro Circuits Corp (NASDAQ:AMCC). With such a saturated market and Intel's management being very much behind the curve on the mobile chip market penetration, it is easy to see why the market discredits this stock so much.
I on the other hand view this past week's price action as a buying opportunity and a blatant overreaction to news for all intensive purposes is already baked into the price. Below I have highlighted several reasons why I feel that Intel at these prices is a great deal and should be picked up by any longer term investor.
Intel's Financials
I will be the first to say that revenue at Intel is not as strong as it was a year ago (based on its most recent quarterly report 6/29), but I will say that compared to the prior three quarters Intel has tightened up and improved their overall profit margins by 0.5% to 1%. Over the past year Intel's profit margins have stayed in a range between 58% - 63%, which is quite impressive. Even if Intel's revenue stream is not as solid as I ideally would like to see it. The firm's balance sheet is as strong as ever. The company has $26.5 billion in short/long term investments and cash. This represents almost a $10 billion or 60% increase from last year at this time.
The company has also increased its book value from $9.73 per share to $10.80 per share, all in the course of just one year. Above all the firm generated almost $4.1 billion in free cash flow last quarter. The stock currently trades for 11.85 times current earnings. Compared to the industry average of 28, Intel trades for a considerable discount. Lastly, this stock pays an impressive $0.90 per share annual dividend which at the current stock price is yielding 4.11%. The company has increased its dividend every year with an average increase of around 10%.
Intel's Outlook and New Products
Since Intel's new CEO took over earlier this year Analyst's believe that given this CEO's manufacturing background a great deal of efficiency gains will be seen in the firm's foundry strategy and development. Tighter production costs and increased efficiency in chip production should help Intel maintain if not increase its current gross margins of 58.3%. Additionally, according to analysts estimates gross margins for products coming out of the Bay Trail are slightly less than Intel's corporate average, but they are above the Intel's most well-known core processor products of Celeron and Pentium. If the Bay Trail processes do come in place of the existing Celeron and Pentium processors it is feasible to believe that margins will increase.
The new CEO has also made mention that Intel finally has plans to enter the tablet and mobile smartphone markets. With Samsung Electronics (OTC:SSNLF), Google's Android operating system (NASDAQ:GOOG), and Apple (NASDAQ:AAPL) dominating these sectors and primarily using Qualcomm chip sets it is easy to see why Intel would want to throw their hat into this arena as well. Very little news has really come out regarding the direction and type of chip Intel plans to make, but rumors of Intel striking a deal with Apple or going head-to-head with Qualcomm continue to surface. Either one of these situation would be good for Intel. Ultimately at this point any type of market penetration is better than nothing.
In the spirit of going more mobile Intel last week announced that the company intended to enter the Internet TV market. The company has promised to release a new 'live' TV via the internet by the end of the year. This service is expected to be called "OnCue" and will deliver live TV programming and on demand services via any type of broadband connection. This move further exemplifies to the market that Intel is not just a chip maker any longer, but instead a mobile competitor. If Intel does indeed move forward with these plans it will put the company in direct competition with Google, Apple, Netflix (NASDAQ:NFLX), Amazon Prime (NASDAQ:AMZN), Microsoft (NASDAQ:MSFT), and Hulu.
Above all else I think it is important to remind investors that as exciting as it is that Intel is planning to enter the mobile chip market and diversify itself. The company has already made bold moves in diversifying its business portfolio. Intel not only makes computing and processing chips, but they also hold McAfee's software and hardware platform and Wind River's real time operating system. Those assets have helped provide additional diversification for the company and helped increase its overall footprint and market share.
Intel Risks
Aside from all of the good news that I highlighted above I would be naive to not mention or note the apparent risks that face Intel. For Intel there really is just one major risk, decreased PC demand. Especially since two thirds of Intel's revenue is driven from this demand, replacing it is going to be of the utmost importance for the company to maintain its dominance, cash flow, and dividend. Thus far, Intel has been able to properly manage margins and costs so that as prices have come down they have been able to manage appropriately. The concern from most analysts is that pricing could decline more rapidly than the costs the company has been so actively trying to manage.
Additionally, the fact that most tablets are continually eating more and more market share of the PC and notebook market. Majority of those tablets do not run Intel processes in them (yet?). Intel has made mention of penetrating this market, but the bigger risk is that it might already be too late for Intel to make any meaningful difference for the company. Whatever mobile chip move that Intel chooses to make will need to be a bold one and one that will make a meaningful difference to the company's bottom line.
Intel Buy or Sell?
Given the obvious risk that Intel faces I feel that the company will get with the program and not let a giant market opportunity like mobile get away from them. Additionally, given the fact that Intel is working on streaming programming technology while at the same time it is trying to branch out into the tablet and smartphone sector says a lot about the direction of the company in the next 3-5 year.
Financially Intel is very strong and well positioned to capitalize on this new direction. As an investor I feel that this recent downgrade was a bit late and the market's over reaction to it has provided investors with an excellent buying opportunity into this solid stock and company. I would be a buyer at this price level and would continue to do so if the price continued to go down. The beauty in this stock is that the company pays your 4.1% to wait for the stock price to appreciate up in value.
If all of the above mentioned items do actually happen I think seeing Intel at a price of $28 - $30 per share would not be unrealistic. I say this because the market has heavily discounted the price of Intel shares because of the fear that the company will not adapt and move into the new chip and tablet markets. The stock trades at a heavy discount compared to its peers. Assuming that Intel began trading somewhere in the middle of the sector's P/E range at 16 the stock with the current EPS would be trading for around $29.60 per share. That is a 35% increase for today's current price.
Lastly, even if Intel does not trade for a higher multiple in the interim the amount of new market penetration that the company is focused on should help revive its revenue pushing the stock higher and generating more hype about the Intel and the chip market.
Disclosure: I am long INTC, AAPL, MSFT. I wrote this article myself, and it expresses my own opinions. I am not receiving compensation for it (other than from Seeking Alpha). I have no business relationship with any company whose stock is mentioned in this article.