NorthStar Realty Finance (NRF) announced the pricing of a $531.5 Million Floating Rate CMBS Transaction:
NorthStar Realty Finance Corp. announced today that NorthStar Real Estate Income Trust, Inc., its first sponsored non-traded REIT, successfully priced a $531.5 million non-recourse, floating-rate CMBS transaction at a weighted average coupon of LIBOR + 2.68%. The CMBS transaction will initially be collateralized by $425.2 million of commercial real estate loans with the flexibility to contribute up to $106.3 million of additional commercial real estate loans within six months of closing. A total of $382.7 million of investment grade bonds will be issued, representing an advance rate of approximately 72%. The CMBS transaction is expected to close by the end of August.

As part of the CMBS transaction, NorthStar will contribute senior participations of originated commercial real estate loans, including an interest in the leasehold mortgage on the Milford Plaza hotel, and will retain $124.4 million of participations in these loans. NorthStar expects to earn a yield of approximately 13% on its Retained Interests, inclusive of fees and estimated transaction expenses. NorthStar, together with NorthStar Income, will retain an aggregate 35% ownership interest in the Milford Plaza hotel and retail component of the hotel.
I suppose many are asking why I have chosen to write on this occurrence. The answer is actually quite simple: NorthStar has been gaining momentum in their business and is structuring transactions throughout their portfolio in order to increase financial flexibility while increasing returns. As the company states, the retained interests in the mortgage are expected to produce a yield in the neighborhood of 13%.
Recall that it was only July 1 that NorthStar announced the closing of the sponsored non-traded REIT:
NorthStar Realty Finance Corp. announced today that NorthStar Real Estate Income Trust, Inc. successfully completed its primary offering having raised $1.1 billion in aggregate gross offering proceeds, including $528 million year-to-date, through its captive broker-dealer, NorthStar Realty Securities, LLC.

David T. Hamamoto, chairman and chief executive officer, commented, "We are extremely pleased with the successful completion of our first sponsored non-traded REIT and are looking forward to capitalizing on this strong momentum with our $2.75 billion of additional non-traded products currently being offered. These programs are expected to generate substantial long-term fee income for our shareholders and the completion of NorthStar Income is a strong testament to the growth of our asset management business and our diverse and broad commercial real estate platform."
In other words, NorthStar has been able to execute their stated business plan in a very tough and volatile rate market. Their success is evidenced by their outperformance relative to such peers as Apollo Commercial Real Estate Finance, Inc. (NYSE:ARI), Ares Commercial Real Estate Corp. (NYSE:ACRE), Resource Capital Corp. (NYSE:RSO), KKR Financial Holdings LLC (KFN), and mREITs such as Annaly Capital (NYSE:NLY).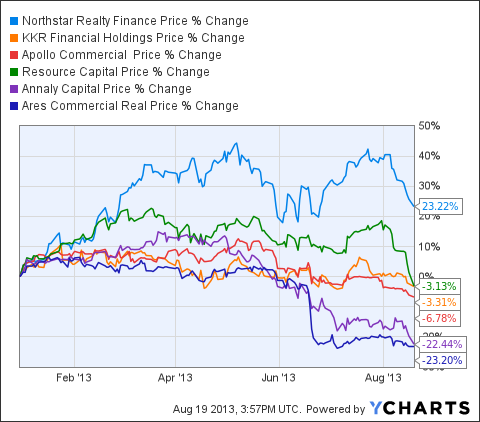 The outperformance has been significant. Since I wrote about the company a year ago (see "Finding Value By Following NorthStar") the company has posted a 76% return (reinvested) vs. the 20% on the S&P and -5% on Market Vectors Mortgage REIT Income ETF (NYSEARCA:MORT). One of the big issues with lenders/mREITs has been the loss of book value this year. While NRF is not a "traditional" mREIT (nor are many of the peers I listed), let's take a look at how they have held up over the last year (using the same peer group).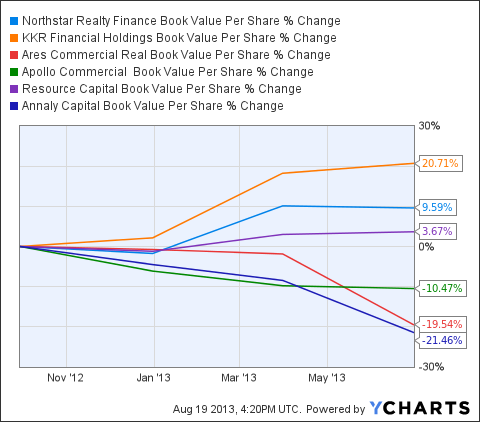 From a book value perspective, they are second only to KKR in book value growth. So how has this translated into income for investors? Well, let's take a look.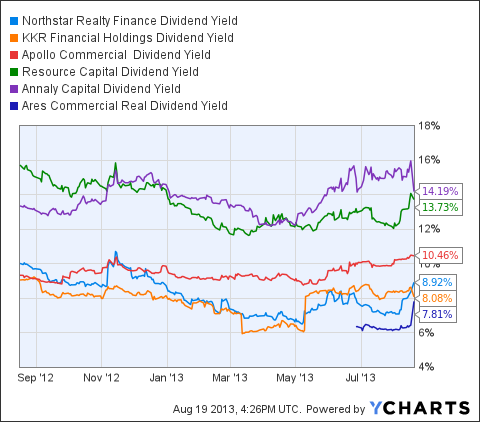 NorthStar currently has an 8.92% dividend yield. Certainly not the highest in the group. The question becomes: Is 9% and safer (less volatile, less book value loss) worth the income give-up vs. many peers in the mREIT space? I would argue that it is. I would also say that it is a good addition to either an mREIT portfolio or an income portfolio (as I stated here).
Bottom Line: I believe that NRF continues to be a solid investment and a company that has done what they said they would. The REIT continues to generate decent income and returns for its investors and the recent weakness in the sector has allowed investors to get in at lower levels (I also believe in legging into positions in times of volatility -- equity, rates, or otherwise).
Some other good reads on the company have been written and posted by Dane Bowler and can be found here and here.
Disclosure: I am long NRF, KFN, NLY. I wrote this article myself, and it expresses my own opinions. I am not receiving compensation for it (other than from Seeking Alpha). I have no business relationship with any company whose stock is mentioned in this article.