This is an interesting recession.
In the past I have postulated the various possibilities of the type of recovery we would face – L, U, V, or W.
The theory is that the deeper the recession, the more pressure exists to drive a recovery – hence a "V". Even though the coincident data did not support a "V" recovery, leading indicators did.
But data this week has destroyed the belief there is pent up demand or any other bull tendencies raging.
The possibility of a "V" recovery has been taken off of the table.
Reason #1 – Disastrous Auto Sales
After cash-for-clunkers, everyone expected a drop in auto sales.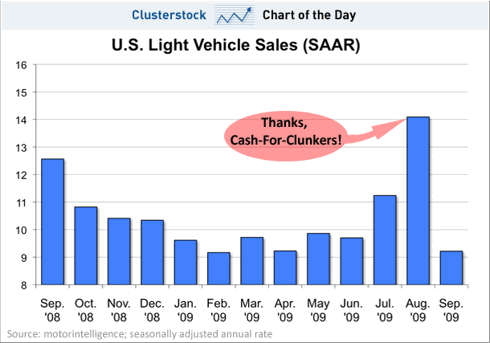 When sales drop to the lowest recessionary levels after an incentive, the significant drop in sales are proof that the incentive failed to act as a stimulus. The economy is not ready for a raging recovery.

Reason #2 – Midwest USA Manufacturing Output Dropped
The August 2009 Chicago Fed's Manufacturing Index fell MoM. At the trough of a recession, this should send shivers down your spine. No one says recession recovery should be linear, but it completely destroys the concept there are strong recovery forces at work.
The Midwest is ground zero for manufacturing in America.
The decline was focused in the regional auto sector.
Regional auto sector production declined 4.2%;

Regional machinery sector output rose 0.3%;

Regional steel sector output increased 0.6%; and

Regional resource sector output rose 1.3%.
This is an ENORMOUS surprise after coming on the heels of cash-for-clunkers where common wisdom said that inventories were wiped, and now people were coming back to work to build autos.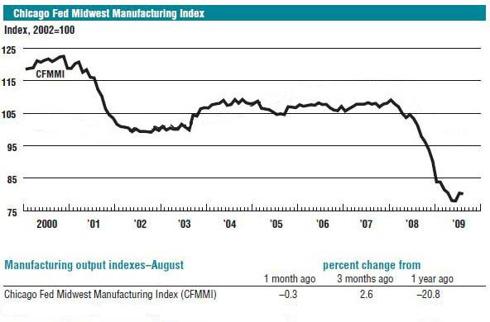 Reason #3 – Personal Income Down but Spending Up
The data gets really conflicted at this point. Yes, using chained (equalized dollars), American income is down in August 2009. But spending was up almost 1% by consumers – all from durable goods which I would assume was cash-for-clunkers.
Then there was a sharp drop in the rate of savings from 4% to 3% (annualized MoM). And last Friday, US Census issued a conflicting report showing August 2009 durable goods were down.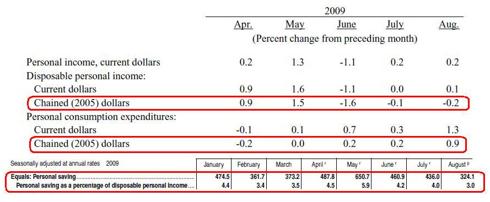 Reduction in real income is a normal event at the end of a deep recession. Consumer spending pickup is a normal event at the end of a recession – except it appears to be induced by cash-for-clunkers (and we now know the September auto sales figures will reverse this – expect a 1% decline in September MoM.
The unexplainable is the drop in personal savings for August unless it was caused by cash-for-clunkers. We need to wait for September data.
Reason # 4 – The ISM Manufacturing Index Hit a Wall
I do not think the Institute of Supply Management (ISM) Manufacturing index can be relied on for forecasting until validated by quantitative data which comes one month later. Last month, the market was surprised when the quantitative data was contrary to the ISM survey for the matching month. As stated in my last article:
The August 2009 durable goods report shows seasonally adjusted new orders down 2.4%, while the August 2009 ISM survey which was released a month ago showed new orders were UP a statistically large 9%. This is more than a little disconnect and good reason the market is confused.
As the ISM said in their September 2009 survey that September would be worse than August, then we can project another down month for durable goods when September's quantitative data is released.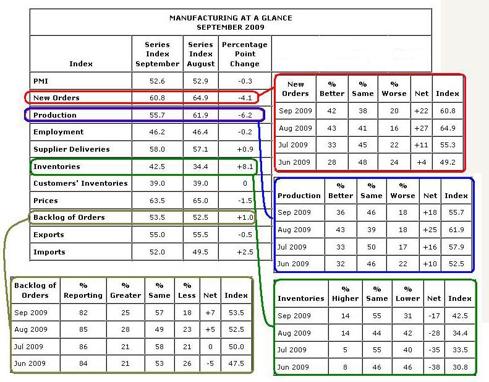 The ISM saying September will be a little worse than August is not good news.
Reason #5 – Construction Spending Change Negligible
US Census reported construction spending for August 2009 was up 0.8% seasonally adjusted / annualized – but with a potential error factor over double the reported gain. In other words, with the margin of error there actually could have been a decline.
Not to squabble whether is it a gain or a loss, the point is the construction spending is down almost 12% YoY. A "V" recovery would have constructions spending powering up rapidly. This is not occurring.
But interestingly, government construction spending fell (hello stimulus??) 1.1% - and the gain came mostly from residential construction. This bit of good news is actually saying we are building more houses into an already overbuilt housing market.
Reason # 6 – Unemployment Claims Keep on Coming
The 4 week moving average of initial claims improved slightly last week.

We expected a jobless recovery. But when the rate of initial unemployment claims keep on coming, it brings into question whether it is possible for the economy to be improving at the structural level.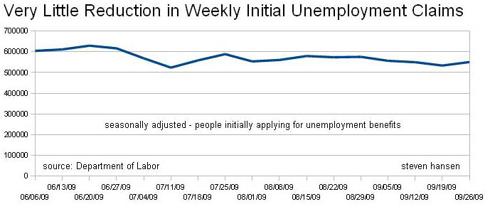 There are jobless recoveries, but not recoveries where jobs are being lost at the rate of over one half million per week – over 2 million per month. This is not a recovery – and more resembles the making of a national disaster.
No recovery can build while shedding jobs at this rate. This mitigates any recovery.
So the "V" Is Gone
For the "V" to have been in play, we had to have seen a stronger rebound. The cash-for-clunkers and other stimulus did not work. The economy is acting sluggish. The best scenario possible at this point is a "U" recovery.
If the various government rescues and stimuli have failed to produce a strong rebound, what we must hope for is a possible continuous building of fundamentals. We need to continue to monitor the dynamics through the end of this year.
The magic tricks are not working. Still no strong economic driver has appeared to save the day.
Hat tip to Steve at MEMETICS & MARKETING for editing support.
Disclosures: None