To build or not to build, that is the question. The correct answer, however, may surprise considering all the bullish statements coming directly from homebuilders - like NVR Inc. (NYSE:NVR), D.R. Horton (NYSE:DHI), Toll Brothers (NYSE:TOL), Lennar (NYSE:LEN), PulteGroup (NYSE:PHM) M.D.C Holdings (NYSE:MDC), KB Home (NYSE:KBH), Ryland Group (NYSE:RYL), Standard Pacific (SPF), Hovnanian Enterprises (HOV) and Beazer Homes (NYSE:BZH) - in the NAHB sentiment indices.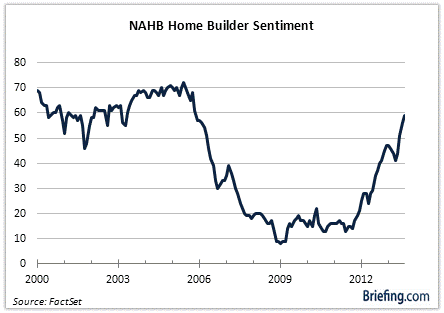 Homebuilder sentiment returned to its highest level since 2006. However, the increase in sentiment has not brought a rush of new construction. Inventories of homes that are in the process of being built, or were already completed, have been nearly flat since the start of the year.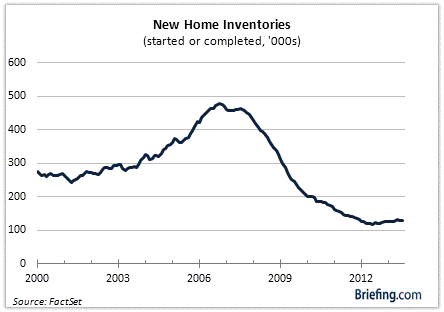 Even though builders are saying that they are more confident in the market, they are not acting on that confidence by rushing out new production.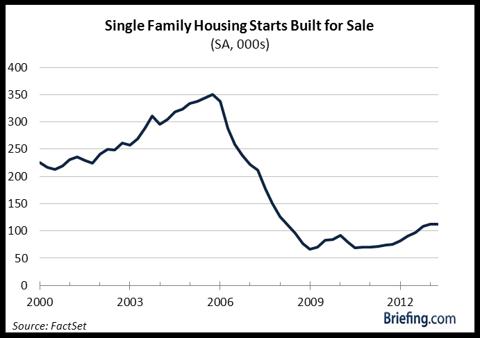 During normal periods of home selling activity, a manageable supply of inventories is around six months. Given the current sales pace, if supplies were at that level today there would be roughly 100,000 more single-family homes under construction or already completed.
According to the Census Bureau, it took six months on average from start to completion for a single-family home in 2012. Using those same building rates and assuming sales demand is unchanged from June 2013, current production levels would leave inventories at about 158,000 in January 2014. That represents a 4.4 months' supply at the current sales pace.
To get inventories back to a six months' supply, total single-family home starts would need to increase by a little over 8% more than what builders actually started in July 2013. That would be the most single-family homes started since June 2008.
If sales continue to trend higher, which is what the builders are implying in their sentiment index, then construction growth would need to exceed those projections in order to bring inventories back to a six months' supply.
The fact that construction growth is not surging is a very telling sign that builders do not actually believe what they are saying in their own sentiment index. If they did, construction growth would be much more bullish.
In the short term, this will constrain sales and keep potential profits muted.
However, if demand was to slow from rising interest rates, as we expect, then builders will have manageable inventories. That means builders will not be forced to cut prices drastically to meet demand as they did after the housing crash.
If potential buyers are not affected by the higher interest rates, then the low supply will draw potential buyers to the existing home sector and builders will likely lose sales.
In either case, homebuilders are not in prime position for growth.
Disclosure: I have no positions in any stocks mentioned, and no plans to initiate any positions within the next 72 hours. I wrote this article myself, and it expresses my own opinions. I am not receiving compensation for it. I have no business relationship with any company whose stock is mentioned in this article.