Editors' Note: This article covers a micro-cap stock. Please be aware of the risks associated with these stocks.
A recent article in The Telegraph highlights the risks posed by the deteriorating situation in Egypt. The Arab Spring led to the overthrow of long-standing ruler Mubarak, who was followed by the Islamist politician Mohamed Morsi, who was recently ousted by the military after a year of misrule. Mass protests have followed this military overthrow of Morsi, which were responded to by the military with force, killing hundreds. And now it appears both sides are gearing up for increasing violence, as 25 Egyptian policemen were killed in an attack on the Sinai Peninsula and anti-Christian violence has escalated.
As the Telegraph article highlights, while Egypt exports a minimal amount of its own oil, a considerable portion of the world's supply of oil and liquefied natural gas are transported through the Suez Canal and the Sumed pipeline -- approximately 7% of the seaborne traffic of oil and 13% of LNG travel through the Canal. As per the article: "Closure of these two routes would add an estimated 2,700 miles of transit from Saudi Arabia to the United States around the Cape of Good Hope, increasing costs and shipping time."
I have two investment takeaways from seeing this news. First, I am continuing to avoid holding positions in domestic Egypt focused oil producers such as Trans Globe (NASDAQ:TGA) and international producers with significant exposure to Egypt such as Apache (NYSE:APA). Trans Globe produces 100% of its oil in Egypt, and thus is highly exposed if the cycle of violence in Egypt escalates into a civil war or into terrorist attacks on oil production and transportation infrastructure. And while Apache generates ~25% of its production in Egypt, it generates ~30% of its cash flow from the country. Apache's operations and cash flows could be impaired in a disruption scenario.
Trans Globe stock is down almost 50% from its 52-week high, and Apache stock is down over 15% from its recent high, so obviously some of this risk is priced in. But there could be more to come, particularly for Trans Globe. I published an "underweight" thesis on Apache stock in 2011 when the stock was at $114 vs. the current $75 price, but there is still some further Egypt specific risk in Apache's shares.
My other investment takeaway from the Egypt turmoil is that since there seems to be a reasonable chance that oil prices spike if there is a supply or transportation disruption, I want to invest in stocks that are both very undervalued and that historically have traded with a high correlation to oil when the price of oil spikes. I have written previously about one such investment, in a company called Lucas Energy (LEI). Lucas trades at less than one-third of its proved reserve value, holds its most valuable acreage by production, and recently secured financing that will allow it to redevelop existing fields through workovers and recompletions (generally considered low-cost, high-return ways to grow production and cash flow).
One timely aspect of my investment in Lucas Energy is that, historically, the stock has traded in concert with spiking oil prices. This was particularly true in 2011, the last time there appeared to be Egypt and Arab Spring-driven supply disruption risk. In early 2011, as supply risk drove the price of oil up, the price of Lucas Energy stock shot up from under $2 to almost $5 per share on massive volume (over 100% of the float traded on a daily basis for several days). It is possible this may not happen again for Lucas stock, and is definitely not main reason I own the stock, but it doesn't hurt to have the potential to spike on high volume from world events very similar to current events.
Another timely aspect is that a detractor has recently written several misguided negative articles about Lucas. First, there is the claim the company would be unable to secure financing (it subsequently secured financing). Next, there's the claim that Lucas's acreage would expire before being developed (this was just wrong, the core acreage is held by production and is therefore highly unlikely to expire undeveloped). Last, there's the complaint that Lucas's financing cost was too high while finally providing an indication of a potential motivation for the negative articles "I would consider a long position in the company" (if the stock were to trade down).
Finally, I would be amiss to mention Lucas without highlighting the excellent results being generated in close proximity to Lucas's acreage (and in some cases on adjacent land), which continue to drive Lucas's asset value higher. EOG (NYSE:EOG) continues to drill phenomenal wells in Gonzales County, and sees a massive NPV per section of land there. Previously, EOG saw an NPV per 640 acres of $69 million.
Click to enlarge images.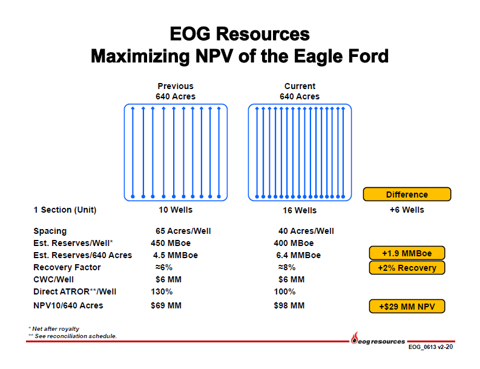 Now EOG sees NPV per 640 acres of $103 million, driven by more wells per acre and lower well costs (see below).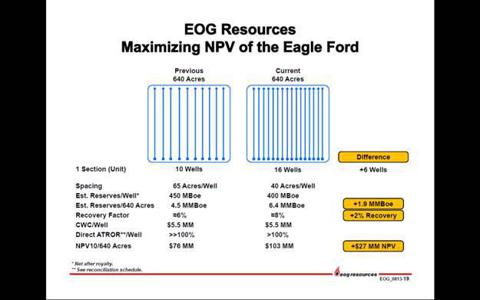 Sanchez Energy (NYSE:SN) sees similar excellent economics for wells nearby Lucas's acreage, despite $9 million dollar wells (vs. EOG's new $5.5 million well cost estimate). Even if wells on Lucas's acreage only hit the lower Sanchez-type curve (despite adjacent highly productive EOG wells), with ~2,000 core net acres and 16 wells per section, Lucas has ~50 potential net wells -- or a potential NPV of $160 million just from the Eagle Ford just using the lower type curve from higher cost Sanchez. This compares favorably with Lucas's current ~$40 million enterprise value, and does not factor in the value of Lucas's other non-Gonzales Eagle Ford assets.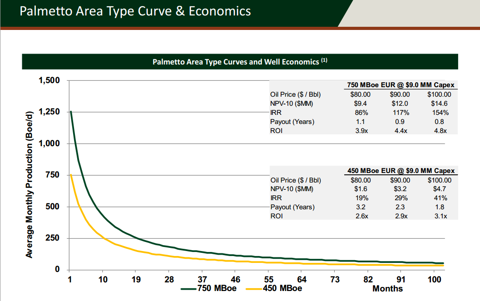 In short, there is a risk that oil supply from and transportation through Egypt is interrupted. This could negatively impact Egypt-focused oil producers such as Apache and Trans Globe, and could positively affect other E&P companies, particularly Lucas Energy. Lucas' stock previously spiked in price when there was turmoil in Egypt in 2011, and despite positive recent developments, Lucas has recieved unduly negative and inaccurate coverage.
Lucas is a small company, and investing in stocks of small companies incurs additional risks. I was on the board of Lucas Energy and left the board in March 2013 to pursue other endeavors. I have no ongoing business relationship with Lucas or any other company mentioned in this article.
Disclosure: I am long LEI. I wrote this article myself, and it expresses my own opinions. I am not receiving compensation for it (other than from Seeking Alpha). I have no business relationship with any company whose stock is mentioned in this article.