Natural Gas is making headlines as the fuel of the future, the bridge to renewables, and a path to energy independence. But right now, this hot commodity is quickly becoming a byproduct stuck in structural oversupply. Some large dry gas producers like Ultra Petroleum (NASDAQ:UPL) continue to tout their low cost structure, but the obstacles facing natural gas, and its tracking ETF (NYSEARCA:UNG) are growing larger and clearer, and reducing the chances that contract prices will move much above $4 in the next year without major external help.
The other unpleasant reality for natural gas producers: Basis reductions. In past years, most eastern markets traded at handsome premiums to Henry Hub because storage and transport were required to keep those big markets supplied. Now, the prospect of surplus gas production in the northeast is generating the opposite problem, and pipeline reversals will take time. This will depress the netbacks for everyone in the Marcellus and Utica.
Producers like Ultra, Chesapeake, and Encana aren't going to go away if gas sits at $3.50, but much of their current valuation is based on a gas market recovery, and investors can still get hurt. It is time exit those equities, or at least hedge and sell upside through covered calls, for at least 1 more year.
When the CEO of Ultra Petroleum says encouraging things like this, on the Q3 '12 earnings call...
So industry-wide, you are just beginning to see natural gas production rollover. Once it begins, it will accelerate, then I think we are looking at a 2-year window of monthly reductions in domestic natural gas supply.
and this, in the Q2 '13 earnings call:
Domestic production has stopped growing and is essentially flat since last July. Backlogs of uncompleted, unconnected wells are being worked off in every play. And production in most basins is declining, with one notable exception.
...we begin to smell a rat. With existing leverage (think CHK), and market expectations of production growth, a gas-heavy reserve and production portfolio will be a millstone if another two years are needed to bring about a price recovery. And that's just what is likely to happen.
So what are the obstacles that will prevent gas from getting back to $5 (or even $4?):
Obstacle #1: Production
A year ago, the gas rig count was in steep decline, down from 900 to 484. It has since bottomed out (seemingly) at 349 and recovered to 388 this week.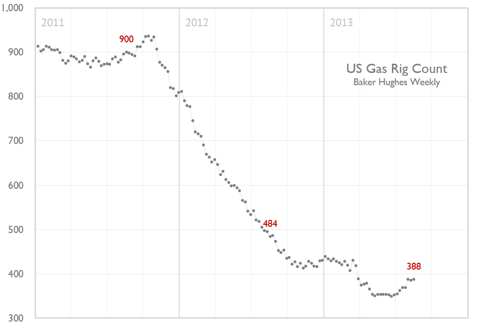 It was an easy conclusion to come to, last year, that the loss of rigs would translate into fewer completions and declining production. The vague but significant inventory of uncompleted wells was expected to delay, but not prevent, the production decline. Analysts and CEOs declared that "The Fix Is In." The steep decline rate of producing wells, estimated at 25-30% per year, leaves a large hole to fill with new wells. Add to this the claims that break-even production costs were $5 and above, so there was no incentive to drill.
Production data seemed to support this story, as it leveled off noticeably in 2012. Here are the EIA reported Marketed Gas Production numbers through May 2013: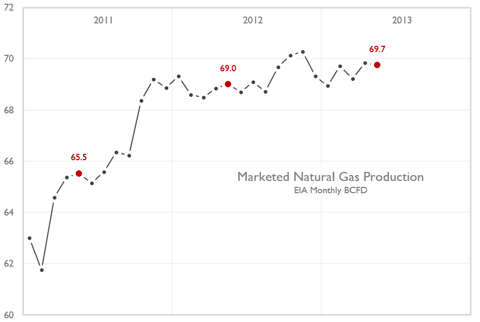 But the story is more complex. The production plateau was also a reflection of other temporary constraints. Pipeline capacity and gas processing capacity were among the largest. And meanwhile back at the ranch, producers and oilfield service providers continued to apply 'smartsmanship' on every front.....
Drilling faster - drastic reduction in drill times everywhere
Finding more - per-well recovery estimates rising
Drilling cheaper - pad drilling, frac capacity, too much to list
Finding new gas - Utica, stacked pay in existing basins etc.
Associated gas - 1.5 mcf of gas per barrel of oil produced
Taking money from foreigners - a time honored deal, the JV
The land grab phase was thought to be over. Drillers no longer had to preserve leased acreage through uneconomic drilling. But this theme isn't dead:
The mother of all fields, the Haynesville, was supplanted by the Marcellus, Granite Wash, Eagle Ford, and others that delivered a wet mix of gas and liquids. When the Haynesville was discovered, Chesapeake assured investors that the last of the great fields had been found, that gas now had 'nowhere to hide.' But each new play brings new leasehold and required drilling.
Another 'land grab' may be in the offing as the industry prepares for LNG exports in about 4 years. Efforts to simultaneously lock in reserves, flowing production, LNG export and off-take contracts over decades will likely drive producers to overdevelop in the meantime. A year or two of low ROI production may be judged a small price to pay when long-term deals for $5-8/mcf guarantee magnificent returns.
The bottom line so far is that production hasn't manifested any decline, and more are despairing of this theme every day. It could still materialize, but we have almost 400 rigs productively working (plus 1,400 oil rigs), production that grows with each new piece of infrastructure, and quarterly reports of (at least some) happy producers generating astonishing well performance and an economic product mix. Focus is turning instead to the demand story.
Obstacle #2: The Electric Power Market
The only price sensitive demand component of natural gas, in the near term, is electric power generation. The story for 57 years was 4.6% compound annual growth in power demand: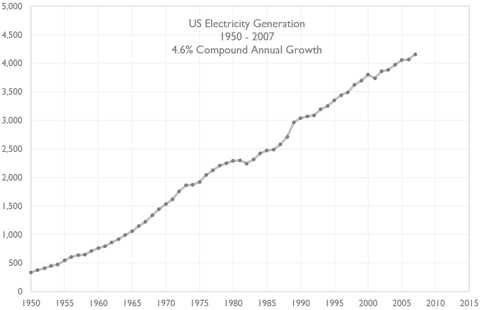 Then came the global financial crisis. And we have not been able to get back on trend: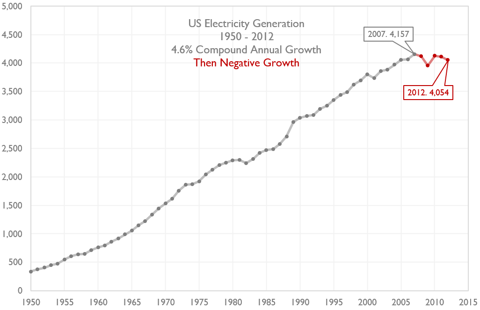 Fossil fuels provide the marginal gigawatt in the US, so coal and gas are only used as needed, after renewables and nuclear have given all they can. With nuclear output steady, and renewables beginning to grow noticeably on a % and absolute basis, this leaves less demand available to be met by fossil fuels: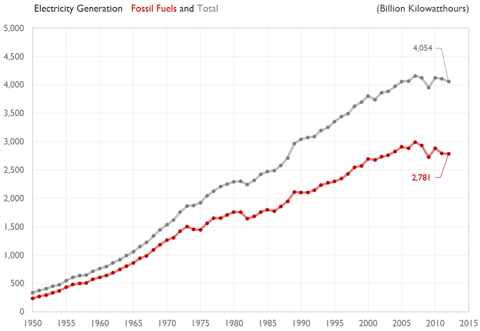 So constraints for natural gas in the power sector are:
The pie is getting smaller
Fossil fuel share of the pie is getting smaller
Natural gas can only take market share from coal
Attention, perhaps too much, has been given to the coming loss of coal fired generation capacity due to environmental regulations. Scheduled decommissions are significant, though concentrated in 2015 and beyond. A long-view investment thesis that favors gas as the dominate fuel of the next decade may ultimately be correct. But it runs the risk that investors will not survive the journey in the meantime.
Until the US returns to load growth, idle power generation capacity will be increasing despite plant closures because renewable market share is inexorably rising. So although it looks like gas is making tremendous gains against coal in recent years...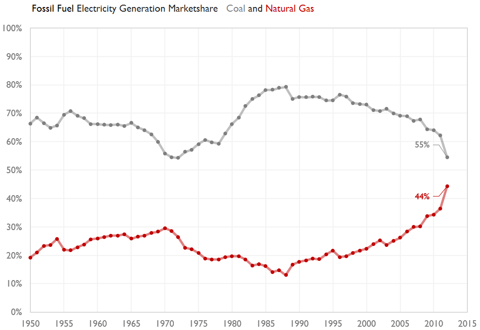 The fact is that the trend has now abruptly halted, and by the end of this summer may be back to 2011 levels. Here are the EIA monthly numbers through May 2013: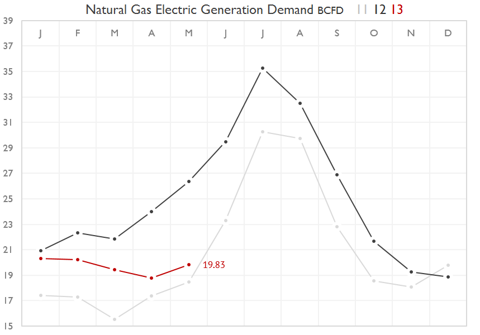 It is at least an indication that gains will not be easily held. Particularly in a $4+ gas environment. There is no need to recount the unique conditions in the power market in 2012. Gas hit $1.88. Enough said.
Today gas could rise, but only to the upper bound of coal competition. This price point varies around the country, by season, and coal price is a factor too. But with coal prices currently depressed, weather unexceptional, and gas inventories rising too quickly, we need two things that we do not have:
Drilling below replacement rate
Absolute electricity demand growth above renewables growth
Until then, something large and special, like record cold or a frac ban, would be the primary reason gas could maintain a $4.50 price in the next year. It may be that $4 is enough to set pipe in more wells than we need.
Note: A number of other variables, quite relevant to the full supply and demand picture, are omitted here.
Disclosure: I have no positions in any stocks mentioned, and no plans to initiate any positions within the next 72 hours. I wrote this article myself, and it expresses my own opinions. I am not receiving compensation for it. I have no business relationship with any company whose stock is mentioned in this article.
Additional disclosure: I hold long and short positions in Nymex Natural Gas Futures and Futures Options, and adjust my positions frequently.