Perception is an interesting way of looking at how companies are valued. When things are going well the company is perceived to be a world beater and naturally the share price follows. There have been numerous cases over the years were companies were "perceived" to be "revolutionizing" the world yet the results never materialized. A couple of names from long since past are Plug Power (NASDAQ:PLUG) with its supposedly new and revolutionary fuel cells and Presstek (NASDAQ:PRST) with its revolutionary printing solutions. Both were darlings of the momentum crowd last decade, trading at multiples to sales that were absolutely absurd. Eventually, reality caught up and results were demanded of which neither could supply. Both shares have fallen precipitously to under $1 a share. The point here isn't to speak harshly of these former high fliers but to illustrate the power of perception. These companies were suppose to revolutionize the field, yet neither came close, costing investors millions.
A similar situation is happening now at Apple (NASDAQ:AAPL). The shares have sold off rather violently form the high achieved last year of over $700 per share. Growth began to slow as the company entered a period sans any new innovations. This is the exact moment when the "perception" of the company changed for the worse. Suddenly, AAPL wasn't good enough and was sold off, hitting a low of $390 per share before stabilizing. The company witnessed its multiples collapse to levels associated with companies devoid of any future revenue growth. To the board and Tim Cook's credit, they proactively tried to fight this decline by raising the dividend and buying back more shares. Both of these moves are in my opinion the correct moves to make. During this time frame the company continued to beat its revenue and earnings estimates showing the health of the underlying business.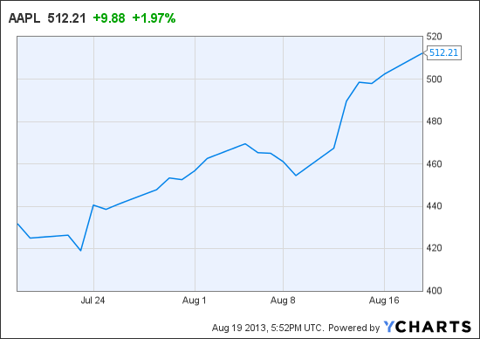 All of this changed with one announcement. The announcement made via Twitter of all places that Carl Icahn has built a position in the company. Icahn took a rather minor position in the company and simply doesn't have the capital to take a large position in the company. The perception now of the company has changed. With Icahn on board along with some other hedge fund managers such as Leon Cooperman the company is in play. As a shareholder, I'm heartened by the news that the Street has finally come along to my view that AAPL is a wonderful company trading at a very attractive price. As we can see from the chart above, AAPL has risen over 15% in less than one month. In my opinion, with a successful unveiling of the iPhone 6 slated for September the shares will march to $600 by the end of the year. The fundamentals of the company have remained the same since I initiated my position (at $ 470) in March of this year. The only thing different is the perception.
This leads me to my next example which is International Business Machines (NYSE:IBM). I have extensively written about IBM in the past and those thoughts can be seen here. IBM in my view suffers from a negative perception on the Street. The company is seen by some as a dinosaur and by others as road kill as upstarts such as Workday (NYSE:WDAY) eat its lunch in a migration into the cloud. I actually have the exact opposite view. I view IBM as a dominant company that is transforming itself into a higher margin IT company. The company is aggressively shedding costs and buying back a large portion of its shares. With the shares trading at a valuation that implies negligible future growth, the buybacks will greatly enhance shareholder value. IBM has a very successful buyback program that has managed to shrink shares outstanding by 34% over the last ten years. For those who aren't a fan of buybacks it is very difficult to argue with these results.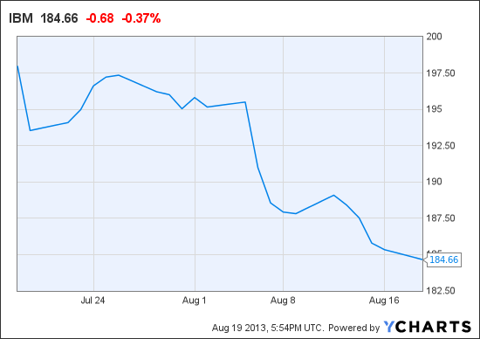 I think similar phenomena will happen with IBM that we are currently witnessing with AAPL. Suddenly, the Street will realize what a great value the company is and will bid it up aggressively. As we can see from the chart above the shares aren't reflecting this as they have traded down since the recent earnings report. Meanwhile, the company continues to aggressively buy back shares and taking costs out of the company. Net margins have risen to over 17%. Net margins are an excellent measure of the effectiveness of the company's leaders and their eye on controlling costs. IBM has managed to roughly double net margins since 2003 which is impressive. If you look at the company in an objective manner it becomes quite clear why Warren Buffett has over 14% of Berkshire Hathaway's (NYSE:BRK.A) (NYSE:BRK.B) investment portfolio tied up in IBM's shares.
In summary, a dividend growth value investor can do well for themselves by taking advantage of the Street's negative perception on companies. By closely watching the company's fundamentals and ignoring the "noise" emanating from such venues as Jim Cramer, CNBC etc., one can do far better. I sleep soundly at night, with the above holdings and I'm perfectly comfortable holding them for an extended period of time. Thank you for reading and I look forward to your comments.
Disclosure: I am long AAPL, IBM. I wrote this article myself, and it expresses my own opinions. I am not receiving compensation for it (other than from Seeking Alpha). I have no business relationship with any company whose stock is mentioned in this article.
Additional disclosure: Thank you for reading the article. Investors are always reminded that before making any investment, you should do your own proper due diligence on any name directly or indirectly mentioned in this article. Investors should also consider seeking advice from a broker or financial adviser before making any investment decisions. Any material in this article should be considered general information, and not relied on as a formal investment recommendation.