This is the final installment in a 3 part series. Understanding The EPA's RFS2, Its Future, RINs And The Ethanol Blend Wall - Part 1 covered ethanol, D6 RINs and the "blend wall" issue. Understanding The EPA's RFS2, Its Future, RINs And The Ethanol Blend Wall - Part 2 covered biomass based diesel, D4 RINs, the "blenders' tax credit," and the cross impact of the ethanol "blend wall" on biomass based diesel. This article will cover the future of the EPA's Renewable Fuels Standard 2 or RFS2.
The EPA's RFS2 sets Renewable Volume Obligations, or RVOs for the various biofuels. This graphic details the RVOs going out to 2022.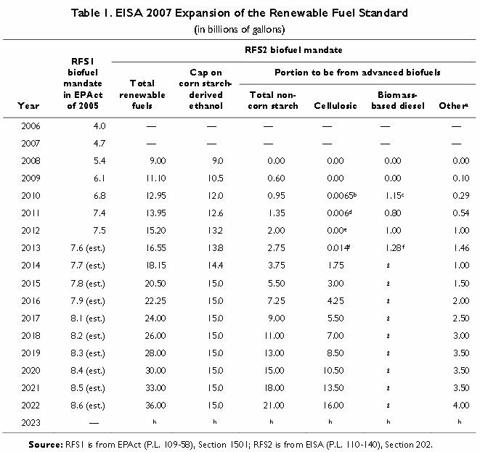 Key Points:
General:
1) The RFS2 is a long-term program which must survive multiple administrations to reach completion.

2) The EPA has demonstrated "flexibility" in enforcing the RVOs.

3) The 2013 RVO is 16.55 billion gallons, less than 1/2 the estimated 2022 RVO target of 36 billion gallons.
Ethanol and D6 RINs:
1) The ethanol RVO increases for another 2 years from 13.2 billion gallons in 2013 to 15 billion gallons in 2015.

2) The ethanol RVO remains unchanged after 2015.

3) The ethanol "blend wall" may persist through 2015, and even longer if the US fuel consumption doesn't increase.

4) The "blend wall" should maintain pressure in Washington, keep D6 RIN prices high, provide support for corn prices, encourage greater corn production and lower ethanol prices.

5) The "blend wall" should also benefit other biofuels that produce the D4 RINs.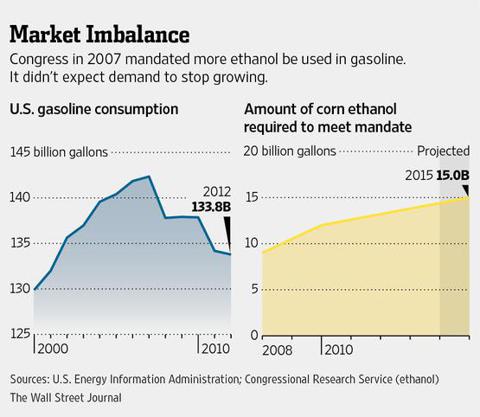 Biomass Based Diesel (NYSE:BBD) and D4 RINs:
1) Biomass Based Diesel consists of biodiesel and renewable diesel, and each gallon produced generates 1.5 to 1.7 D4 RINs.

2) The 2013 RVO is 1.28 billion gallons, and future RVOs are to be determined.

3) There is an estimated 2 billion gallons of biodiesel capacity in existance, so there is room to grow, but higher RVOs would likely drive up soy bean prices, and create greater competition for farmland currently being used for corn.

4) Higher RVOs would be expected to benefit "flexible feedstock" plants greater than soy bean oil based BBD plants who are more sensitive to increases in soy bean prices.

5) BBD benefits from the ethanol "blend wall" are likely to be higher D4 RIN prices and a greater supply in inedible corn oil, a BBD feedstock.

6) With ethanol being capped in 2015 and future BBD RVOs undefined the long-term prospects for BBD are uncertain, especially considering the fact there there is excess biodiesel capacity currently.
Cellulosic/Non-Food Biofuels (CNFB):
Cellulosic/non-food biofuels (CNFB) is really the future of RFS2. Ethanol is capped in 2015, BBD is undefined, but CNFB goes from effectively 0 gallons in 2013, to over 16 billion gallons in 2022. 16 billion gallons is greater than ethanol's peak RVO of 15 gallons, and would represent over 10% of today's fuel consumption. In my opinion, CNFB should have been the focus of the EPA's RFS2 from the beginning. Burning food and driving up prices while people starve in this world simply has never made any sense to me, and ethanol isn't even environmentally friendly. Cellulose on the other hand is widely abundant, cheap and doesn't disrupt the food supply. Mother Nature uses cellulose to produce petroleum, and her process it taught in organic chemistry class rooms today. Using cellulose and copying Mother Nature just seems like the common sense solution. The abundant supplies of non-food cellulose and "drop-in" quality of the CNFB fuel truly offer a solution for energy independence that is least disruptive to the existing energy infrastructure, engines and food supply. A focus on cellulose should also help taper some of the resistance to RFS2 now being magnified by the ethanol "blend wall" and high food prices.
The largest producer of CNFB is KiOR (NASDAQ:KIOR), but it is having a very difficult time getting its plant running as a profitable level, and just missed reaching forecast production levels triggering a potential lawsuit. Investors must be aware that this industry doesn't exist, entrepreneurs are trying to invent something that doesn't exits, the plants are first and one of a kind, so the road to producing CNFB will not be smooth or easy, and there will be many missed forecasts as I have learned from my investment in Syntroleum (NASDAQ:SYNM). These investments are not for the faint of heart, and people should expect many ups and downs. The bottom line is if inventing a new economical energy source capable of replacing petroleum was easy, it would have been done by now.
The benefit CNFB has however is that it has the backing of the iron fisted EPA, and the RIN mechanism is designed to guarantee profits in the CNFB industry at a level not only sufficient enough to reach the annual RVO, but enough to encourage capacity expansion to reach future RVOs. Typically to expand capacity the industry must give a greater than market return to attract capital. That is a huge benefit to this industry, and is the RIN mechanism was successfully used to create the ethanol and BBD industries. To ensure the focus on CNFB the EPA has assigned CNFB a unique RIN coding. CNFB generates C3 RINs, and unlike D6 RINs, can't be substituted. The RVO for CNFB must me reached by producing CNFB, and nothing else. Ironically this may have the unintended consequence of drawing capital away from ethanol and BBD, who should see their profits decline as they reach the peak RVO, and expansion is no longer desired.
Right now, KIOR is the major potential producer, with a plant already built and slightly producing with plans in the works for a much larger plant. KIOR, even with its current problems, has a clear head start on any CNFB competition. This is important because C3 RIN prices and CNFB profits would be expected to be greatest in the early stages of this industry, and be expected to taper off as the final RVO capped and reached in 2022. Right now this process is being complicated by the EPA issuing C3 waivers, but that isn't expected to be a long-term condition. The problem that creates however is a chicken or the egg situation. KIOR needs those C3 RINs to fund operations and ensure profits, but the C3 waivers deny KIOR those badly needed revenues. CNFB plants are placed into a situation where they can build a plant counting on C3 RIN revenues, only to have them denied through a waiver. The waiver is needed because there is no CNFB being produced, but to get it produced the CNFB plants need the revenues from the C3 to build and run their plants.
KIOR uses an catalytic process to turn cellulose, mostly wood pulp, into CNFB. This is new and unproven technology at a commercial scale. Currently its process is a long way from being competitive with other fuels, but as I said above, the RIN mechanism should compensate for this problem at least in the short to intermediate time horizon...as long as the EPA stops issuing waivers once the plant is actually running at a decent capacity.
While KIOR has taken a totally new and innovative route to creating CNFB, that path may also lead to its doom. Right now there are no D3 RINs on which to base a pro forma income statement for a new plant design. I would imagine other firms are simply sitting back and waiting for reliable C3 pricing information and the ending of EPA waivers to give CNFB a serious consideration. That in fact appears to be the approach SYNM is using.
So there could be a conversion or supplement at Geismar to achieve cellulosic status for the fuel...we've been unable to make the economics work, but as you do point out, the EPA and the industry has had discussions around two items. One is enhanced economics for cellulosic material and two even more enhanced for cellulosic in drop-in. So we are actively listening to that debate, because that applies right where we are, which would be a cellulosic material that is a drop-in fuel.
Besides "Big Oil," there are three firms I follow that may consider getting into the CNFB business. Whereas KIOR developed a new and expensive catalytic process for developing CNFB, there already exists a proven process that has existed for almost 90 years, and has commercial plants operating today that could be used to produce CNFB. That process is the Fischer-Tropsch process (NYSE:FT), and it can be used to produce CNFB.
As noted above, SYNM already has a plant that could be modified to produce CNFB. They have plenty of FT patents, knowledge and experience. The problem is the future of SYNM's ownership of the Dynamic Fuels plant and FT patents are in limbo, and may be in the process of being sold. SYNM could however always form another joint venture and build another plant if desired. SYNM is currently pursuing gas-to-liquid ventures for its FT process which would not qualify for D3 RINs, but those plants should also be able to be modified to produce CNFB...if the D3 RIN price is right.
Another firm that could get into the CNFB industry is Rentech (NYSEMKT:RTK). RTK has effectively shuttered its alternative energy projects, but retains the processes and patents:
Either by fortunate coincidence or by design, RTK has just recently purchased some wood, ie cellulose, processing firms which is an ideal feedstock for producing CNFB. RTK may not be interested in alternative energy right now, but high D3 RIN prices would likely make them reconsider.
The last firm I follow is Oxford Catalysts (OTCPK:OXFCF) which has FT and a micro channel technology that can be used to create CNFB.
In our Biomass to Liquids (BTL) process, syngas derived from the gasification of such biomass is converted into synthetic fuel using an FT catalyst in a microchannel reactor. A wide variety of carbon-containing wastes, including municipal waste, can be used, and the same microchannel FT technology used in the Gas-to-Liquids process can be used for conversion of biomass and coal to the same liquid fuels.
In conclusion, going forward cellulose/non-fuel based biofuels are the focus of the EPA's RFS2. The RIN mechanism would ensure enough profits to ensure the RFS2 cellulosic biofuels RVOs are reached. With current cellulosic/non-food biofuels production at essentially 0 gallons, there is an enormous amount of investment that must be made to reach the 16 billion gallon cellulosic/non-food biofuels RVO of 2022. With the KIOR plant beginning to produce, the era of EPA D3 waiver may be coming to an end. Once firms can get reliable price data on D3 RINs and confidence that the EPA waivers are over, more firms will likely enter the field. With a 16 billion gallon 2022 RVO, there is plenty of room for KIOR, SYNM, RTK and OXFCF.PK to join, grow and profit from the new industry. The one fly in the ointment is that the EPA's RFS2 must remain in force, something the ethanol blend wall ironically puts at risk. Investors must therefore not only follow the technology and economics of this industry, they must also pay close attention to the politics.
Disclaimer: This article is not an investment recommendation. Any analysis presented in this article is illustrative in nature, is based on an incomplete set of information and has limitations to its accuracy, and is not meant to be relied upon for investment decisions. Please consult a qualified investment advisor. The information upon which this material is based was obtained from sources believed to be reliable, but has not been independently verified. Therefore, the author cannot guarantee its accuracy. Any opinions or estimates constitute the author's best judgment as of the date of publication, and are subject to change without notice.
Disclosure: I am long SYNM. I wrote this article myself, and it expresses my own opinions. I am not receiving compensation for it (other than from Seeking Alpha). I have no business relationship with any company whose stock is mentioned in this article.