The corn exchange traded fund has been sliding over the past year as many anticipated a bumper crop yield after a drought destroyed crops last summer. However, poor weather conditions have hindered farmers, helping corn prices see their largest gain in five weeks.
The Teucrium Corn Fund (NYSEARCA:CORN) rose 2.8% in afternoon trading last Thursday. CORN has declined 21.8% year-to-date and fell 30.9% over the past year.
Corn futures were up 3.2% Thursday, trading at $469.8 per bushel.
The U.S. Department of Agriculture stated that farmers were unable to plant due to wet weather in May and June, which caused growers to file insurance claims on 3.411 million acres, compared to 262,467 acres last year, reports Tony C. Dreibus for Bloomberg.
Additionally, over the past two weeks, Iowa and Illinois, the largest growers of corn, saw little or no rain fall.
"There's a lot of dryness in the Corn Belt with no rain in the forecast," Jamey Kohake, a broker and branch manager at Paragon Investments, said in the article.
The number of abandoned acres were "in the ballpark of the range we were putting out," Kohake added. "Everybody knew it was going to be a big jump."
Corn prices have been plunging over the past year on an anticipated bumper crop year after the worst drought in over 50 years decimated crops last year.
Teucrium Corn Fund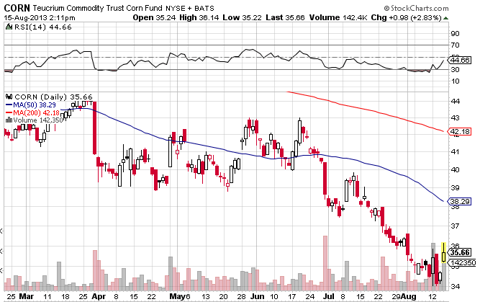 Max Chen contributed to this article.
Disclosure: I have no positions in any stocks mentioned, and no plans to initiate any positions within the next 72 hours. I wrote this article myself, and it expresses my own opinions. I am not receiving compensation for it. I have no business relationship with any company whose stock is mentioned in this article.