Besides a property/casualty insurance unit and a life insurance business, American International Group (NYSE:AIG) runs a mortgage business called United Guaranty that does not get the recognition it deserves (partly because its operating results are hidden in a residual income statement item called "other").
United Guaranty offers private residential mortgage guaranty insurance and covers mortgage lenders for the first loss from mortgage defaults on high loan-to-value conventional first-lien mortgages. Main competitors are private companies Radian (NYSE:RDN), MGIC (NYSE:MTG) and Genworth Financial (NYSE:GNW) and the Federal Housing Administration. Mortgage Guaranty's pre-tax operating income accounts for just about 2% of group's operating income of $5.3 billion (first six month 2013). Clearly, AIG's crown jewels are P&C and its former SunAmerica named Life business.
AIG's mortgage business has come a long way
United Guaranty doubled new written insurance volume from $18.8 billion in 2011 to $37.5 billion in 2012. New mortgage business continues to boom in 2013: NIW on high quality risks rose 63% in Q1 2013 compared to Q1 2012 and 32% to $14 billion from Q1 to Q2 2013. Fairly constant FICO scores and LTV ratios underscore reasonable underwriting criteria.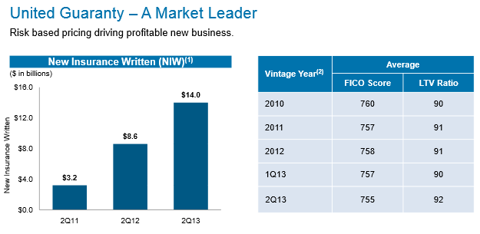 The "delinquent inventory review" statement in AIG's annual report 2012, page 67 reads:
During 2013, reserve development may continue to have an impact on the business. UGC expects that newly reported delinquent loans will continue to decline during 2013 and that the delinquent inventory will decline further albeit at a slower rate than in 2012.
Primary delinquency rates have peaked at over 18% in 2009/2010 and have been gradually declining (minus 31% in delinquency ratio from Q2 2012 to 7.1% in Q2 2013). The chart below shows that the worst is behind United Guaranty.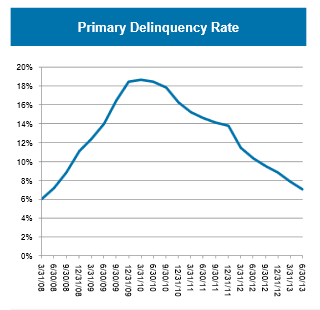 Rising house prices and stimulated mortgage activity are big positives for United Guaranty's business. If the Federal Housing Finance Agency limits the role of Fannie Mae (OTCQB:FNMA) and Freddie Mac (OTCQB:FMCC) and increases the size of the private market, private mortgage insurers like United Guaranty will benefit handsomely.
Private mortgage insurers have spectacularly rebounded after demonstrating ability to access private capital and returning to profitability. Shares of competitors have soared multiplying market equity and displaying risk appetite for mortgage firms.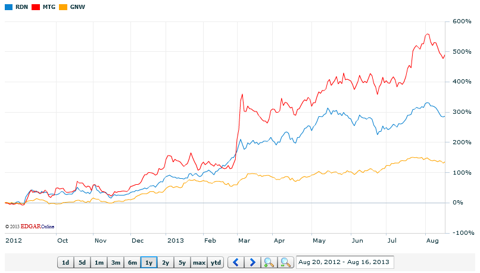 Transaction proposal
Mortgage Guaranty is hidden in AIG's financial statements and not visible to investors. New mortgage business is written with a return on equity of 20%, and I expect profitability to increase in tight correlation with housing market activity. AIG shareholders will benefit from a spun-off mortgage unit because its true value will no longer be obscured by AIG's dominating business segments AIG P&C and AIG Life and hidden in the financial statement. The capital market is presently demonstrating increased risk-appetite for private mortgage insurance companies as evidenced by an explosion in their market caps.
United Guaranty came in with $867 million in revenues in 2012. Financial results in the last two years were clearly not pretty due to aftershocks of inferior underwriting in the boom phase of the housing market. United Guaranty remains relatively insignificant in terms of revenues and operating income, and a spin-off would not affect the operating business of its main service groups.
To fully unlock Mortgage Guaranty's value, AIG could spin off its mortgage unit with a market cap of around $2.2 billion which is in line with Radian's P/S multiple of 3 and MGIC's multiple of 2. If AIG sponsors a spin-off, AIG shareholders would fully participate in Mortgage Guaranty's business and have a brighter performance outlook. A dividend might be initiated at a later date.
Disclosure: I am long AIG. I wrote this article myself, and it expresses my own opinions. I am not receiving compensation for it (other than from Seeking Alpha). I have no business relationship with any company whose stock is mentioned in this article.