When I was a kid, the Olympics were so much fun and so exciting. However, over the years it feels like the event has lost some of its luster. Save for special stories like Michael Phelps and occasional sensations like Usain Bolt it doesn't have the same thrill it once had, but maybe that's just me. The spectacle itself is great to watch, the opening and closing ceremonies.
But that's just it; watching the Olympics is different than hosting the Olympics which have become a routine financial wrecking ball. Now, the games seem more like coming out parties for nations that want to show the world they are relevant. It's a coming out party of sorts, and along those lines it makes more sense that Rio would get the games rather than the United States. Like a Sweet Sixteen or Bar Mitzvah it should be a joyous party that burns a hole in the pockets of the sponsors. I'm not sure we need to have another coming out party.
I realize there is a notion that the nation is different now and is looking for global acceptance, but do we really want to waste billions of dollars in the process? I guess that the two trillion dollars in aid, military help, job training, and forgiven loans just haven't been enough. Now we should put on a spectacle and roll out the red carpet. The project itself would dovetail nicely with the increasing role of the government creating artificial jobs.
In that mindset, the games would be perfect; we get to tell the world we are nice people and willing to blow $20 billion or $30.0 billion to prove it, and at the same time government will consolidate its planned role as central planner. I haven't seen any polls but I don't think there is much clamoring for the Olympic Games in America. I have a funny feeling that most people would prefer legitimate job creation now instead of temp jobs for the 2016 Olympics.
Years ago I would have been on the Olympics bandwagon out of national pride, but right now I'm more concerned about national solvency. In the past, we didn't lead the world through expensive public relations campaigns or endless apologies we did it by simply being the best and stepping up when there was a crisis. Right now, we have an internal crisis and the best opportunity to have a coming out party is by bringing the unemployment rate down and making each day a gold metal day for all Americans.
Speaking of Temporary Jobs...
I said that the consensus estimate for a loss of 180,000 jobs was way too optimistic. As it stands, I'm not sure any of the big-time economists modeled for anything worst than 250,000 jobs lost in September. The number this morning, 263,000 jobs lost, is seen as a major disappointment. It didn't have to be that way but it is because the people that cobble together the consensus jumped the gun...again. I don't get it, but it is what it is.
And it's still a sad story on Main Street where as many as 8.0 million jobs have been lost since the recession began. Right now, 15.1 million people are out of work and 9.2 million are working temp jobs but say they need a full- time job. The unemployment rate edged closer to 10.0%, a number that will make headlines across the nation once it happens.
Hard hit industries in September include:
Construction: -64,000
Manufacturing: -51,000
Retail: -39,000
Government: -53,000
Finance: -10,000
Trade: -60,000
The government job losses are particularly worrisome and underscore the notion that state and local governments are broke.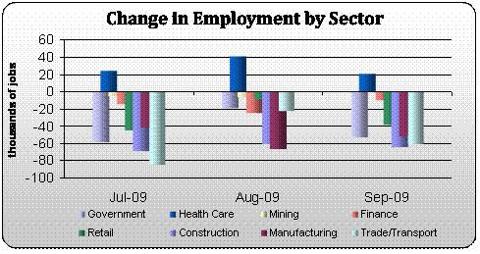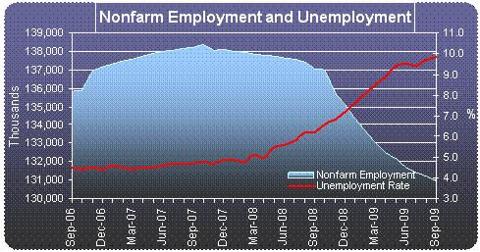 It's early, but I thought that the market would be much lower in pre-opening activity, but, of course it is still early.
Written by Charles Payne, CEO and Principal Analyst of Wall Street Strategies (wstreet.com) providing independent stock market research to over 30,000 subscribers, in more than 60 countries. Mr. Payne is a regular contributor to the Fox Business and Fox News Networks. For more information about Mr. Payne, please refer to the company's website www.wstreet.com.