After Buffett's investments in a handful of major railroads – Union Pacific (NYSE:UNP), Norfolk Southern (NYSE:NSC), and most notably Burlington Northern Santa Fe (BNI) – the industry garnered plenty of attention. The attractive industry dynamics and a myopic focus on the major players makes me interested in the small number of publicly traded regional railroads – among them Kansas City Southern (NYSE:KSU) and Genesee & Wyoming (NYSE:GWR).
Why railroads? Foremost, it's an industry with significant tangible barriers to entry, and it provides a vital economic service. Although fixed asset investment is substantial, I also believe that the general consensus underestimates the variability of the typical railroad's cost structure – yes, there's operating leverage there, but there is also room to reduce headcount as unit volumes decline. Below is a graph of quarter-over-quarter revenue growth compared to QoQ operating expense growth for two major carriers (Norfolk Southern and CSX), one larger regional (Kansas City Southern) and the short-line amalgamation G&W.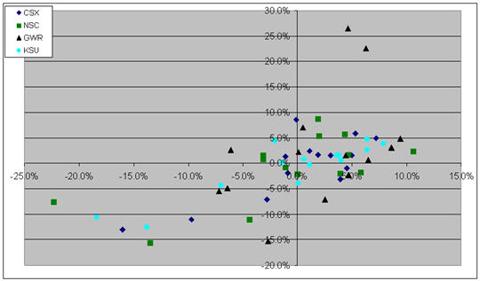 A fixed asset business is going to have scale, but there's still a fair degree of correlation for those companies. For the quarterly dataset going back to the beginning of 2006, the slopes vary from 0.51 (NSC) to 0.87 (GWR), so some flexibility exists in aligning expenses with revenues.
Next is a list of several metrics used to compare the four railroads, focusing primarily on their track infrastructure. Although other equipment is needed to operate a railroad, the real economic asset I'd be buying is the network.

A few explanations: there's a strong correlation between revenue per track mile to market value per track mile. I chose to use enterprise value in addition to market cap, since these rails all have some level of debt attached and the end results cluster around 2.5x revenue per track mile. Also, the capital spending necessary to maintain the track network is important, and for the larger and more continuous players, spending is substantially higher than for a fragmented short-line company like G&W.
One red flag that makes me tread with caution is that railroad stocks have generally seen a robust recovery since the March lows, though I'm wary of mentally anchoring to those prices. On the whole, the rail industry has several positives about it – so even if a cross-section of some stocks don't show any great bargains, it's an understandable industry with competitive advantages, and that means good returns can be obtained at the right price.
Disclosure: I don't own any stocks mentioned here.