Introduction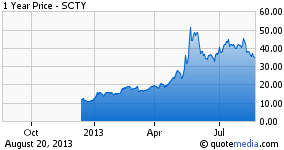 SolarCity (SCTY) trades at one of the highest P/S multiples in the market today. Right now, SolarCity is trading at 21X 2012 revenue. With no profits and a remarkable P/S multiple, it's no wonder many investors are left scratching their heads about why SolarCity shares continue soaring.
I'm an investor in SolarCity, and have been since the company's IPO. In the company's S-1 filing, the potential of the solar industry is summed up powerfully in just a couple of statistics.
By 2010, the market opportunity of being able to produce energy at $0.15 per KwH was $58B. This number is derived based on the percentage of American households who pay over $0.15 per KwH for electricity, which happen to be SolarCity's target customers.
This market is set to triple by 2017. In just 4-5 years, the market size of households paying over $0.15 per KwH for energy will represent $170B opportunity for SolarCity. This revolution of the viability of solar power has been the backbone of my investment thesis.
SolarCity's offer to homeowners is simple. If you are qualified, simply let SolarCity install solar panels on your home, and your utility bill essentially decreases. This requires no upfront cost to the consumer. With this model, customers are paying SolarCity monthly lease payments for their installed solar system that are less than their utility bill. This provides an excellent opportunity for consumers to reduce both their energy costs and carbon footprint.
There are a number of large macroeconomic headwinds making this market growth and opportunity possible. The first is rising energy costs, which cause utilities to charge more for traditional sources of power. The second is falling solar panel costs and rising efficiency, which allow SolarCity to install panels cheaply, and provide more energy to consumers with less infrastructure.
Operating Leases
SolarCity's operating lease revenue is typically collected over a 20-year period. This helps explain the company's high valuation multiples. Because of the length of the lease, SolarCity is forced to report revenue from its systems as the payments come in.
With contracts that can take up to 20 years to be fulfilled, SolarCity's operating lease revenue is a lagging indicator of the success of the business.
Most of the highest valued companies in the market have recurring revenue models much like SolarCity. The only difference is that although these companies have recurring contracts, those contacts last for far less than 20 years. For example, recently IPO'd Workday (NYSE:WDAY) trades at 40X trailing revenue because of its recurring subscription model. The market has assigned Workday a similar multiple as SolarCity, while overlooking one major difference, Workday's contracts last for just 3 years. This is just 15% of the length of a typical SolarCity contract.
The consistency that Wall Street craves from subscription business models is taken to a new level with SolarCity's model.
Projections
SolarCity's operating lease segment has tons of room for growth. Its target market is in the midst of a major transition unfolding over the next 4-5 years, that may triple its size. This tailwind will help provide a huge runway for growth, and easily justifies SolarCity's current valuation.
Below are my personal projections for the growth of SolarCity's operating lease business.
Even with a rapid slowdown in growth over the next 5 years, SolarCity's operating lease business will have a big impact on the company's financials.
By 2019, SolarCity could be generating over $6 per share in gross EPS from its leasing business alone. With a lean operating model, SolarCity's operating leases will generate $135M in net cash in 2019, even if operating expenses triple from 2012 levels (to $360M).
Conclusion
Buying SolarCity today is a bet on the future of the solar industry replacing traditional utility companies. Based on the math SolarCity provided in its S-1 filing, its biggest challenge will be scaling production to fulfill potential demand.
The $170B worth of Americans unknowingly able to switch to solar by 2017 with no upfront cost, is the opportunity. SolarCity is clearly a first mover in the space, and has already developed a powerful brand name.
The financing required to be able to offer SolarCity's value proposition to its customers is not easy to get. In May, the company raised an additional $500M from Goldman Sachs to help expand its business. If SolarCity can prove its worth to these creditors and continue to have access to financing, growth seems all but assured.
SolarCity's operating lease revenue will be a growing source of gross profit for years to come. As of Q2 2013, it was operating at an annual run rate of between $60-70M. This is a key number to watch, and if growth can be sustained, shares will be very undervalued at current levels.
Disclosure: I am long SCTY. I wrote this article myself, and it expresses my own opinions. I am not receiving compensation for it (other than from Seeking Alpha). I have no business relationship with any company whose stock is mentioned in this article.