Despite signs that the economy has started to recover, U.S. employers continued to cut workers.
In the latest employment report released Friday morning, the Labor Department said nonfarm payroll shrank by another 263,000 in September, pushing the monthly unemployment rate to 9.8%, the highest level since June 1983.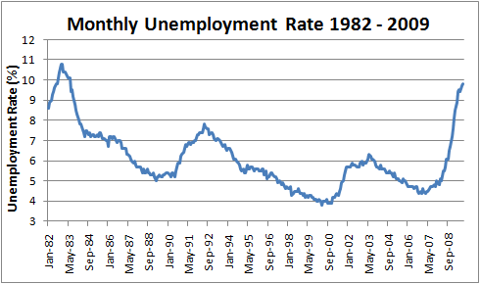 In September, the employment in construction fell 63,000 while the manufacturing sector lost 51,000 workers. Since the recession began, employment in construction and manufacturing has fallen 1.5 million and 2.1 million, respectively. The only bright spot in this gloomy job picture is health care, which added 19,000 new workers to the payroll in September.
According to the Labor Department report, since the recession began in December 2007, the number of people without a job has nearly doubled, from 7.6 million to 15.1 million while the unemployment rate more than doubled.