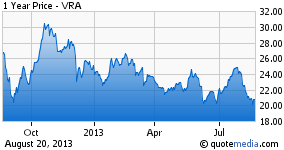 There are occasionally times when a stock seems beaten down so much that there seems to be little downside. In my estimation, such a scenario exists at Vera Bradley (NASDAQ:VRA).
Let's run through the reasons why Vera should be beaten down. First, it has not been the fast grower Wall Street expected when it went public in 2010, ONLY achieving 10% growth or better. It has accumulated inventories at a faster pace than it has increased sales, which has fueled much of the current negative sentiment on this company. In addition, its cash conversion cycle [Days Sales Outstanding (DSO) + Days Inventory Outstanding (DIO) - Days Payable (DP)] has gone the wrong way since IPO, driven by higher DIO and lower DP, and partially offset by improved receivables collections. VRA's company-branded stores have had disappointing same-store sales figures up 0.9% in the most recent quarter, a far cry from the 9.3% it demonstrated in its most recent fiscal 4Q. Finally, its CFO, Jeffrey Blade resigned earlier this year and its CEO, Michael Ray, has announced his retirement. Michael Ray is a co-founder's son-in-law.
As of now, 48% of floated VRA shares are being sold short. Vera is one of the most heavily shorted public companies out there.
Let's talk about the positives. Vera has grown earnings at greater than a 10% rate annually since going public. It has been growing through e-Commerce which only launched in 2006, and began selling internationally in Japan in 2011. Only recently has the company begun expanding its brand. I remember the days when my mother would go into a boutique and there were plenty of Vera handbags of all shapes and sizes but not much else. Now, Vera is pursuing a lifestyle brand strategy, offering goods tailored to new moms', beachgoers' and students' needs. VRA has begun putting its own stores in malls, increasing brand cache and allowing the company to experiment with new product lines more than at the boutiques it has traditionally sold through. These new stores will quite likely cannibalize current boutique store (known as indirect) sales, but increasing its presence in America's malls will bring greater awareness and eventually sales to the brand.
The company is attractively valued at 13x trailing PE and while it has limited cash on hand at $8 million, Vera has reduced debt from $15 million to $5 million in the most recent quarter. The company also just announced a $26 million investment in its design and distribution centers, which does not signal a company worried about its growth prospects.
This is a long-term stock for me that at a $900 million market cap will most likely experience growing pains, as I would expect with any company of this size. At the current price and level of short interest, the negative news on this company seems to be priced in.
My strategy with this one is a la Peter Lynch. In "One Up on Wall Street", Mr. Lynch uses the stud poker analogy to describe his buying strategy. I'll use fishing. I'm going to nibble on the bait this company is offering, with a small initial position. If the story plays out as I expect it to, I will add to my position as those pieces of the story become clearer. Question marks such as its success in hiring a CEO outside the founding family, its e-Commerce business, its growth in own-store count, its international expansion, and its product line expansion will work themselves out over time. Any of these developments could have material positive impact on the company's results. I'm prepared to capitalize on the potential for positive news in this company while limiting my current downside with a small initial position.
Disclosure: I am long VRA, C, COH, AFL, MDLZ. I wrote this article myself, and it expresses my own opinions. I am not receiving compensation for it (other than from Seeking Alpha). I have no business relationship with any company whose stock is mentioned in this article.