The streaming radio service Pandora (NYSE:P) has been a darling in the tech sector lately. Moving to all-time highs and beyond its IPO price of $16.00 / share, Pandora now trades north of $20.00.
Facebook (NASDAQ:FB) recently surpassed the IPO price of $38.00 / share for the first time since the social media stock made its debut. Understanding Pandora's past and its vanity metrics will be important when it comes to digesting the upcoming earnings report. Mobile advertising, a key catalyst for Facebook's recent resurgence, also plays an important role in Pandora's future.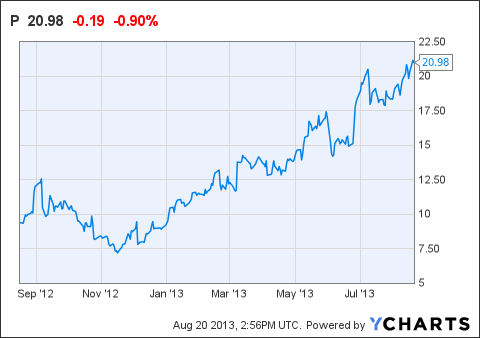 Last quarter, Pandora reported in line with First Call Consensus but missed Star Mine Smart Estimates by $0.01. In Q2 2011, Pandora put $0.02 on the bottom line compared with consensus estimates at ($0.03). In Q2 2012, the company broke even with consensus at ($0.03). Estimates for Q2 2013 range from $0.00 - $0.05.
8/19/13 - Needham Upgrades Pandora - $25 Target - Marketwatch
8/16/13 - Goldman Upgrades Pandora - Neutral to Buy, $27 Target - Wall Street Journal
Pandora Vanity Metrics
Pandora measures listener hours and active listeners. These statistics are released on a monthly basis and help analysts understand how many people are using the service and how frequently. The company also reports its share of total U.S radio listening.
| | | | | | | |
| --- | --- | --- | --- | --- | --- | --- |
| 2013 | Listener Hours | Comp* | Active Listeners | Comp* | Hours / Active | Share** |
| July | 1.28 billion | 14% | 71.2 million | 30% | 17.98 | 7.08% |
| June | 1.25 billion | 17% | 71.1 million | 30% | 17.58 | 7.04% |
| May | 1.35 billion | 22% | 70.8 million | 33% | 19.07 | 7.29% |
| April | 1.31 billion | 24% | 70.1 million | 35% | 18.69 | 7.33% |
| March | 1.49 billion | 40% | 69.5 million | 36% | 21.44 | 8.05% |
| February | 1.38 billion | 42% | 67.7 million | 37% | 20.38 | 8.48% |
| January | 1.39 billion | 47% | 65.6 million | 38% | 21.19 | 8.03% |
*Comp is provided as growth compared to the same period in the previous year.
**Share is the percentage of total U.S radio listening.
On March 7, 2012, Pandora announced its first ever audience metrics for February 2012, and noted it would continue to provide these statistics on a monthly basis going forward. The company reported a 5.74% share of total U.S. radio listening, up 2.9% from the same period in 2011. Total listener hours grew 101% for the month to 975 million, and active listeners increased 57.5% to 49 million.
Within the data provided, we are able to make some key assumptions about the financial performance of Pandora. Matching vanity metrics with company initiatives as well as changes affecting the sheets, provides insight into upcoming earnings. Looking at Listener hours, we note tremendous growth. Listener hours grew almost 3x in two years from 483 million in February of 2011. Active listeners more than doubled in the same time frame.
Breaking Down Numbers
The recent month over month decline in Pandora's share of total U.S. radio listening is certainly a concern for the long-term prospects of the company. Furthermore, a year-over-year surge in listener hours, the metric that makes the company pay, is also a tiger to be tamed. Every time a song is played (or spun), Pandora pays a royalty fee which gets distributed to the artist, song writer, and others who own a piece of the pie.
Managing this cost has been a going financial concern for the company and a topic for debate in the media. Rocco Pendola at The Street has written numerous articles covering the issues related to royalties, and you can find a blog post from Tim Westergren, the founder of Pandora, on the topic here.
Pandora pays an estimated $0.0011 every time a song is spun. As listener hours increase, the company spends more on royalties. When growth costs you more, managing growth and profitability becomes an interesting riddle.
Here's how they're solving it:
In February, Pandora instituted a 40-hour per month listening limit for mobile users. This caps the cost / user in a range (depending on song length), making costs both more predictable and controllable. After 40 hours, users have the option to upgrade to a premium ad-free experience, wait or participate in advertising gimmicks for additional listening hours ... either way, Pandora starts making money.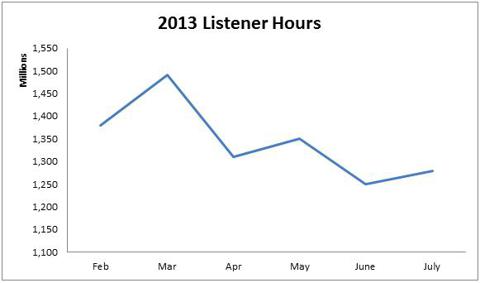 Pandora's advertising business has ramped up significantly over the past year. I recently decided not to renew my Pandora One subscription to derive a better understanding of the ads distributed through the service. Here's what I discovered: there are noticeably more advertisers of all types, an increase in frequency of ads, and an increase in quality as well. This comparison is from two years ago, previous to my purchase of the premium service, Pandora One.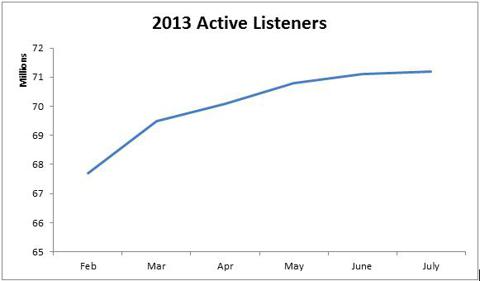 With more active listeners listening and total listener hours declining, we can begin to see a better financial future for Pandora. Couple this with increased success in the advertising business, and caps on free listening and now we're looking at a "Facebook like" recovery beyond the IPO price (except the chart looks like this already happened). Getting to consistently profitable quarters for Pandora is also important.
Friday and Beyond
If Pandora can surprise the street and show better than expected numbers, the share price may continue its upward momentum. Investors should be cautious of an earnings miss which could easily send the stock plummeting. Personally, I'm surprised by the recent surge in share price and think that any post-earnings share price appreciation may already be baked in. What I do know is: Pandora offers an awesome music streaming service platform which I use on a regular basis, the music genome algorithm is genius, and Tim Westergren, the company's founder, has always been responsive to my inquiries. Even if earnings disappoint, I will look for opportunities to own shares in the future, and know there are many opportunities for Pandora to continue improving its service.
Disclosure: I have no positions in any stocks mentioned, and no plans to initiate any positions within the next 72 hours. I wrote this article myself, and it expresses my own opinions. I am not receiving compensation for it (other than from Seeking Alpha). I have no business relationship with any company whose stock is mentioned in this article.
Additional disclosure: I have held Pandora shares long in the past. I will likely own Pandora shares again in the future.