Compania de Minas Buenaventura (NYSE:BVN) started out in 1953 and has grown ever since. While its main business is in the processing of gold and silver in its home country of Peru, it is also one of the country's electrical providers, and offers consultation services in geological, construction, design and engineering areas.
What started as a silver mining company has already expanded, not just within Peru, but also in other Latin American countries. And from silver mining, it has expanded into other fields such as electricity, metal concentrates marketing, and engineering services. In 1996, it was registered with the NYSE. Recent developments include the construction of a hydroelectric plant in 2010 and a manganese sulfate plant in 2011.
Performance thus far
While the mining industry has always had a solid base in terms of stocks, BVN's trend seems to be going downward along with other mining companies. As of August 2, BVN is down by 2.9%. And yet, on August 6, Forbes.com reported that BVN's stock is interesting and even timely to look at for investors. How did the down-slope happen, and why would it be any good to invest in it at this point?
BVN seemed to be going on the bearish direction in 2Q13. Aside from the 88% drop in net income, production also dropped by 65% while sales went down by 18%. Further aggravating the situation was the 10-day strike held at their Uchucchacua Mine. The drop in overall SPDR Gold trust and iShares Shares Gold trust affecting the mining industry in general also became a point of concern.
Below: BVN's Revenue Records, 2012 - 2013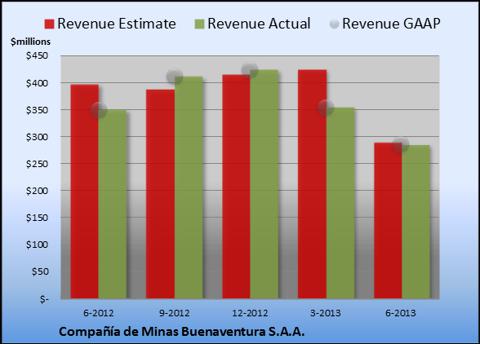 Other figures seem to show that a storm is indeed brewing:
Gross margin of 37.1% is lower than the previous year's quarter
Operating margin is at -1.5%,
Net margin is 6.6% (also lower than the previous year's quarter)
Wall Street's analysts recommend investors to hold
All figures seem to be pointing to a bleak scenario for prospective investors. But before completely dumping the prospect of investing with this company, there are considerations from the more optimistic analysts that are worth noting.
Redeeming Factors
Forbes.com considers BVN as one of the top 10% that might be of interest to investors due to the following reasons:
BVN's recently oversold stocks are an excellent opportunity for dividend investors to find higher yield.
Investors are advised to take into consideration that the heavy selling is conversely an opportunity to buy, assuming that the company is showing a good dividend history.
Fortunately, BVN, which has been an established company for 60 years, has just that- good dividend history. Looking at the near future, the completion of its hydro project is also projected to reduce operating costs.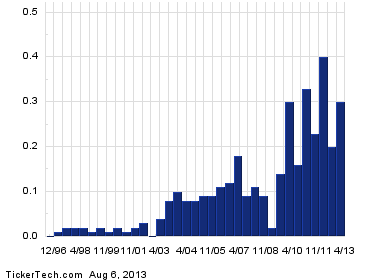 According to Thestreet.com, BVN is still currently in a stable financial position with reasonable debts and valuations, and it continues to exhibit solid profit margins. Furthermore, the company is still confident that it is in a position to meet its targets for the year.
Seekingalpha.com reported that BVN President Roque Benavides Ganoza is intent on creating greater value for the company. In order to meet this objective, the company has already taken certain steps:
Stoppage of production in relation to non-profitable operations.
Increased focus on exploring greater possibilities with high grade and accessible targets.
Increase the efficiency of their operations, most notably in relation to their losses after the Uchucchuacua strikes. They will focus on the aforementioned mine along with their Orcopampa Mine to make the sites even more productive than before through streamlined efficiency.
Shifting of focus from the Greenfield operations to the Brownfield explorations. This means that the company is conscious of reducing the risks involved during Greenfield operations. The shift from Greenfield to Brownfield thus reduces the possibility of finding an actual potential mining site might be more costly than the site itself. It seems that BVN is shifting on possibly smaller but more certain returns than risking the costs of searching but in the end finding none. And finally, capital expenditure control and concentrating on cash generation, cash position - that is the name of the game.
Conclusion
Indeed, BVN's position at this time is not as robust as it was in the previous year. The more risk-conscious analysts would advise the investors to hold at this time. Meanwhile, there are braver voices (and not in any way less credible) out there who would scream "buy" because the stock prices have been considered oversold.
This latter move is advisable for newer investors who are seeking a foothold on the mining market. After all, one of the major indicators of financial sustainability -a good dividend history - is strongly visible throughout BVN's career. When this fact is viewed along with the measures that management is taking to ensure BVN's sustainability, then it is clear that while BVN is currently at one of its low points, there is a good chance of recovery.
Disclosure: I have no positions in any stocks mentioned, and no plans to initiate any positions within the next 72 hours.
Business relationship disclosure: The article has been written by an Analyst at ResearchCows, ResearchCows is not receiving compensation for it (other than from Seeking Alpha). ResearchCows has no business relationship with any company whose stock is mentioned in this article. Any analysis presented herein is illustrative in nature, limited in scope, based on an incomplete set of information, and has limitations to its accuracy. The author recommends that potential and existing investors conduct thorough investment research of their own, including detailed review of the company's SEC filings, and consult a qualified investment advisor. The information upon which this material is based was obtained from sources believed to be reliable, but has not been independently verified. Therefore, the author cannot guarantee its accuracy. Any opinions or estimates constitute the author's best judgment as of the date of publication, and are subject to change without notice.