In the United States, consumers have an abundance of choices to meet their dining needs and there is no shortage of food options when it comes to meeting a hungry consumer's appetite. Throughout the last decade, most companies in every restaurant category (fast food, quick casual, casual, fine dining, etc.) have been able to grow existing concepts to appeal to consumer demand. With this success, restaurants have been able to cater to consumer demand as the economy has grown and been able to diversify themselves for competitive advantages.
One particular stock that I want to focus on is Darden Restaurants (NYSE:DRI). Darden Restaurants is a market leader in the casual dining segment in the United States with over 2,000 restaurants and over 200,000 employees. In the mid 1990s to early 2000s Darden was able to grow its portfolio of restaurants through a series of improving economic conditions, higher consumer discretionary spending and acquisitions. Darden's core brands that many consumers may be familiar with are Red Lobster, Olive Garden and LongHorn Steakhouse that have become casual dining staples across the United States. Darden's restaurant portfolio also includes Seasons 52, Capital Grille, Eddie V's, Bahama Breeze and Yardhouse.
Challenging Environment
In the restaurant industry, price is an important consideration that consumers take into mind when considering their dining choices. Within the aspect of price also comes affordability and value. In the past Darden had the unique ability to grow its average check per guest while still delivering affordability and value to attract guests. However, in the last year a price conscious consumer that has even more choices now (among a slew of restaurant chains) has forced Darden (Red Lobster and Olive Garden segments) to focus after the $13-$16 price range to attract more guests. Due to competition from successful restaurant chains Buffalo Wild Wings (NASDAQ:BWLD), Panera Bread (NASDAQ:PNRA), Chipotle (NYSE:CMG) and even Noodles and Company (NASDAQ:NDLS) these are just some of the many restaurant chains that have been able to grab market share from Darden. These concepts have geared their concepts specifically towards affordability/value and have the unique advantage of not having to lower their prices, since they aim for consumers that want the same characteristics as Darden, but desire a cheaper price for great food. Before the emergence of the concepts listed above and others, Darden had the competitive advantage of providing consumers with reasonably priced food options with few competitors in the casual dining segment. With the middle/lower income class consumer still facing a challenging employment market, the emergence of more restaurants in the casual dining segment have successfully mimicked the success of Darden, while focusing on areas of food that are not commercialized. Over the years chicken wings, burritos, sandwiches and even donuts have all risen in popularity to compete for consumer dollars. This competition has allowed consumers to increase their frequency of visits, while still getting the same value and affordability that Darden has been doing.
Another factor that has attributed to a tough competitive environment for Darden is that household income (while improving) is still lower than five years ago.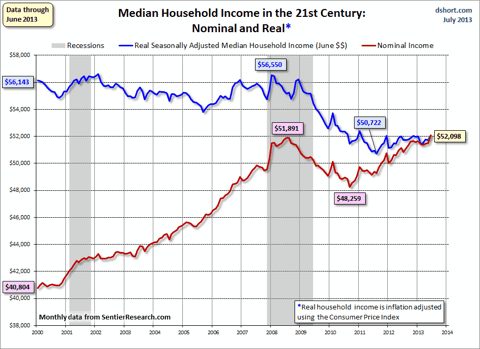 With a new breed of hybrid-casual restaurants that have emerged over the years these restaurants have been able to capitalize on generational gaps in the economy. Darden's core focus has always been family and many lower/middle income families have shifted to simply spending less while going out that has forced Darden to focus on value orientated items such as the 4-course feast at Red Lobster and weeknight family-style dinner at Olive Garden. In my opinion, I am generally not a fan of meal deals at casual dining restaurants for the following reasons:
· The potential for sharing has increased, since guests have a complete course (appetizer, main course and dessert) which leads to lower check averages.
· The ability for servers to up sell or add-on additional items has also decreased, since guests have ordered a complete meal.
· By offering a meal deal, it can be hypothesized that the company is willing to sacrifice margins in lieu of bringing in more guests.
· Guests may enjoy the meal deal, but only may come back when meal deals occur, which in turn could affect frequency of visits.
For the consumer these meal deals are affordable and have value, but on the business side, these meal deals have the ability to water-down the brand. In addition, it can be hard for consumers to gravitate towards other higher price menu items if the consumer is used to getting the meal deal. I previously mentioned generational gaps and I believe these generational gaps have attributed to Darden delivering lower than the previous year EPS. Some of these generational gaps include a trend toward quick casual/casual-hybrid themed restaurants, lower price points, less time/money to go out and eat and an uncertain employment market. In FY 2013, Darden had a negative 13% in EPS growth rate and the trend for 2014 is currently for a negative 4% EPS growth rate. The challenges in generational gaps is nothing new for Darden, but it can be some time before investors start seeing the cause and effects of these generational gaps. I believe this is why when looking at Q3 and Q4 2013 EPS was in line with expectations, but when compared to the same quarter in previous years this was lower. For FY Q1 2014 Darden reports earnings on September 16 and I believe this will be a challenging quarter for the company.
Traffic Erosion Versus Traffic Slowdown?
Q1 for Darden tends to be not as busy in summertime as previous quarters and Q1 2014 EPS is estimated at 0.74, which is lower than their previous year Q1 at 0.85 In Darden's last quarter conference call Darden's CEO Clarence Otis quickly cited traffic erosion. In the competitive landscape that Darden operates in, there will always be times of slower traffic and above average traffic depending on outside factors such as weather, economic conditions, promotions and high gasoline prices for example. These factors have the ability for the overall consumer to cut their discretionary spending and eat at home or go to lower priced restaurants. In the past Darden has been successful at configuring their menu mix toward current consumer trends to make up for an economic slowdown. However, I believe that traffic erosion is a crucial step in the progress of a traffic slowdown that may take more time to recover. The current promotions at Red Lobster and Olive Garden are attractive for the consumer, but the lower price points make it hard for margin expansion at Darden.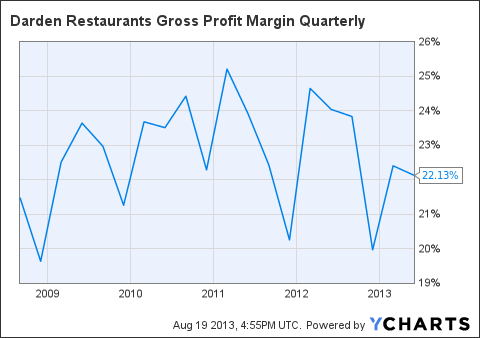 When looking at the chart above margins are still in a fair range for Darden, but are down versus 2012. In the chart below due to lower margins and operating challenges, I believe that Darden's price will move closer to (the blue line) as Darden is still facing challenging, but favorable operating conditions.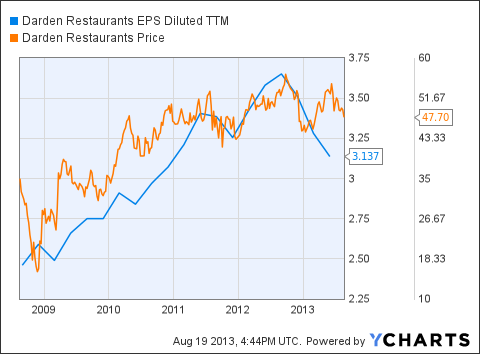 The Takeaway
Besides Darden's Red Lobster and Olive Garden restaurants, one cannot also forget Longhorn Steakhouse. LongHorn was owned by RARE Hospitality before being acquired by Darden in August 2007. Longhorn is behind Red Lobster and Olive garden in terms of sales and unit sales. Since only being with Darden for a little over five years the Longhorn brand has done well in terms of sales with almost half of the number of restaurants Red Lobster and Olive Garden have. While growth will be slower for newer Red Lobsters and Oliver Gardens I believe there is still more room for Longhorn to grow. LongHorn's landscape geography is mostly in the eastern half of the United States and generally offers a similar price point to a Red Lobster restaurant. LongHorn also has menu mix pricing power as the chain offers a mixture of higher end food (fish, chicken, ribs and seafood), while still keeping their brand identity as a steakhouse. Darden's specialty restaurant group that includes Bahama Breeze, Capital Grille, Eddie V's and Yardhouse generally have catered to upper middle income/upper income consumers that are not as price conscious and where check averages are higher than Red Lobster and Olive Garden. I believe the restaurant specialty group is the hidden gem inside of Darden that does not need explosive growth in order to grow sales. The specialty group of restaurants can generally be more selective on geographic locations for growth opportunities and can withstand competition from other casual/quick casual restaurants due to lower competition for the upper income diner. While I believe growth will be slowing down for newer Red Lobsters and Olive Gardens, the takeaway is that there still is plenty of room for Longhorn and the restaurant specialty group to expand in the United States. This can add to a favorable sales mix if one or more brands of Darden struggle to meet expectations.
Conclusion
Despite a challenging environment and traffic slowdown, Darden's battle against a changing consumer is one that Darden has faced before. The only difference is Darden's armada of restaurants is growing and the ship may take more time to turn around than in the past. Since mid-January 2010 Darden's share price has traded within a range of between $45-$55 a share and they have constantly increased their dividend.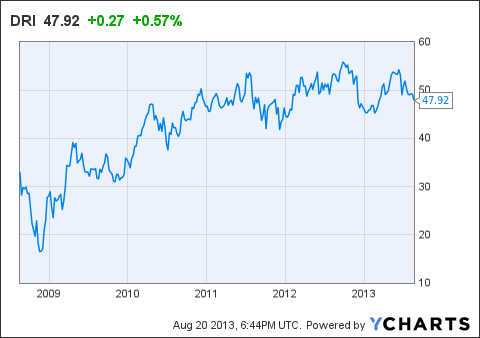 Darden currently has a 4.6% $2.20 per share dividend that has been great for long-term investors. However, with subdued EPS growth I believe the future for future dividend increases will be small at best/none due to Darden focusing on improving same-store traffic and working on a number of cost saving initiatives. These cost saving initiatives include facilities maintenance and supply chain automation that will help streamline operations and reduce the cost of outsourcing. In the long term, Darden has a management team that is swift to act and admit mistakes when necessary, but in the short term, I remain bearish on Darden and would rather wait for a more attractive opportunity in the low 40's before initiating/adding to a position.
Disclosure: I have no positions in any stocks mentioned, and no plans to initiate any positions within the next 72 hours. I wrote this article myself, and it expresses my own opinions. I am not receiving compensation for it (other than from Seeking Alpha). I have no business relationship with any company whose stock is mentioned in this article.