There are so many variables that go into long-term weather forecasts that no current method has a 98% plus correlation with accuracy. Currently, the world is focused on global warming being driven by an increase in CO2 emissions. Carbon absorbs heat and as the amount of man-made carbon grows in the atmosphere it increases the ability of the atmosphere to retain heat. But carbon is only one variable, and there are other large variables that go into the earth's atmospheric temperatures such as the sun and the temperatures of the oceans.
A startling prediction that the world would enter a mini-ice age in 2014 was made in 2010 by Russian scientist Dr. Habibullo Abdussamatov, head of space research at Pulkovo Astronomical Observatory in St. Petersburg, Russia. His prediction was that sun activity would enter another Grand Minimum was made at the Heartland Institute's Fourth International Conference on Climate Change. The famous Maunder Minimum was a period of very low sunspot activity between AD 1645 to AD 1715. It occurred in the heart of what is known as the Little Ice Age. NASA defines the Little Ice Age as a period of global cooling between AD 1550 to AD 1850.
Sunspot activity has been below normal since Dr. Abdussamatov's prediction in 2010. Solar Cycle 24, the current Cycle which began in 2000, is believed to have the weakest amount of sunspot activity since Solar Cycle 14. While the sun is a key variable in global temperatures, it is not clear whether or not sunspot activity will remain below normal. It is also difficult to know how big an influence the solar cycles will have versus the increase in man-made CO2 emissions. Dr. Abdussamatov is predicting sunspot activity will remain very low and therefore the sun will dominate global temperatures in the coming century.
Interestingly, according to Andrew at The Weather Centre Blog, the measured temperatures in the Arctic this summer are the lowest measured since 1958 when modern temperature measurements began. The daily mean temperature of the Arctic area north of the 80th northern parallel is estimated from the average of the 00z and 12z analysis for all model grid points inside that area: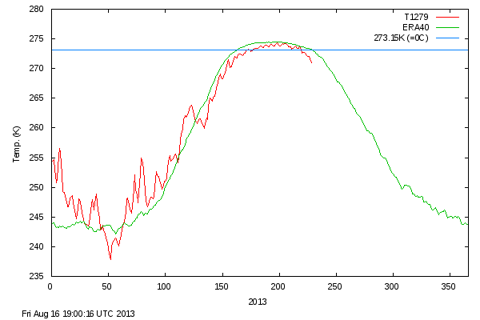 Now, the temperatures in the Arctic could reverse to the mean. The temperatures in the Arctic may not be well correlated with global temperatures. Also, these low temperatures could be caused by variables other than the activity of the sun. But it is worth noting that Dr. Abdussamatov's prediction is preceded by dropping Arctic temperatures.
Investors in natural gas would love to have tomorrow's newspaper to determine if the upcoming winter of 2013-2014 is going to be cold enough to make Dr. Abdussamatov's prediction come true. According to the National Climate Data Center, the winter of December 2012 to February 2013 ranked as the 20th warmest winter in the last 119 years. The average temperature was 1.87 degrees Fahrenheit above the 20th Century average. By contrast, the coldest winter recorded was 1979 and the average temperature was 5.78 degrees Fahrenheit below the 20th Century average. A top 10 coldest winter would deplete natural gas storage much more rapidly than the 5-year average and could make natural gas prices jump to significantly higher levels.
No one knows how much natural gas would get withdrawn from storage with a real cold winter. Last year 2.3 trillion cubic feet was withdrawn from storage even though it was the 20th warmest winter on record. Investors willing to speculate on a cold winter could make a highly natural gas correlated investment in the United States Natural Gas Fund (NYSEARCA:UNG). Or, they could invest in fast growing natural gas exploration and production companies like Cabot Oil and Gas (NYSE:COG) and Range Resources (NYSE:RRC) that have large holdings in the Marcellus Shale. Or they could invest in exploration and production companies that are currently pursuing oil but have large legacy holdings of natural gas such as Chesapeake Energy (NYSE:CHK), Devon Energy (NYSE:DVN), Anadarko Petroleum (NYSE:APC), Matador Resources (NYSE:MTDR), Goodrich Petroleum (NYSEMKT:GDP), Crimson Exploration (CXPO) or Magnum Hunter Resources (MHR). If winter is going to get off to an early and prolonged start, then the time to consider positioning a portfolio to take advantage of a colder than normal winter is now.
Disclosure: I have no positions in any stocks mentioned, and no plans to initiate any positions within the next 72 hours. I wrote this article myself, and it expresses my own opinions. I am not receiving compensation for it (other than from Seeking Alpha). I have no business relationship with any company whose stock is mentioned in this article.