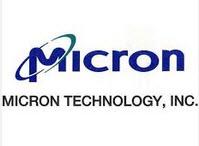 Executive Summary
"Frankly, my dear, I don't give a damn." - Clark Gable
The title of this article is an ill-advised play on this famous line from the 1939 film Gone With The Wind starring Clark Gable and Vivien Leigh. It was spoken by Gable, as Rhett, in his last words to Scarlett O'Hara. It occurs at the end of the film when Scarlett asks Rhett, "Where shall I go? What shall I do?" as he leaves her. The line is memorable because it demonstrates that Rhett has finally given up on Scarlett and no longer cares what happens to her.
That is kind of how I feel about Micron (NASDAQ:MU) right now. The stock has gone nowhere in two months. This is after a 150% surge since my initial recommendation to buy the stock in an article I wrote in November of 2012.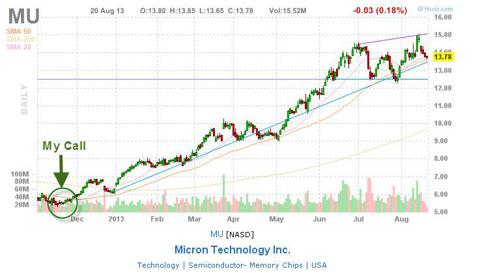 The question is what now? Has the stock caught up with the story? Is there more room to run? I say it's time to take profits. The stock has run so far so fast it has reached an inflection point. In the following section, I will lay out my bearish case for the stock.
Fundamental Peer Comparisons
Please review the following tables and chart provided by Scottrade and Ycharts detailing Micron's fundamental position compared to its peers.
Profitability

Across the board, Micron is underperforming the industry with regard to profitability. With gross margins less than half the industry average and a trailing two-month negative profit margin of nearly 8%, things don't look well regarding profitability.
Valuation

Micron looks fair when it comes to valuation. The company isn't turning a profit so P/E comparisons are out. Micron looks good from a price to tangible book basis, yet falls short on price to cash flow.
Sales Growth

Sales growth is on the rise over the last five years but still slightly trails the industry average of 8.5%. EPS growth has been exceptional though at 19.85%. Dividend growth is non-existent.
Financial Strength

As you can see, Micron's financial strength is in line with industry norms. The only thing lacking is a dividend.
Management Effectiveness

Management's effective use of company profits and assets is probably the most important data to analyze when deciding to invest in a company. Micron's management is in the midst of a restructuring program. So the bad numbers here are not quite as important as determining if they are improving. At this point, they are improving. But there is still a long way to go.
Price-To-Book Comparison

Micron trades in the middle of the pack regarding price-to-book ratio compared to its peers: Rambus, Inc. (NASDAQ:RMBS), SanDisk Corp. (SNDK) and NCR Corp. (NYSE:NCR).
Downside Risks
There are several downside risks to the company and stock currently. In the following sections I will detail each one.
Competitive Pressures
The semiconductor industry is subject to cyclicality and abrupt fluctuations in pricing for commodity memory products. Micron is the only American semiconductor company still standing. The global DRAM industry has been consolidating in recent years due to the commoditization of DRAM.
Restructuring Risks
Restructuring can help streamline a company and make it profitable. Even so, the process always comes with cost and risk. Micron has just bought out Elpida. Micron still has Elpida assets on the books to divest. Any divergence from plan in the execution of these transactions can have vast impacts on the bottom line.
Revenue Risk
It is no mystery that a paradigm shift from desktop computers to mobile computing devices is occurring. If lower-than-expected sales of computers and consumer electronic products containing Micron's chips occur, this will have a direct effect on Micron's revenues. Furthermore, this is completely out of Micron's control as well.
Capacity Expansion Risk
The industry has consolidated quite a bit as of late. Micron appears to have cornered the DRAM market. But that gets back to my title. Who cares? Really it just stopped the bleeding. The money is in NAND. Moreover, all of these markets can be thrown for a loop by a faster-than expected capacity expansion by remaining competitors in the memory industry.
Production Cost Risk
Companies are always looking for ways to cut costs. Sometimes hidden or unexpected costs occur during the process which results in less-than-expected unit cost reductions. This will also have a negative effect on profits.
Macro Market Exposure
The month of August has been one of highs and lows. It seems the summer doldrums may finally be taking effect as the performance of the major averages have turned south. The market looks frothy to me. The latest Bull Run looks extremely long in the tooth at over four years. Why not lock in some profits now? A rising tide lifts all boats, but it can sink them just as easily. Stocks tend to take the stairs up and the elevator down. Watch over your profits.
Conclusion
I remain guarded on the prospects for Micron in the DRAM space given the softness in the personal computer market. Although, I don't see it evaporating overnight either. I think it is simply trending water here.
What I like about Micron is its shifting focus to the flash memory business. This is where the money is. These chips support mobile devices such as tablets and smartphones. Other new product cycles should also benefit Micron over time as well.
The consolidation of power in the DRAM space, and the increased focus on NAND flash memory chips for mobile devices, are the major catalysts propelling Micron shares higher. Nonetheless, I believe all this good news is already priced into the stock. The stock is currently overvalued.
The stock has simply run too far too fast. The risk is to the downside after such an amazing run. I would take profits now if I was long and wait for the stock to pull back. The last few months the stock has been acting tired. The stock is currently trading 43% above its 200-day moving average. I say the stock at least retraces to the $12 mark, half way to the 200 day sma. I'm a buyer at $12. I think Micron will prevail in the long run. If you are long and wish to hold throughout the digestion period of the most recent rally, do it. I feel the probability of a significant move to the downside far outweighs the risk of a surge upward at this point.
Disclosure: I have no positions in any stocks mentioned, and no plans to initiate any positions within the next 72 hours. I wrote this article myself, and it expresses my own opinions. I am not receiving compensation for it (other than from Seeking Alpha). I have no business relationship with any company whose stock is mentioned in this article.