The chart for Broadcom (BRCM) is abysmal, with the stock down nearly 25% over the past four weeks. The big drop came after the company offered unappealing 3Q guidance, despite the fact that 2Q results were relatively in line with expectations. After the stock fell off a cliff last month, its forward P/E has is now down to 9x and its PEG is at 0.7.
So what does Broadcom do? It's a global semiconductor solution for wired and wireless communications, allowing for the delivery of voice, video, data and multimedia connectivity in the home, office and mobile environment. Broadcom remains one of the best-positioned companies in the rapid growth wireless communications market, having agreements with the likes of Cisco (NASDAQ:CSCO), Nortel (NYSE:NTL) and Sony (NYSE:SNE).
Being a fabless semiconductor company, Broadcom is able to generate impressive margins, with management guiding for a long-term goal of gross margins between 50% and 52%, and operating margins of 20% to 22%.
The latest
Broadcom posted 2Q EPS at a $0.43 loss per share, versus the income of $0.28 per share for 2Q 2012. The big fall in earnings was use to a $0.87 impairment charge related to the acquisition of NetLogic Microsystems. But really spoiling investors' outlook is the fear that 2013 chip revenue will be lower than expected due to weaker smartphone demand.
This spurred a number of analyst downgrades, further fueling the selloff...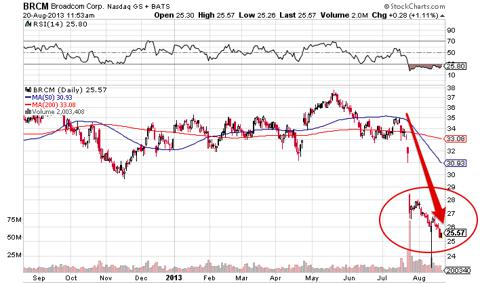 Broadcom still owns the market share for 4G Wi-Fi combo chips, expected to be 75%. Demand for smartphones and tablets have been one of the biggest tailwinds for Broadcom in the past, with customers being Samsung (OTC:SSNLF), Cisco and Apple (NASDAQ:AAPL).
Despite the concerns for Broadcom's exposure to wireless, it's only a part of the business -- accounting for around 50% of revenues. Meanwhile, its fastest growing segment is broadband, around 30% of revenues. This segment should be a key driver going forward, where the company should be able to further expand market share with the help of a greater number of individuals watching TV across the world.
This includes Broadcom's position in the set-top box market. Infonetics Research expects total set-top box shipments to grow from 221 million in 2011 to 242 million in 2016. A couple big opportunities in the market include China (free to air satellite expansion), and India and Latin America (pay satellite).
Broadcom is targeting these faster growing markets. At the start of 2013, Broadcom introduced a cost effective, entry level, set top box, which is seeing high rates of penetration in Brazil and India.
Industry giant
Qualcomm (NASDAQ:QCOM) is another major designer and manufacturer of digital communications products based on code division multiple access (OTCPK:CDMA). Behind Intel, Qualcomm is the number two U.S. seller of semiconductor products. Sales are expected to be up an impressive 30% in fiscal 2013, but taper off in 2014 and 2015, expected to grow 11% and 8%, respectively.
Qualcomm's biggest product is its Snapdragon chipset, which is a big positive given its use in media focused wireless devices. The benefits to Qualcomm include the transition from 2G to 3G technology, namely in China and emerging markets.
Qualcomm's key revenue generator is the CDMA technology for wireless. This segment includes equipment and services that account for around 70% of revenues. The other 30% of revenues come from its license and royalty fee segment. This includes monetizing various patents related to CDMA. The royalties are paid when manufacturers earn revenue from the sale of CDMA-based equipment.
Qualcomm is one of the best-positioned companies when it comes to LTE devices. It is also the major chipset supplier for Samsung -- the largest seller of smartphones in the world.
Wireless no more
Texas Instruments (NYSE:TXN) designs and makes semiconductors for electronics, now behind Qualcomm in semiconductor sales -- after Qualcomm passed TXN in semiconductor sales during 2012.. TXN has three (it had four but sold off wireless) segments, including analog, embedded processing and other. TXN decided to wind down its wireless business to focus on analog.
The company likes the analog business given its higher margins. TXN has proven to be a leader in the analog market, owning some 17% of the market share. The company-wide gross margins should see expansion over the next few years, from the current 50% to as high as the low 60s.
All in all
The real beauty for Broadcom lies in the fact that the company has $2.5 billion in cash. That's $4.30 in cash per share, a near 17% cash to price ratio. What's more is that its current assets cover its total liabilities handsomely, leading to a current net asset value per share of $1.17.
The tables turned quickly on Broadcom, where last month there were 38 analyst buy ratings and only 10 hold/sell ratings, and this month the number of buys dropped to 27 and hold/sells went to 20. But there's hope.
The other compelling story for Broadcom is it's the leader from a number of cash generating standpoints. This includes both free cash flow generating ability and current cash position.

Unlike the major semiconductors, Broadcom doesn't offer a 2% plus dividend, currently at 1.7%, compared to Qualcomm's 2.1% and Texas' 2.9%. This isn't necessarily a negative, where I think Broadcom is still in growth mode. The company is also the cheapest among major peers, trading at an EV/EBITDA multiple of 11.3x, compared to Qualcomm's 12.7x and Texas Instruments' 11.9x.
I'm an owner of BRCM given its inherent moat that the cash position provides, believing that the company's recent slide has been over exaggerated. 30 days ago analysts were projecting BRCM EPS to come in at $2.88 for '13 and $3.13 for '14, now analysts expect $2.74 for '13 and $2.82 '14 -- quite the downward revision. However, prior to the huge selloff almost a month ago, the stock was trading at 11.5x 2013 EPS, but not it's at only 9.3x.
I'm really in Broadcom as a value play, where the company has a strong position in the wireless and set-top box market. Despite the analyst downgrades, the average price target has held up nicely, at $34.50 -- suggesting 40% upside.
Disclosure: I am long BRCM. I wrote this article myself, and it expresses my own opinions. I am not receiving compensation for it (other than from Seeking Alpha). I have no business relationship with any company whose stock is mentioned in this article.