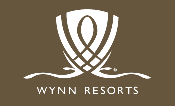 It's a tough time to be a casino operator in Las Vegas. The economic decline and destruction of personal wealth has made it harder for consumers to justify spending their hard-earned money at the craps tables. Convention business is off 26% this year in the city that never sleeps. But on the other side of the world, the picture is a stark contrast.
Macau is the only Chinese territory that explicitly allows gambling. And the demand for gambling has been overwhelming. Two of the major players in this market are Las Vegas Sands Corp (NYSE:LVS) and Wynn Resorts Ltd. (WYNN), each of which has made significant investments in developing properties in Macau. The debt level for each company has increased tremendously in order to fund these investments, but despite a near brush with death for LVS, both companies appear to be on the mend and should grow profits tremendously as their Macau properties come online.
The Chinese government has helped to create an enticing appeal for the region by restricting travel. Originally, Chinese citizens were only allowed to visit Macau once every three months. The restrictions helped to keep the region under control as the infrastructure simply wasn't robust enough to handle the millions of visitors that would have otherwise visited. Now that the region has beefed up its infrastructure the government allows citizens to visit the area once every month which should allow traffic to increase more. China is not immune to the global recession, but the limited supply of gaming should help businesses in Macau to continue to see heavy traffic.
Last week Wynn Resorts offered shares of its Macau subsidiary to investors on the Hong Kong exchange, raising roughly $1.6 billion in new capital. The funding more than covers the capital needed to fund the $700 million dollar Macau hotel which is expected to open mid-year next year. The new location should be a gold mine for new revenue with lodging, shopping and of course gaming available to visitors. Investors are likely to see a sharp rebound in earnings which is why the stock has see such a tremendous gain since the March low.
Looking at the WYNN stock price in comparison to the current earnings, one could easily determine that the shares are over-priced at a listed PE of 129. However, looking at the entire picture -- including the trough historical earnings due to economic decline, a significant new property coming online in the next several months,and a balance sheet that is quickly improving -- you might come up with a very different opinion of the stock.
There is no doubt that investors are beginning to have a more optimistic view of this consumer-driven company. But despite my aversion to most retail driven investments, I believe WYNN could offer significant value for investors today. Granted, I would like to buy the stock closer to $55 or $60 (and I may get that opportunity in the next few weeks), but I do believe the earnings power could be tremendous looking out to 2011 and 2012. Keep in mind the stock price will likely discount an earnings recovery well before the fundamental numbers are actually reported.
In 2007, when consumers were still freely spending, the company reported earnings of $2.97 per share. Now most of this revenue was from properties in the now depressed Las Vegas region. However, the new location in Macau along with even a slight uptick in Las Vegas traffic could quickly put earnings at a new high level. If this were to happen, investors would quickly be willing to pay 30 or even 40 times earnings due to the incredible growth. That could result in a stock price of $120 or more and I could see this happening in the next 12 to 18 months. The main question is whether Macau will continue to see healthy traffic and spending.
Since China is desperate to continue to show positive economic growth, I would expect restrictions on traveling to Macau to continue to be light, or even lifted altogether. Wynn already has a strong foothold in the region and will likely increase its market share in the growing business region. So it appears the stock may be fairly priced and I would suggest building a position over the next several weeks.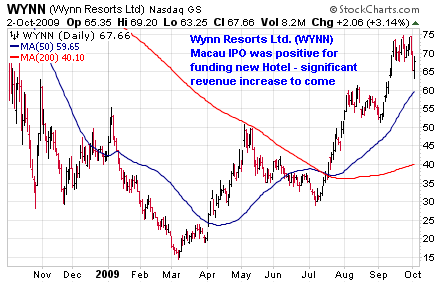 Disclosure: Author does not have a position in WYNN