South Africa's third largest gold producer, Harmony Gold Mining Co (NYSE:HMY), with annual gold output of 35374KG in 2012, has been navigating rough weather over the past year. Harmony's market capitalization has shrunk by over 50% in the past financial year. In Aug 2013, its market cap was down to $1.87 billion, compared to $4 billion in June 2012. Here, I shall take a detailed look at the economic and operational challenges for Harmony within the context of precious metal mining industry performance, and will determine if you should keep, sell, or buy HMY shares.
What ails Harmony?
A spate of bad press headlines over the past few months have pushed down the share price of HMY. Harmony is listed on both the Johannesburg and the New York stock exchange.
Assets write-off
HMY announced the partial write-off of its 50% stake in Papua New Guinea-based Hidden Valley Mine in July '13. This translates to $268 Million being written off the company books. The reasons sighted were the downcast price outlook for gold in the international market in the near term, and poor performance of the Hidden Valley Mine. This write down had a direct negative impact on Harmony's 4Q and FY13 net profits, as detailed later in this article.
Labour Unrest
The company also faced acute labour problems related to demand for increased wages at their Kusasalethu mine in 4Q. These disruptions led to a drop in gold production and put severe pressure on Harmony's operations and cash flow. Compounding these challenges are external factors, over which Harmony had no control.
Impact of the U.S., Europe, and Asian Economies
Major economic fault lines were exposed in a few European countries in the past year. These countries resorted to selling their sovereign reserves to raise funds, leading to an excess supply of gold in the market. Economic activity picked up in the U.S. during the April-June time frame. The U.S. investors who were holding 36% of total outstanding shares as of April 30 had a wider choice of investment options to consider besides Gold.
Harmony sharing holding pattern based on Geography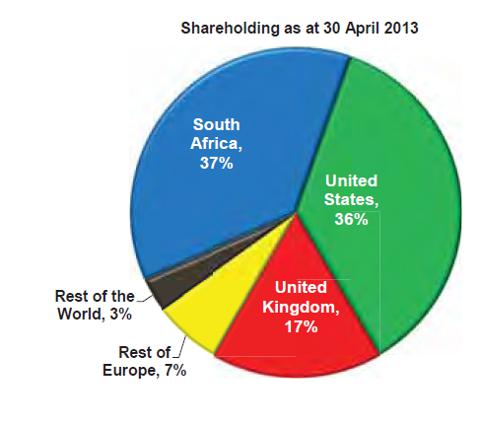 Source: Harmony Fact Sheet published on Harmony website
India was the largest importer of gold in 2012. It is staring at a widening current account deficit and rising inflation. This has led to the slowing down of its GDP growth. The Indian government resorted to additional custom duties and tax on gold purchases to dampen demand for gold in their country. All these reasons cumulatively led to pressure on gold prices in the international market. This in turn drove down the share price of Harmony. This downward slide has since abated with the increase in international gold prices in the past week. HMY shares were trading at $4.33 at close of business on Aug. 15, 2013, compared to $10.28 the same day of 2012, representing a 57% decrease in its value over the year.
HMY share price trends over the last 365 days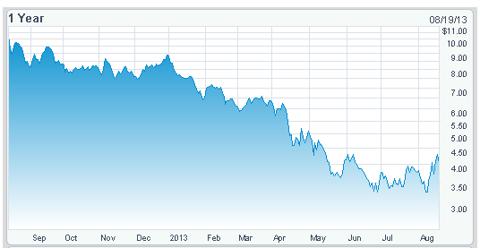 Source: Yahoo Finance
Highlights of 4Q13
The results were downbeat for 4Q13 and overall flat for FY13 year, which ended on June 30.
4Q13
Net loss for 4Q was $350 million, compared to $12 million recorded in 3Q13. This exponential loss was mainly due to provisions made for writing off $313 million towards Hidden Valley asset and tax liability. For the same quarter, operating profit was down 22%, compared to 4Q12, because of an approximate 9% drop in gold price, and a concurrent increase of 8% in operation costs.
FY13
For the year ending June 30, HMY saw a 2% dip in annual gold production with labour unrest, which was one of the main causes described above. Total loss was $240 Million in FY13, compared to $260 Million in FY12. On the positive side, HMY saw an increase of 7% in recovered grade over the last year.
Exploration cost inched up to $67.3 Million from $50 Million in FY12. Overall in FY13, loss per share was $0.54, while in FY12, its earnings per share was $0.61.
Things are looking better
Since July 15, the HMY share prices have been inching upwards. This can be attributed to upward trending of gold price in the international market. It has gone up by 6% in the past month. Cost-cutting projects that HMY had initiated in May '13 have started to show initial results.
HMY sitting on a gold mine
HMY's gold equivalent mineral resource is pegged at 147 Million ounces, and its attributable gold equivalent mineral reserve is estimated to be 51.5 Million ounces as of June 30. These numbers indicate the strong potential of the mines owned by HMY over the next decade. Six of the mines owned by HMY are identified as steady in production, while four are in the build-up stage. These mines will be commissioned over the next five years and will contribute to increased gold output.
HMY gold production projections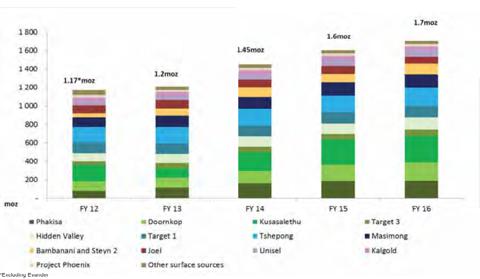 Source: Harmony Fact Sheet published on Harmony website
Plan for improving cash flow
The company is working towards cutting down capital expenditure by shelving big-ticket explorations and green field mine expansion projects. The company has also launched major cost reduction exercises, including head office costs. As already observed in its 4Q quarter report, the company is stretching to increase the grade by squeezing more out of the goal ore. HMY is also targeting quicker turnaround projects, which invoke lower capital and offer near-term cash flow.
Harmony is faring better than competition
As the below chart indicates, Harmony seems to have managed to weather the volatility in gold prices better than its global competition. HMY managed to maintain a $62 million cash reserve at the peak of gold price dip, while its peers were in the red. HMY management has indicated its determination to maintain this healthy cash flow by bringing down administrative cost and taking up projects that will have a low threshold to get started and yield quicker cash flow.
HMY performance in comparison to competition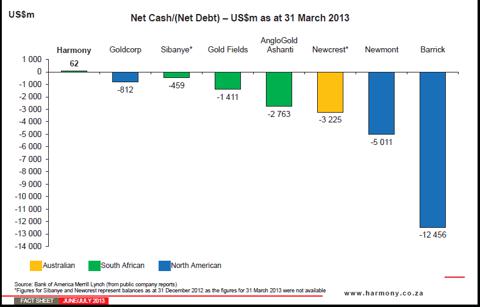 Investors in Harmony Gold Mine can take heart from the recent rally in this company's shares. The fundamentals of Harmony are relatively robust, as discussed above, with a good asset base and cash flow. With the labour unrest behind it, and the appetite for gold in the international market picking up, I believe it is a good time for investors to buy HMY shares.
Disclosure: I have no positions in any stocks mentioned, and no plans to initiate any positions within the next 72 hours.
Business relationship disclosure: The article has been written by an Analyst at ResearchCows, ResearchCows is not receiving compensation for it (other than from Seeking Alpha). ResearchCows has no business relationship with any company whose stock is mentioned in this article. Any analysis presented herein is illustrative in nature, limited in scope, based on an incomplete set of information, and has limitations to its accuracy. The author recommends that potential and existing investors conduct thorough investment research of their own, including detailed review of the company's SEC filings, and consult a qualified investment advisor. The information upon which this material is based was obtained from sources believed to be reliable, but has not been independently verified. Therefore, the author cannot guarantee its accuracy. Any opinions or estimates constitute the author's best judgment as of the date of publication, and are subject to change without notice.