Integra LifeSciences (NASDAQ:IART), a global medical bionic implant company, disclosed last week that the U.S. Food and Drug Administration successfully completed an inspection of its regenerative medicine facility in Plainsboro, New Jersey. The FDA issued a warning letter to the company after inspecting its Plainsboro facility in the third quarter of 2011. At the conclusion of the recent inspection, the FDA found that the company had addressed the issues raised in the warning letter and previous inspectional observations, and it issued no further inspectional observations.
Integra's stock underperformed the market and its peers due to the FDA warning. Now in the absence of any warning the stock is poised to scale higher. In this article I will focus on Integra's long-term growth prospects while making a long case for the stock.
Company Overview
Integra develops, manufactures and markets surgical implants and medical instruments. Integra operates in five segments: U.S. Neurosurgery, U.S. Instruments, U.S. Extremities, U.S. Spine and Other, and International. The company offers unmet medical solutions for burns, skin defects, spinal and cranial disorders.
Why Integra's Stock is Worth Looking Into
Integra's goal is to become the world's leading provider of specialized implantable medical and biopharmaceutical therapies. A substantial rise in the aging population is responsible for an increasing number of geriatric trauma cases every year. Integra's implantable solutions provide effective treatment in geriatric trauma, which refers to traumatic injury that occurs to an elderly person. The three prevailing causes of traumatic death in the elderly are falls (which accounts for 40% of traumatic death in the elderly), traffic collisions and burns.
Apart from geriatric trauma, a rise in organ failures in the elderly would result in increasing demand for Integra's products. Furthermore, increasing accidents and injuries leading to amputations, and rise in number of people awaiting organ transplants are the major drivers slated to propel Integra's growth.
Why the FDA Clearance is Positive for Integra
Integra's Plainsboro facility suffered from quality system checks and compliance issues. The FDA warning hurt Integra's revenues and profitability throughout 2012-13 due to remediation activities to obtain FDA clearance. Last week's FDA clearance will act as a positive catalyst for Integra's stock.
Investors should note that in April 2013, Integra initiated a voluntary recall of certain lots of its products under DuraGen, NeuraWrap, NeuraGen and other brand names, which the company manufactured during December 2010 - May 2011 and November 2012 - March 2013 at its Anyasco, Puerto Rico facility. The company thought that the quality standards of those products deviated significantly from an approved product standard.
Moreover, in February 2013, Integra discontinued the distribution of its collagen products following a warning letter from the FDA, which were also manufactured at the Anyasco facility. I believe the FDA's recent action indicates that the Integra management has become sincere to resolve the quality-related issues. I also believe Integra's corrective and preventative measures in the form of product recalls remain proactive, despite its potential negative impact on 2013 earnings.
Integra has Long-Term Growth Opportunities in Bionics
Integra is a world leader in medical devices focused on limiting uncertainty for surgeons so that they can concentrate on providing the best patient care. Integra provides customers with clinically relevant, innovative and cost-effective products that improve the quality of life for patients. As I mentioned above, Integra's long-term objective is to become a global leader in the medical bionic implant (artificial organs) market. For assessing Integra's actual potential in this market, I dug deeper into bionics to understand how the market is evolving.
Bionics refers to the development and implantation of artificial prosthesis made primarily of silicone or collagen that can replicate the functions of our organs and limbs. But inserting artificial prosthesis inside our body may lead to injuries to peripheral nerves innervating a limb, which can cause paralysis and necessitate amputation. A study by Chamberlain et al. revealed that inability of our nerves to regenerate spontaneously and the limitations of autograft procedures led to the development of new treatments involving insertion of the nerve ends into prosthetic tubular devices. The study supports the use of degradable collagen tubes in peripheral nerve regeneration. Integra's neurosurgical products are aimed at providing such new treatments.
There are three types of bionic implants: biological, biologised and biofunctionalized. Biological implants are defined as products manufactured from living cells, using tissue engineered products. Biologised implants consist of combination of cellular components and permanent biomaterial. Biofunctionalized implants are comprehended as a field of surface treatment with the purpose of optimal use of surface for life science applications. Integra is a leading player in biologised implants. The bionics market is expected to grow at a CAGR of 7.1% from 2012 to 2017 to reach $17.82 billion by 2017.
Now let's shift focus on what Integra has done for returning value to its shareholders. In the bionics market the company has developed numerous product lines through its proprietary collagen matrix and demineralized bone matrix technologies that the company sells through its three selling platforms. The company claims that each of these three selling platforms contributes a different strength to Integra's core business. Orthopedics enables the company to grow its top line and increase gross margins. Neurosurgery provides stable growth as a market with few elective procedures. The Instruments business has a strong capacity to generate cash flows.
Upcoming Growth Catalysts
The company remains committed to achieve its longer-term margin improvement and growth acceleration targets. The company has made satisfactory progress in two of its high growth product lines, shoulder and skin. Moreover, the company will offer some innovative products going ahead. The company's upcoming growth catalysts are as follows:
The company recently obtained the 510(k) clearance for its Titan Reverse Shoulder System and expects the limited market release in the U.S. within a few days. Following CE marking clearance in Europe, the company expects to start a full global commercial launch in the first quarter of 2014. CE marking is a mandatory conformity marking for products sold in the European Economic Area.
In the extremities group the diabetic foot ulcer market is growing fast and Integra is progressing well with its pivotal DFU clinical trial. The company expects to complete enrollment for the trial between the fourth quarter of this year and the first quarter of 2014. Integra's pilot study on the use of Integra Skin in diabetic foot ulcers was published in the journal of the American Podiatric Medical Association, which concluded that the Integra bilevel -- bilayer wound matrix is easy to use, safe and effective when used on diabetic foot ulcers.
Integra will offer a therapeutic device known as Integra Smart Cervical Solution. The device will be used in degenerative diseases that need stabilization and fusion of two or more cervical vertebrae. This is a user-friendly pre-filled implant that can integrate the cervical cage in a short time with 100% synthetic bone substitute.
Apart from the high growth shoulder and skin segments, the company plans to launch 20 to 25 new and innovative products in some of its relatively low growth segments by the end of 2013, which will lay the groundwork for accelerated overall growth for the company in 2014 and the years to come.
Valuation and Potential Upside
In terms of Price/Sales ratio, Integra is currently trading at a deep discount compared to its peers, such as Medtronic (NYSE:MDT), Baxter International (NYSE:BAX) and Becton Dickinson (NYSE:BDX). Integra's quality-related issues kept the stock under pressure, which are expected to disappear going ahead.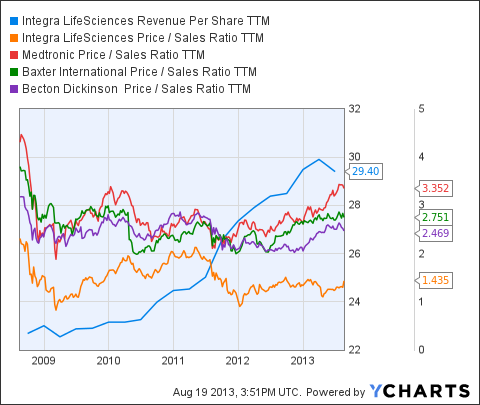 IART Revenue Per Share TTM data by YCharts
The company's revenues are expected to grow at a CAGR of 7.1% for the next four years (in line with the bionics market). The company's 2014 revenue per share is expected to be around $32, and earnings per share would be $3.15 as per analysts' estimates.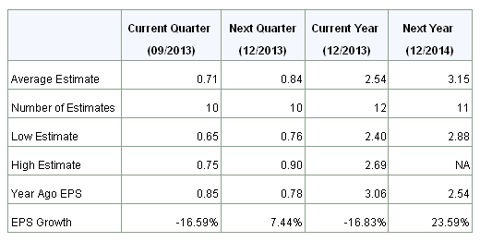 (Source: Zacks)
Assigning a Price/Sales ratio of 2.5x (peer group average) on the 2014 revenue per share of $32, I arrive at $80 as Integra's one-year projected price. Now let's see the company's one-year projected price in terms of P/E. Assigning a P/E of 20x (which is quite reasonable for a high growth company) on Integra's estimated 2014 EPS of $3.15, I get $63. Averaging the two projected prices I arrive at my one-year target price for Integra, which is $71.50.
Let's compare Integra's one year total return percentage versus that of iShares Dow Jones U.S. Medical Devices (NYSEARCA:IHI), an ETF that tracks the Dow Jones U.S. Select Medical Equipment Index, and SPDR S&P Health Care Equipment (NYSEARCA:XHE), an ETF that tracks the S&P Health Care Equipment Select Industry Index. Integra returned less than 10% value to investors in the past one year, whereas the ETFs returned significantly higher value. This divergence also confirms that Integra has huge upside left.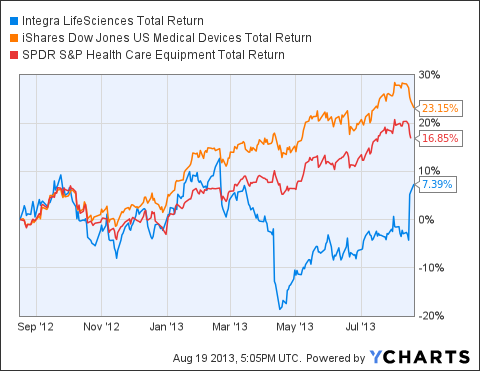 IART Total Return Price data by YCharts
Summary: Reasons to Buy
The recent FDA clearance associated with the company's Plainsboro facility is one of the most compelling reasons to buy the stock.
Integra's products see robust demand due to a steady rise in the aging population leading to an increasing number of geriatric trauma cases.
Integra provides unmet medical solutions for organ failures in the elderly. This results in stable demand for some of its products.
Integra's upcoming Titan Reverse Shoulder System is a high growth product, which is expected to contribute a significant share to the company's future revenues.
The company plans to launch 20 to 25 new and innovative products this year, which would boost Integra's top and bottom line for a prolonged period of time.
The bionics market is expected to grow at a CAGR of 7.1% from 2012 to 2017 to reach $17.82 billion by 2017. Integra would be immensely benefited from this growth.
Integra trades at a deep discount compared to its peers in terms of Price/Sales ratio, which could send the stock much higher even in the short-term.
Potential Risks
The recall-related product shortages had significant impact on Integra's consolidated revenues and operating results. Integra's FY2013 earnings could see meaningful contraction due to the product recalls.
Integra used to manufacture silicone and collagen products at the Puerto Rican facility. The company will have to continue to battle higher expenses associated with the recalls and remediation plans.
For having a better sense regarding Integra's long-term commercial consequences arising out of the recall and the extent of incremental remediation expenses, investors may have to wait for at least another quarter. This uncertainty may lead to increased volatility for Integra's stock.
Integra's growth may face obstacles due to high cost of devices, uncertain reimbursement scenarios in different regions, limited surgical expertise, and high cost of product development.
Conclusion
The medical bionic implant industry has seen huge technological advancements over the past two decades. I expect this trend will continue and Integra will evolve as a leading player in this market to fill unmet medical needs of the patients. The stock is worth buying at the current level with significant potential upside in the long-term.
Disclosure: I am long IART. I wrote this article myself, and it expresses my own opinions. I am not receiving compensation for it (other than from Seeking Alpha). I have no business relationship with any company whose stock is mentioned in this article.