CVR Energy (CVI) is an oil refiner and marketer of petroleum fuels and a maker of nitrogen fertilizer products. It primarily operates under two segments, petroleum business, called CVR Refining (CVRR), and nitrogen fertilizer business, called CVR Partners (UAN). Both of its subsidiaries are Master Limited Partnerships. So essentially, CVR Energy is a holding company of these two MLPs and owns significant common units of the companies. The market cap of the three firms is presented below.
Market Cap in $ Millions

CVR Energy

3,650

CVR Refining

3,870

CVR Partners

1,320
The main focus of the article is on the holding company. CVR Energy has reasonable valuation and has also made significant improvements in their operations. It is one of the best dividend stocks out there which pays like an MLP. In this article, I will discuss the company's performance over the last five years, its future prospects and present some of the main points which I believe makes this relatively small energy play an attractive buy.
Carl Icahn
Carl Icahn owns nearly 80% of CVR Energy. The billionaire investor initially started with a 14.5% stake in the energy firm in January 2012. CVR Energy has now become Icahn's second largest holding, behind only his Icahn Enterprises.
Quarterly Results
Earlier this month, CVR Energy released its quarterly results (available here) in which its net sales dropped by 3.81% year-over-year to $2.22 billion while its operating and net income rose 11.4% and 18.5% to $262.7 million and $183.4 million respectively. This translated into an EPS of $2.11, significantly above market's expectation of $1.72.
CVR Refining
CVR Energy owns 71% of CVR Refining. The petroleum business is mainly about two refineries, the Coffeyville and Wynnewood refineries. Its total throughput of crude and feedstocks and blendstocks increased by 1.22% from the same quarter last year to 201,925 barrels per day, or bpd, due to record production at Wynnewood. However, the refining operation has suffered from the shrinking crack spreads and higher costs of the Renewable Identification Numbers required by the U.S Environmental Protection Agency. Therefore, it wasn't a surprise when CVR Refining saw a 4.10% drop in net sales and a 7.96% drop in net income to $2.138 billion and $229.1 million respectively - despite increasing its throughput.
CVR Partners
On the other hand, its relatively smaller nitrogen fertilizer operation posted a 9.09% year-over-year increase in net sales to $88 million and a 2.77% increase in its operating income to $37.1 million. CVR Energy owns 53% of the common units of CVR Partners. The fertilizer operation suffered in the previous quarter due to a one-off event of nine days of unscheduled downtime. As a result, total ammonia production dropped by 16% to 91,300 tons. This was disappointing because ammonia output touched its lowest levels since 2008. However, the production drop was completely offset due to the rise in ammonia and UAN prices.
Long Term View
The company's growth over a period of the last five years is shown in the picture below. In this period, CVR Energy has been able to grow consistently until its most recent quarter when it reported a drop in revenues - although it still managed to increase its bottomline.
Since Q2-2009, CVR Energy has grown by 180% which has largely come on the back of its refining business. Since its inception, the nitrogen fertilizer segment was a small part of CVR Energy and its contribution is getting even smaller as in five years, growth of CVR Refining has easily outpaced the growth of CVR Partners. Moreover, CVR Energy has significantly greater exposure to CVR Refining than CVR Partners, which is evident from its common unit holdings in the two subsidiaries mentioned earlier.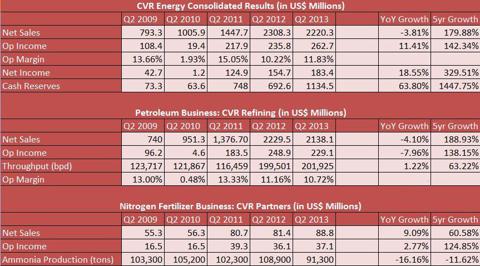 Future Outlook
One cause of concern is the trend of falling margins, which corresponds to CVR Refining's margins due to narrowing crack spreads. The shrinking WTI-Brent spread is also putting pressure on refining margins of small inland operators throughout the industry and the problem appears to be of a long term nature. Significant improvements have been made in the continental oil distribution network which is eating away the price advantage which refiners have enjoyed for the last three years. In such business environment, the relatively bigger refiners, such as CVR Energy, are much better positioned than the smaller ones, such as Northern Tier Energy (NYSE:NTI).
Moreover, on a trailing basis, CVR Energy has outperformed its other inland rivals. According to data provided by Yahoo Finance, CVR Energy has generated a higher operating margin than Western Refining and is even ahead of HollyFrontier.
| | |
| --- | --- |
|   | Operating Margin (trailing) |
| CVR Energy | 13.79% |
| Western Refining | 8.77% |
| HollyFrontier Corp | 13.07% |
Northern Tier's throughput has been significantly below CVR Energy's and with the downtime at the St. Paul Park refinery, the former's throughput fell even further in Q2-2013 from Q2-2012. In fact, CVR Energy's throughput is even ahead of its inland refining peer Western Refining (WNR) and just 26,000 bpd behind its bigger rival HollyFrontier (HFC), another inland refiner. The future looks challenging due to shrinking spreads but the relatively larger size of CVR Energy should give confidence to investors.
 

Total Throughput (in bpd)

Q2 2012

Q2 2013

CVR Energy

199,501

201,925

Northern Tier

81,906

55,486

Western Refining

157,960

161,985

HollyFrontier

259,250

226,010
The Coffeyville and Wynnewood have been some of the company's main acquisitions but it is still hungry. In fact, CVR Energy is "actively looking" for more attractive acquisition targets. Even firms bigger than itself (in terms of market cap) are on its radar. If an acquisition is too large, then CVR Energy will simply form a joint venture with Icahn Enterprises or one of its associates so that the purchase won't strain its balance sheet.
Attractive Dividends
No discussion on CVR Energy is complete without mentioning its juicy dividend yield. In an industry which gives an average yield of 2.29% while the sector gives 5.09%, CVR Energy's stock gives a mouth watering yield of 7.13%. This is not only considerably ahead of the industry's average but much bigger than what its rivals such as HollyFrontier (2.62%) or Western Refining (2.33%) are offering. And that doesn't even include the special dividends.
So far this year, including the $6.50 per share paid as special dividend in June, the company paid total dividends of $13.50 per share in H1-2013. CVR Energy has a habit of paying special dividends and this trend will likely continue in the near future. In case of a significant acquisition, the company's CEO Jack Lipinski said in the recent conference call that CVR Energy's "ability to raise debt and issue additional equity if we have a really accretive acquisition is probably the way we would do it."
The company's cash reserves have consistently increased and now stand at over $1.1 billion from just $73.3 million five years ago. Its ability to pay dividends is not under question. But even if the special dividends gets cut, then with a yield of 7%, CVR Energy's stock is still an attractive dividend play.
Performance Summary
The company's stock ballooned by 136% in the ten months ending May-2013 to nearly $67 per share but has since fallen by 32.7% to $42 per share when markets closed on 20th August. Several analysts have downgraded the stock as its steady decline has continued. But I believe it has nearly approached its bottom which is evident in the Zacks and Macquarie's price targets of $39 and $40 which were released this month. Ideally, anything between $39 and $40 will be a good entry point (it hit $40.51 briefly in the early hours of Tuesday) but even at $42 per share, CVR Energy is not an expensive investment.
CVR Energy's trailing P/E is just 6.12, which looks attractive when compared to the industry's average of 12.02. However, as compared to its peers, CVR Energy has a lower trailing P/E but is trading at slightly higher multiples of current and next year's earnings estimates. Similarly, it is trading at slightly higher multiples of its annual sales and book value. However, considering CVR Energy's higher throughputs than Western Refining and better management than HollyFrontier (which is evident in its impressive return on assets and equities), CVR Energy looks better than Western Refining or HollyFrontier.

Conclusion
CVR Energy's stock performance has not been impressive but there are signs of the stock bottoming which could be a nice entry point. From this point onwards, even if its stock fails to outperform the market in the short term, CVR Energy would still be a good investment for the long term. It is in a better shape to handle the challenges coming from the declining spread than its peers. It has been more profitable than other refiners and has generated a much higher return on assets and equities than some of its much bigger rivals. Its dividend paying history, which will likely continue in the future, is one of its strongest points. The firm has the willingness and ability to make big purchases which would then translate into significant inorganic growth. Therefore, I believe that its strengths outweigh some of its weaknesses and at these price levels, I would recommend CVR Energy.
Sources: Relevant links provided in the article. All other data has been taken from the company's official earnings from 2009 till 2013 available from CVR Energy Investor Relations and CVR Partners, CVR Refining, Q2-2012 earnings transcript
Disclosure: I have no positions in any stocks mentioned, and no plans to initiate any positions within the next 72 hours. I wrote this article myself, and it expresses my own opinions. I am not receiving compensation for it (other than from Seeking Alpha). I have no business relationship with any company whose stock is mentioned in this article.