Just as we did Friday for the S&P 500, for our small cap focused readers we are providing a list of the top 20 performing stocks in the Russell 2000 as well as a sector breakdown of the YTD returns from the index to keep up to date on which companies and sectors have lead the way thus far through 3 quarters of 2009.
Also by using The Applied Finance Group's (AFG's) research and valuation model we have provided further analysis on 4 of the top performing companies, 2 that we find attractive going forward and 2 that we find unattractive, based on valuation attractiveness, expected improvement in economic profitability and the overall investment attractiveness, which is based on various criteria AFG uses when identifying long/short opportunities.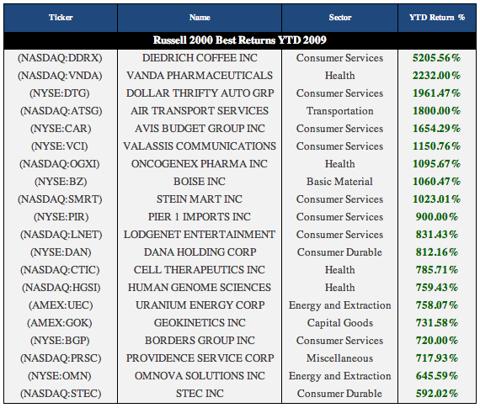 2009 YTD Sector Performance (average return %) Russell 2000
Here are a few companies from the list of top 2009 returns and we view these companies going forward based on valuation, Economic Margin Improvement, and other criteria AFG uses to value securities.

Source: EconomicMargin.com

AFG's Valuation Metric – Measures the percent to target (deviation between a stock's current trading price and its AFG current default target price). To derive the intrinsic value of a firm, AFG uses its proprietary Valuation Model (modified discounted cash flow model).

Economic Margin - A corporate performance measurement that addresses the gaps in GAAP, eliminating distortions caused by accounting policies to measure what a company is truly earning above or below their cost of capital.

Management Quality – Assesses management's ability to make wealth creating decisions.