Accenture Plc (NYSE:ACN) declared its 4Q09 and FY09 results last week. The results and Accenture's 2010 guidance clearly indicates that Accenture is getting prepared for a period of stunted growth and all its expectations in 2007/08 have to be re-adjusted to a 'new' normal. Before we look at the FY09 results, it would be useful to recall the CEO/CFO comments at the beginning of fiscal 2009.
Pamela Craig, CFO in the 4Q08 earnings call (Sep 25, 2008):
For the full fiscal year 2009 we are targeting new bookings to be in the range of $26 billion to $29 billion which supports our revenue projections of 9% to 12% in local currency ...
William Green, CEO in the same call:
Our services are right at the heart of our clients' businesses and our people are able to adapt to changing circumstances so that we can enhance our relevance to clients. This will allow us to keep building on our leadership position. We have a track record of delivering on our commitments even in challenging times and we believe that history and our fiscal year 08 results are proof positive of that. Through careful planning and superior execution we are committed to delivering solid performance in 2009...
While nobody can fault the Accenture top management for under-estimating the events that would follow their Sep 25th, 2008 earnings call, clearly their assumption that their service offerings are the heart of the clients business and hence less prone to volatility was proven wrong.
Accenture Quarterly Revenue And Profit Margin Trend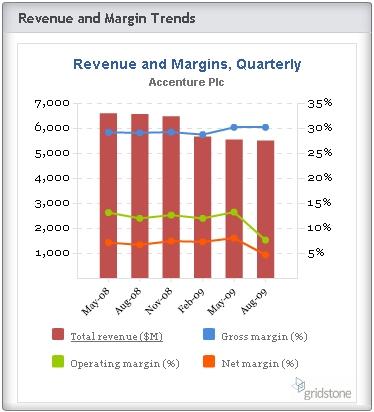 Source: Gridstone Research
Revenues have declined 16% on a YOY basis to $5.1B in the Aug09 quarter and declined ~8% in Fiscal 2009 to $21.6B. Even excluding currency impact, revenues have been nearly flat in Aug09 quarter, a far cry from the optimism of the 4Q08 earnings call.
The road ahead doesn't look any better. Bookings at the end of Fiscal 2009 are far lower by $3 B(10%) at $23.9B. Even in this, consulting bookings have been down more than outsourcing bookings which means than in the short to medium-term the proportion of these total bookings translating to revenues is going to be lower.

Source: Gridstone Research
Accenture has guided to a 8-12% revenue decline for the Nov09 (1Q10) quarter and a 0-3% decline in Fiscal 2010 revenues at constant currency. Going by the decline in consulting bookings, it looks like there would not be much upside in Fiscal 2010 revenues, compared to management guidance, unless clients come back with discretionary IT spending by the beginning of calendar 2010 itself.
Accenture Lacks The Operating Leverage Of Its Indian IT Peers
Accenture has taken a $252 M restructuring charge in the Aug09 quarter. This is primarily related to the planned workforce reductions and optimization of its real estate. There could be more to come in the coming quarters considering that Accenture's headcount is back to ~Feb08 levels while the quarterly revenue is $0.5B less than that of Feb08 quarter. So Accenture seems a bit over-staffed in the current scenario since consulting services is yet to see any signs of recovery.

Source: Gridstone Research
Another sore point of Accenture's growth over the last five years has been that operating margins have declined despite a huge shift in its workforce to low-cost locations such as India.

Source: Gridstone Research
While consulting would probably command higher billings rates, the other associated costs (SG&A etc) seem to be pulling down the margins from such services. A quick comparison of margins with the two large Indian IT Service firms Wipro (NYSE:WIT) and Infosys (NASDAQ:INFY) suggests so.
Comparison Of Operating Profits And Margins With Wipro & Infosys

Source: Gridstone Research
Infosys has maintained its margins(and infact improved it in 2009) over the last five years while Wipro has taken a 200-250 bps hit. Yet both of them are miles ahead of Accenture with the gap between Accenture and Infosys only widening.
Since 2004, operating profits for Infosys and Wipro have increased ~5 times and ~3 times respectively without any major dent to margins while Accenture has managed only a 0.5X increase in profits accrued. This clearly demonstrates the operating leverage that Infosys and Wipro have which Accenture lacks.
Granted that Accenture is much bigger than Wipro and Infosys with a quarterly revenue rate that is 4 times that of its Indian IT services peers. But finally what matter to investors is how much money you make and how much that would grow!
Also, if Accenture is indeed offering higher value services to clients, why does it have margins which are less than half the margins of Infosys. It looks like Accenture has tried to complete with its Indian IT peers by replicating their low-cost delivery network but it has not reaped the benefits of scale like them. This to me is a bigger weakness for Accenture that its top-line revenue declines.
In fact this weakness is clearly reflected in the stock values too. Accenture has been valued higher than Infosys and Wipro till last quarter(by market-cap) and that has changed since September 2009.
Wipro And Infosys Set To Be More Valuable Than Accenture

Source: Gridstone Research
In fact as of Oct 5 09 closing prices, Accenture has a market cap of $27.7B while Infosys has a market cap of $28.2B and Wipro is closing in on Accenture with a market cap of $27.1B.
Therefore the focus for Accenture in the next few quarters should not be to grow top-line but to put itself in a more competitive position relative to its Indian peers. The markets have already passed the leadership baton to Infosys and if Accenture doesn't address the supply-side issues and improve its operating leverage, it will have no chance of regaining its leadership position by market value.
Disclosure: Long positions in INFY