Energy Recovery (NASDAQ:ERII) is a small-cap company that specializes in transforming industrial fluid flows and pressure cycles into reusable energy. Its patent-protected PX isobaric energy recovery technology is a catalyst and competitive advantage in the rapidly growing worldwide demand for desalination capacity. As a result, the company's products are installed in desalination plants all over the world (view this impressive global installation map) with leading positions in China, the Middle East, Africa, and North America. While the company is currently posting slight losses in net income, it is poised to grow revenue by 30-40% and become solidly profitable in 2014. Shares could easily double over the next twelve months.
Energy Recovery in The Desalination Process
In seawater reverse osmosis ("SWRO") systems, the osmotic pressure of a salt water solution is overcome with hydraulic pressure, forcing nearly pure water through a semi-permeable membrane and leaving concentrated reject behind. SWRO systems typically use operating pressures of 60 to 70 bar. At these pressures, a maximum of ~50% of the available pure water can be extracted before the osmotic pressure becomes so high that additional extraction is not economically viable. Efficient recovery of the pressure energy from the desalination process is essential for making SWRO systems economically viable. And this is where ERII's PX product line comes in. Isobaric energy recovery devices (ERDs) are typically installed in an array (see picture below). The yellow cylinders are ERII's PX-260 pressure exchangers. This picture was taken from a case study of a municipal SWRO water treatment plant in Qingdao, China - a city of 8 million people. This plant has a capacity of 100,000 cubic meters/day. Use of Energy Recovery's PX devices are estimated to save the city $9.6 million and 56,000 tons of CO2 emissions per year.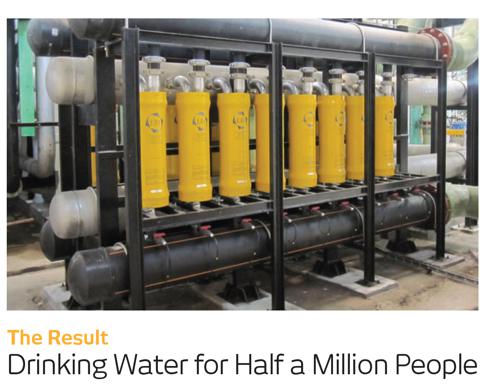 A Retrofit Case Study
The Palmachim Desalination Plant (shown below) is one of the largest SWRO desalination plants in Israel with a capacity of 120,000 cubic meters per day (m3/day). The plant consists of six parallel SWRO trains, each with a production capacity of up to 20,000 m3/day. Each train has a dedicated high-pressure pump equipped with an energy recovery turbine (ERTs).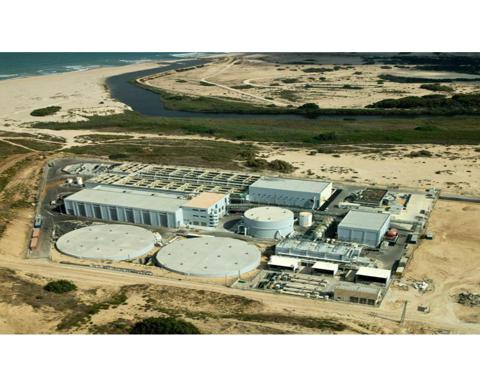 Many plants originally equipped with ERTs have been retrofitted with isobaric energy recovery devices (ERDs) to increase plant capacity while reducing power consumption and CO2 emissions. The Palmachim owners decided to increase feed flow to their SWRO's membranes with ERII's PX Pressure Exchangers and circulation pumps. After retrofitting the design with Energy Recovery's technology, energy consumption and CO2 emissions reductions of 8% and 18%, respectively, were expected. ERII's PX devices, as installed at the Palmachim plant, are shown below.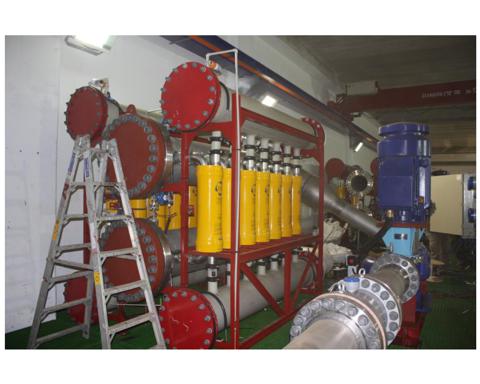 High Quality Patented Designs
ERII's energy recovery devices have only one moving part and are made of a high purity aluminum oxide ceramic that's corrosion-proof, three times harder than steel, and provide unmatched durability in salt water environments. The simplicity and modularity of designs allow for optimum scalability, quick startup, and no required maintenance within its 25-year lifespan. ERII's PX devices have national patent coverage granted by the U.S. Patent Office and international coverage through the Patent Cooperation Treaty (PCT) administered by the World Intellectual Property Organization.
Energy Recovery also makes pumps and turbines. The heart of the turbine products is a high-purity aluminum-oxide rotor, turning at up to 1,000 rpm on an almost frictionless hydrodynamic bearing. This ceramic material is unaffected by chemicals or salt water corrosion, is three times harder than steel, and provides unmatched durability.
Competition
Energy Recovery has two main competitors for its ERDs: Flowserve Corporation (NYSE:FLS) and Fluid Equipment Development Company ("FEDCO"). Although these companies offer competing products at lower prices, ERII products offer a competitive advantage because they are the most cost-effective ERDs for SWRO desalination systems over time. The patent protected PX product line has a competitive advantage over competitor devices because they are made with highly durable and corrosion-resistant ceramic parts that are designed for a 25-year lifespan, are warranted for high efficiencies, cause no unplanned downtime, and offer lower lifecycle costs.
Risks
Almost all of ERII's revenue come from ERDs in SWRO desalination plants. As a result, the company is dependent upon construction of new desalination plants for revenue growth. Also, quarter-to-quarter operating results will continue to experience lumpiness due to volatility in capital spending, availability of project financing, and other factors affecting the water desalination industry. New planned SWRO projects can be cancelled and/or delayed. However, based on my earlier article on Consolidated Water (NASDAQ:CWCO), and the references cited in that article predicting continued robust growth in the SWRO desalination market, I don't see reliance on this market as a risk. In fact, it's a fundamental strength. As a side note, ERII devices are installed at Consolidated Water's Blue Hills plant in the Bahamas.
ERII's future success may depend on the company's ability to diversify into new markets outside of desalination while continuing to market, enhance, and scale existing desalination products. After all, it is possible a new company could devise better desalination products. However, according to the company's 2012 annual report, their market share grew from 50% in 2011 to 90% in 2012. As such, Energy Recovery appears to be dominating the market.
Energy Recovery is a small cap company with a market capitalization of ~$250 million, 51,026,000 shares outstanding, and is currently trading around $4.80. As such, a big money move into or out of the stock could cause high volatility.
Financial Performance
Looking at 2012 full-year results, we can see the company made significant progress over 2011. Highlights include:
Net revenue increased 52% from $28.0 million in 2011 to $42.6 million in 2012
Gross profit margin increased from 28% in 2011 to 47% in 2012
Operating expenses decreased $4.2 million, or 13%, from $33.1 million in 2011 to $28.9 million in 2012
Net loss reduced $18.2 million, or 69%, from $(26.4) million in 2011 to $(8.3) million in 2012
Loss per share reduced from $(0.50) in 2011 to $(0.16) in 2012
And if we compare Q2 2013 results, we see that additional progress was made:
Gross profits margins increased to 62%
Operating expenses remained stable from the prior-year period at $6.6 million
In spite of "mega-project" revenue moving to the second half of the year, the company posted a small loss of only $(0.03)/share.
With respect to the drop in revenues, Tom Rooney, President and CEO had this to say:
The tepid revenue levels were forecasted several quarters in advance as we develop evolving transparency and predictability in our mega-projects pipeline. With that increased visibility, we are able to discern uniquely strong revenue in the fourth quarter of 2013
So what we have is "mega-project" lumpiness in revenue recognition. Revenue wasn't lost due to contract cancellations or other bad news, it was simply moved out into the second half of the year - primarily Q4.
A Profitable Outlook
The good news is that increasing revenue combined with expanding gross profit margins are positioning the company for an excellent 2014. Here is CEO Rooney's outlook going forward:
2014 should mark a seminal turning point for Energy Recovery as we transition to positive cash flow and income profitability. We also anticipate revenue growth in the range of 30% to 40%.
According to a June investor presentation, the company had predicted flat 2013 revenue growth and improved profitability, and that is what has been seen in Q1 and Q2. It is hard for me to predict 2014 revenue and profitability until I see another couple of quarters of actual results. That said, the following slide gives us a bit of insight into the company's expectations going forward: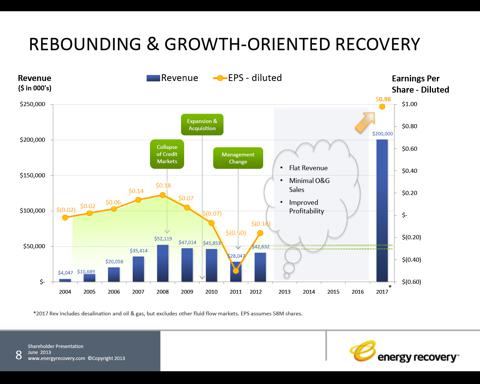 While 2017 is a long way out, based on my previous research on the desalination market, company projections for $250 million in revenues and earnings of $0.98 do not seem unrealistic to me. If I do a straight line extrapolation from today to the company's 2017 guidance (see slide above), 2014 could see earnings of $0.20-$0.40/share on revenue of ~$125 million. That would certainly be the "revenue wave" CEO Rooney referred to in the Q2 earnings release.
It should be noted that the slide above was made in June, before the July 30 announcement of a huge contract award for a Carlsbad, CA desalination plant:
The project will use 144 devices that recycle pressure used to force salt water through membranes, saving the Carlsbad facility as much as $12 million annually, San Leandro, California-based Energy Recovery said in a statement today. The units are expected to ship by the end of this year to IDE Technologies Ltd., the engineering firm contracted by project developer Poseidon Resources Group.
IDE Technologies Ltd IDE, co-owned by Israel Chemicals and the Delek Group, is a leader in the SWRO desalination industry with years of experience in Israel. Their large contract award to Energy Recovery validates ERII's industry leading position in isobaric energy recovery technology.
Summary & Conclusions
Energy Recovery is a small-cap company that dominates the SWRO desalination market with its patent-protected isobaric energy recovery technology. While the company is currently posting small losses, it is poised to become cash flow positive and profitable in 2014. Revenues could hit $125 million with net income of $0.25/share. As a result of such fast growth in revenue and income, and realizing the fundamental strength of the desalination market combined with ERII's dominant market share, the stock could easily hit $10/share in 2014 for a 100% return based on today's close. Even with a stock double, the company's market cap would only be ~$500 million.
Due to the speculative nature of this analysis, and relying on a company currently losing money to transition to profitability, this is a very risky investment. That said, after reviewing the company's technology and based on my previous research on Consolidated Water, I find ERII to be an irresistible risk/reward investment. ERII is a Speculative BUY.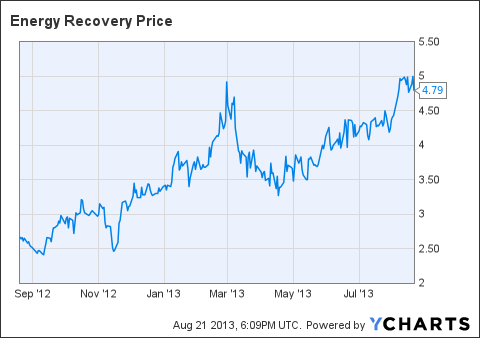 Mkt Cap = $250 million
Shares Outstanding = 51,026,000
P/E = N/A
EPS ((ttm)) = -$0.20
Avg Vol = 172,805
Div (Yield) = N/A (N/A)
Note: Data Provided by Yahoo.finance
Disclosure: I am long CWCO, ERII. I wrote this article myself, and it expresses my own opinions. I am not receiving compensation for it (other than from Seeking Alpha). I have no business relationship with any company whose stock is mentioned in this article.
Additional disclosure: I am an engineer, not a CFA. The information and data presented in this article was obtained from company documents and/or sources believed to be reliable, but has not been independently verified. Therefore, the author cannot guarantee its accuracy. Please do your own research and contact a qualified investment advisor. I am not responsible for investment decisions you make. Thanks for reading and good luck!