The 3rd calendar quarter ended last Wednesday September 30, 2009. As many people analyze the performance of securities for the quarter, I'd like to look at sentiment and change in sentiment for the technology sector.
Sentiment is a measure of how people feel a stock will perform and is captured by a voting mechanism that indicates a strong buy, buy, neutral, sell, and strong sell. The value of sentiment is based on the 'Wisdom of Crowds' where the many will in most cases make better decisions than the individual. Higher sentiment stocks are considered higher quality stocks, while lower sentiment stocks are considered lower quality stocks.
Voting Mechanism for Capturing Sentiment



While overall sentiment is effective in defining the quality of a stock, change in sentiment provides a timing mechanism to understand underlying changes in a security potentially ahead of a price move. For example, a large increase in sentiment should be seen as positive even though the underlying stock has a low absolute sentiment.
For this analysis, we will use sentiment generated by the web application, Piqqem. Piqqem captures, processes, and displays sentiment results by allowing its users to vote on the price direction of a stock and then applies its own propriety factors to calculate sentiment for a security. In their model, 0 is the lowest and 4 is the highest sentiment.
The above chart shows Apple's (NASDAQ:AAPL) current sentiment leading the group as of 9/30/09 at 3.01 with Microsoft's (NASDAQ:MSFT) sentiment at 2.34 and bringing up the rear. Google (NASDAQ:GOOG), Intel (NASDAQ:INTC), Cisco (NASDAQ:CSCO), and HP (NYSE:HPQ) all came in with respectable sentiment results above 2.5. But how did sentiment change for this group?
Q3 Change in Sentiment – HP & Cisco are the Winners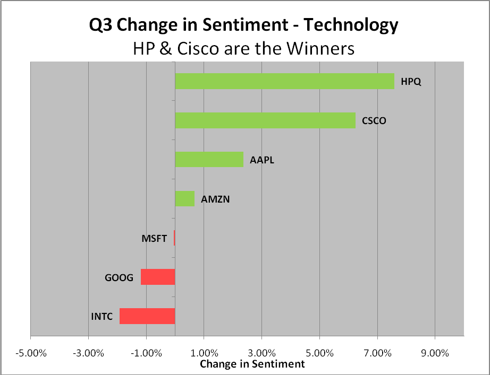 Source: Piqqem
The change in Q3 sentiment for these seven securities shows a strong upward bias for HP, Cisco, and Apple, a neutral bias from Amazon (NASDAQ:AMZN) and Microsoft, and a slight downward bias for Google and Intel. Changes in sentiment can be an early warning system for the underlying security.
Overall this group under performed for the quarter. Sentiment for the S&P 500 was up over 40%, while this group gained on average 2% in sentiment.
We will publish updates on each of these securities shortly before their next earnings release.
Disclosure: No Positions