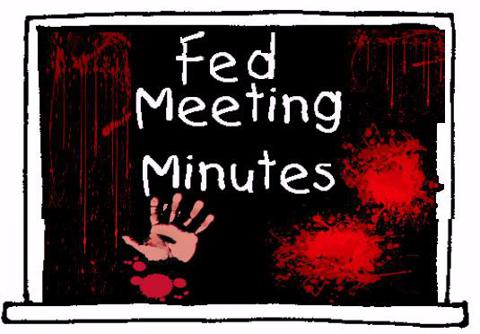 The much anticipated Fed Minutes release revealed little new information and voting members seemed on both sides of the taper issue. This left markets back to where they started with more guessing about the September meeting and possibilities of some tapering then. Below is a summary from the WSJ's Hilsenrath via ZeroHedge:

Stocks fell sharply early in typical "the first move's the wrong move" fashion. About 45 minutes later, the DJIA rallied sharply from a 100 point loss to a small gain, or to VWAP (Volume Weighted Average Price), then back down to close nearly 100 points weaker. Basically, the machine-driven algos duked it out most of the afternoon. The bottom line is the Fed has introduced more, not less uncertainty.
Rather than just announcing a taper of QE, they should just start doing it in the open market. That would spare us the spectacle and guesswork.
Existing Home Sales jumped to 5.26 million vs. 5.15 million expected, and prior revised lower to 5.06 million. The National Association of Realtors (NAR) explained this report while those sitting on the sidelines rushed in to buy as interest rates rose. But as the graph below shows, something doesn't look right, as mortgage applications plunged. Were most of these transactions from cash buyers? I noted the other day that recent data revealed 60% of recent home sales were from cash as opposed to the more conventional ratio of 10-15%. The evidence is in the chart below.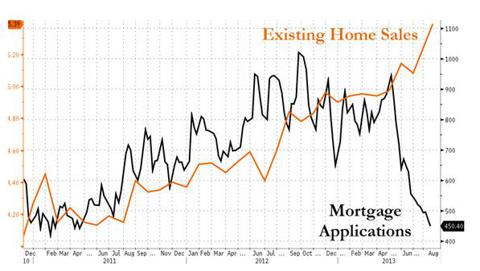 In trading action, conditions were more confusing than a rise in bond yields (NYSEARCA:IEF) Dismiss this as just algo driven activity. Leading sectors lower including Miners (NYSEARCA:XME) and (NYSEARCA:GDX), Utilities (NYSEARCA:XLU), Consumer Discretionary (NYSEARCA:XLY), Energy (NYSEARCA:XOP), Retail (NYSEARCA:XRT) and Bonds (NYSEARCA:TLT). The only bright spot I could find was in Biotech (NASDAQ:IBB) and Solar (NYSEARCA:TAN).
The big issue not discussed much by talking heads in the financial media is the capital flight from emerging markets (NYSEARCA:EEM) occasioned by local currency implosions. As noted Tuesday these included India (NYSEARCA:EPI), Thailand (NYSEARCA:THD), Indonesia (NYSEARCA:IDX), The Philippines (NYSEARCA:EPHE), South Korea (NYSEARCA:EWY) and so forth. Not to be left out is most of Latin America (NYSEARCA:ILF). This is occurring once again in Asia just as it did in the Asian Financial Crisis of 1997.
Gold (NYSEARCA:GLD) was modestly weaker while the dollar (NYSEARCA:UUP) was slightly stronger. Commodities (NYSE:DBC) overall were weak with the stronger dollar.
Flying under the radar is this shot at the Student Loan bubble and the racket it has become. Young people have been pushed into a permanent state of debt. It's a growing scandal as Matt Taibbi writes in the current issue of Rolling Stone. Read it, shake your head, and then get pissed.
Volume was heavier in selling and breadth per the WSJ was negative.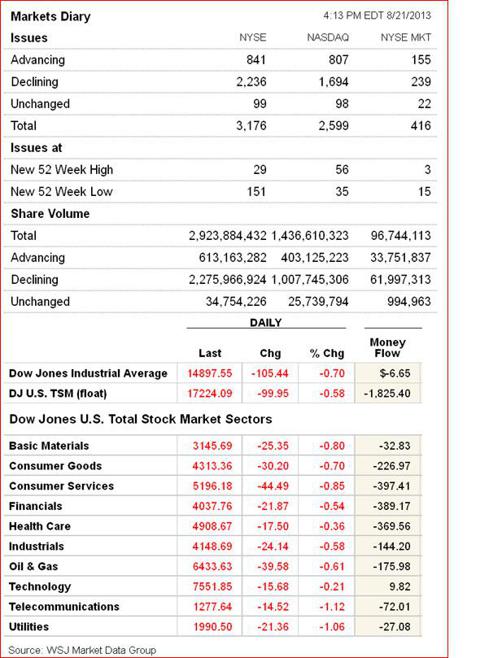 NYMO

The NYMO is a market breadth indicator that is based on the difference between the number of advancing and declining issues on the NYSE. When readings are +60/-60, markets are extended short term.

NYSI

The McClellan Summation Index is a long-term version of the McClellan Oscillator. It is a market breadth indicator, and interpretation is similar to that of the McClellan Oscillator, except that it is more suited to major trends. I believe readings of +1000/-1000 reveal markets as much extended.

VIX

The VIX is a widely used measure of market risk, and is often referred to as the "investor fear gauge." Our own interpretation is highlighted in the chart above. The VIX measures the level of put option activity over a 30-day period. Greater buying of put options (protection) causes the index to rise.

SPY 5 MINUTE

.SPX WEEKLY

INDU WEEKLY

RUT WEEKLY

QQQ WEEKLY

XLF WEEKLY

XLI WEEKLY

XLY WEEKLY

XRT WEEKLY

XLV WEEKLY

ITB WEEKLY

IYR WEEKLY

IBB WEEKLY

IEF WEEKLY

TLT WEEKLY

UUP WEEKLY

FXE WEEKLY

FXA WEEKLY

INR WEEKLY

GLD WEEKLY

GCC WEEKLY

SLV WEEKLY

EPI WEEKLY

EPHE WEEKLY

THD WEEKLY

IDX WEEKLY

EWY WEEKLY

EWZ WEEKLY
Closing Comments

The decline in currencies in Asia is a serious situation. It's similar to a run on a bank, which isn't good for global stock markets at all. Its surprising gold doesn't rally more since where else would you put your money with currencies in crisis if not gold?
The Fed has done a very poor job of explaining their current policies. They've introduced uncertainty -- their own -- into markets.
Thursday is more economic data including Jobless Claims, PMI Flash Manufacturing, FHFA Home Price Index, Kansas City Fed Mfg Index and Leading Indicators.
Let's see what happens.

Disclaimer: The charts and comments are only the author's view of market activity and aren't recommendations to buy or sell any security. Market sectors and related ETFs are selected based on his opinion as to their importance in providing the viewer a comprehensive summary of market conditions for the featured period. Chart annotations aren't predictive of any future market action rather they only demonstrate the author's opinion as to a range of possibilities going forward. More detailed information, including actionable alerts, are available to subscribers at www.etfdigest.com.
Disclosure: I am long EPI, SLV, GCC, GLD, TLT, IBB, XLY. I wrote this article myself, and it expresses my own opinions. I am not receiving compensation for it. I have no business relationship with any company whose stock is mentioned in this article.