It was a very interesting week with respect to fundamental news.

While the ISM Report and initial claims reports did not meet expectations, did anyone read about the improvement in continuing claims, pending home sales, and the Case Shiller home-price index?

We think that the most vital news announcement to come out this week was the improvement in home sales and home prices. The real estate market is a major economic pillar. Furthermore it is the very sector that got world financial markets into trouble last year. So the sustainability of any recovery now will depend on the real estate market improving or at very worst "stabilizing". So what about the jobs market? We suggest that one does not get too caught up in week to week changes in the stats but rather look at the trend. From our perspective the trend on the employment front is improving. Note the trend of Continuing Claims below:
Click to enlarge: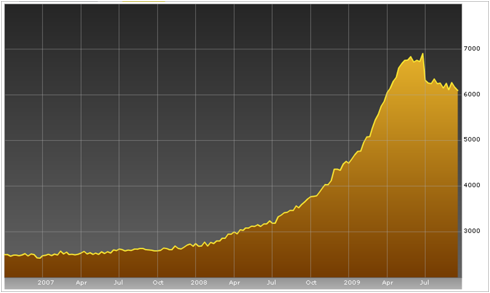 Secondly, employment is a lagging indicator. If you are looking for a significant improvement on the employment front then you will have missed the rally in equities because equity prices by their very nature are forward looking.
Here is the week that was and how the stats line up:
Equities:
Dow World - down 2.17%
Dow World Small Cap - down 1.01%
Fixed Income:
US Treasuries (20-30 years TLT) - up 1.37%
High Yield Corporate (Junk JNK) - down 1.8%
Commodities:
CRB Index - up 0.95%
Silver - up 0.66%
Currencies:
USD Index: - up 0.36%
High Yield (NYSE:DBV) - up 0.31%

In essence there was nothing in last week that concerns us from a bullish perspective. Yes, equity markets were down, but anyone who expects them to move up in a straight line week after week is in pixie land. Note how small cap equities fell less than half that of the major market indices. This suggests that the broader market is showing reluctance to participate in any downside. This is indicative of an underlying bullish condition.
Bonds:
The U.S. Treasury market continues to surprise us, and for now prove us wrong. We just cannot see yields going much lower than current levels. A yield of 4% with no protection against inflation does not seem to be such a smart wager to us. Anyway, we continue to wait it out. Junk grade corporate bonds fell for the week but for the time being there is nothing more to the fall than short term noise. We would have to see junk bonds post a negative performance on at least a 3 month basis before becoming bearish.
Commodities/equity correlation breaks down
Commodities managed to pull a positive week out of the hat, thanks in part to the surprise decrease in gasoline stockpiles! We are not reading too much into this because they could have easily fallen by 1% for the week. On a positive note it was interesting to see a break down in the correlation between equities, commodities and the USD Index for the week. A positive week for the USD and negative week for equities typically transpires into a negative week for commodities however that was not so this week. We continue to believe that commodities are in a "basing" pattern and that the material move (tradable) will be to the upside.
We remain positive on the prospects of commodities due in large part to the behaviour of commodity currencies which is embodied in the "high yield" trade. Note that the ETF DBV closed higher for the week which clearly suggests that the demand for higher yielding currencies remains strong. Again there seems to have been a break down in the correlation between high yield currencies and the equity market. Usually when equity markets close lower for the week the ETF DBV also closes lower.
What is a "trend"? That is highly debatable. We like to look at charts on a weekly basis. If a market has gone up on a rolling 25 week basis we define it as a bull trend. Yes, this is rather simple but we have found that this definition has been rather robust over the years. From the charts below you will observe that the trends are clear and well established. It is only U.S. Treasuries that appear remotely interested in challenging their bear "trend".
So we continue to believe that there is still more upside in equities, commodities, corporate bonds, high yield currencies and downside in U.S. Treasuries and the USD. Our position has remained unchanged since November last year and we see little reason to change our perspectives over the next few months at least.
Disclosure: Long VTI GWX TBT JNK DBC SLV UDN DBV