Summary:
Perma-Fix (NASDAQ:PESI), a nuclear waste treatment and clean-up company, has been hit with the perfect storm of bad industry trends and management missteps. PESI has lost money for five quarters in a row. Its stagnant or declining revenue failed to match high expenses of running a business and its management was slow to react to the new reality of reduced government spending and aversion to nuclear power after the Fukushima disaster. It made an unsuccessful acquisition of Safety & Ecology Holdings Corporation (SEHC) in 2011, which added only modestly to the top line, but saddled the company with new debt, unprofitable contracts, lawsuits, and red ink. Despite trading at a fraction of its book value, the company, at first glance, looks like a value trap whose best days are behind it and whose business has entered a secular decline.
I will argue in this article that the first impression in this case may be deceiving. PESI's business is cyclical and not dying at all. The company finally managed to stop the red ink this quarter and business has a chance to significantly improve next year. If Perma-Fix's management keeps the lid on variable expenses and conserves cash, better days will eventually come and the pay-off to a (very) patient investor can be tremendous. If the "better days" fail to materialize, the company can be taken private or bought out as it possesses unique expertise and assets which will be eventually needed.
This article will not try to cover every aspect of Perma-Fix's business, instead it will be devoted to reviewing two existential threats Perma-Fix is facing today: decrease in funding from the Department Of Energy and PESI liquidity position.
Business:
Perma-Fix is a nuclear waste specialist. While it has both government and private sector clients, the vast majority of its business comes from the Department of Energy (DOE) (2012 10K):
"We performed services relating to waste generated by the federal government, either directly as a prime contractor or indirectly as a subcontractor (including the customers as discussed below) to the federal government, representing approximately $13,210,000 or 58.0% and $27,801,000 or 65.2% of our total revenue from continuing operations during the three and six months ended June 30, 2013, respectively, as compared to $28,244,000 or 83.8% and $60,058,000 or 83.8% of our total revenue from continuing operations during the corresponding period of 2012, respectively. As previously discussed, the reductions are due to a variety of negative conditions, most of which are beyond our control, including current economic conditions, sequestration, government deficits and reduced spending for waste treatment and remediation of contaminated sites by the federal government."
Traditionally, DOE has accounted for about 80% of its revenue, with smaller occasional funding from the Department of Defense. After DOE budget was cut-back in 2012 after stimulus money ran out, PESI has only partially succeeded in diversifying its business away from the government funding.
Chart 1: primary markets (PESI investor presentation)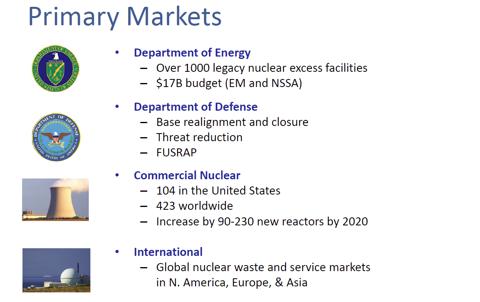 The company operates in two business segments. Its "crown jewel" is a nuclear treatment business conducted in four of its nuclear treatment facilities. The customers send "drums" (55 gallons) with radioactive material and get back cleaned-up safe waste ready for permanent storage in a landfill. Just the Hanford site in Washington has nine tanks which still need be treated, each holding 55 million gallons or one million "drums". Perma-Fix booked $40 million in revenue by treating just one leaking tank in 2012. The amount of untreated nuclear waste is tremendous, probably representing billions in potential revenue (provided DOE decides to spend money on treatment.) PESI achieves about 80% gross margins in nuclear waste treatment but it has high fixed costs as facilities and the human expertise are very hard to replace.
Chart 2: nuclear waste treatment (PESI investor presentation)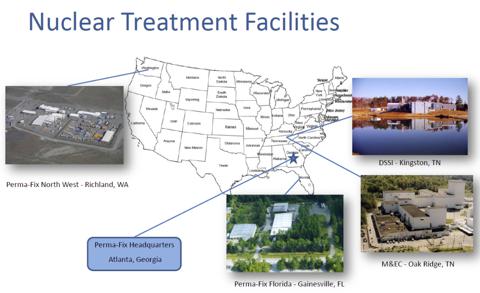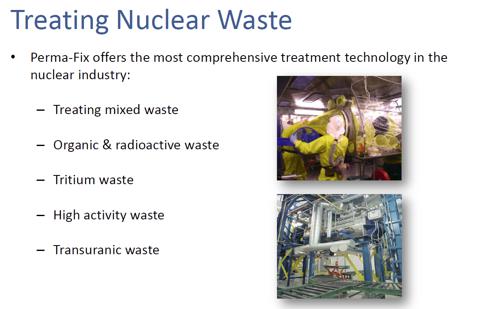 Perma-Fix nuclear treatment facilities are essentially a monopoly with high barriers to entry as every facility needs to be licensed by the state, nuclear regulatory commission and environmental protection agency, and often needs a security clearance and air and water permits. The company has been running these facilities for over 30 years and has almost no competition.
Chart 3: nuclear waste services (PESI investor presentation)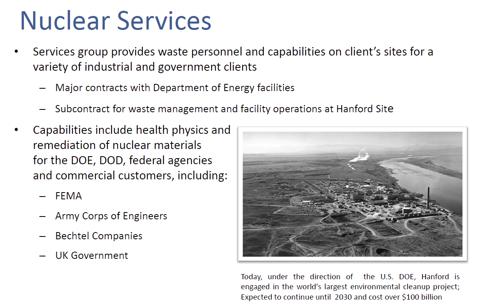 The second segment is nuclear waste services which is much more competitive. Most of the work in this business segment is done as a subcontractor via staff augmentation when PESI sends a couple of people to provide a narrow expertise to a larger project. Most of the costs in this business are variable and the workforce can be easily reduced to ensure profitability. The margins in this business are much lower, around 15% due to its more competitive nature, but having staff on-site often generates good leads for higher margin nuclear treatment business.
Table 4: business segments revenues in Q2 2013 vs. Q2 2012 (PESI 10Q)

Perma-Fix lost 46% of services business since last year as its large sub-contract (via CH2M Hill) at Hanford site is coming to an end by the end of September. In Q2, it still booked about $5 million in revenue from Hanford project. It will need to find a replacement for its service revenue in Q4 or lay people off. However, the nuclear treatment revenue should be still coming from the Hanford for many years. It still managed to be essentially profitable last quarter if one ignores "good will" impairment after severely cutting the costs. Therefore, even a much lower revenue doesn't have to mean "red ink".
Department of Energy:
As I described earlier, Perma-Fix is at the mercy of Department of Energy and so far has had only limited success diversifying its revenue.
The Department of Energy had a "lame-duck" secretary from February to May this year after Steven Chu had announced his resignation on February 1. The change of the secretary probably delayed most important decisions as the new secretary would hire new staff first.
Fortunately for Perma-Fix, the new secretary of Energy, Ernest Moniz - a former MIT professor of Nuclear Physics, is a very strong proponent of nuclear power who wants to emphasize nuclear cleanup and safety. It usually takes several months after a new appointment to fill key positions but Perma-Fix management, which is in constant contact with the department officials, thinks that the decision will start again being made towards the end of the year. Despite Perma-Fix's small size, Department of Energy is aware of the unique nuclear waste management services and would hate to see it go out of business as there are few alternatives.
Today, DOE spends most of its budget on two mega-projects, both of which are well behind schedule, over budget, and short of expectations.
The first mega-project is a clean-up of Hanford site in Washington State. Perma-Fix has already been receiving some portion of this project money in both services and nuclear waste segments as was previously described. The site was originally built in 1943 for the famous Manhattan Project. The site remained active throughout the Cold War, creating tons upon tons of material and radioactive waste. The site was finally decommissioned at the end of the Cold War in 1988, leaving behind a tremendous amount of undisposed nuclear waste.
The project has cost over $41 billion so far and costs about $2 billion every year. This year has been especially troubled as the storage tanks with nuclear waste started leaking into the soil. There is a website dedicated to the troubles of this project.
Lately, DOE has been spending heavily on a $12.2-billion Nuclear-Waste Treatment and Immobilization Plant, which is still only 65% complete at the expense of other work such as nuclear waste treatment.
If we are to believe the government sources, the design of the plant will be complete by 2013. The construction will be complete just three years later, in 2016, and start-up of plant systems will begin. In 2019, all facilities and systems will be fully operational and begin the process of vitrifying tank waste. However, the design of the plant is deemed unsafe by many experts and alternative methods of nuclear waste cleanup may be needed.
The second troubled project is a Savannah River site cleanup project in South Carolina. The DOE is attempting to build a mixed oxide fuel (MOX) plant to process plutonium from retired nuclear bombs. It's already spent $7.7 billion since 2007, well above $4.9 originally estimated. With no end date in sight, DOE reduced allocations to this project in the 2014 budget and allocated no money in subsequent years effectively abandoning the project.
The reduced allocation to these two mega projects bodes very well for PESI as they may need cheaper alternatives by gradually cleaning up nuclear waste off-site, most likely at Perma-Fix treatment plants.
The Nuclear Cleanup funding has been steadily declining as part of the Department of Energy budget since 2012. The good news is that it's projected to stabilize in fiscal 2014 (which start in October 2013) and then to start growing again. The 2010 and 2011 years are outliers as a significant amount of funding came from a "stimulus bill"; funding in 2012 represents a much more realistic baseline.
Table 5: Nuclear Cleanup as percentage of total DOE budget (author's calculations, DOE Web site)

It's important to remember that the majority of the nuclear clean-up money is going to these two mega-projects, not Perma-Fix, but Savannah River site project funding will be greatly reduced.
All in all, there are hopeful signs that PESI will see some significant funding flow by the end of this year.
Valuation:
Perma-Fix nuclear waste business is cyclical due to its dependence on the Department of Energy. Its market value has fluctuated between $1 and $3 per share while its book value has been growing as Perma-Fix has acquired or built more assets over the years. Perma-Fix started as a nuclear waste treatment company but decided to grow its service business in 2011, after acquisition of Safety & Ecology Holdings Corporation (SEHC) - a specialist in "health physics" - a remediation of nuclear contaminated areas with operations in the US and UK. Unfortunately, the acquisition so far wasn't a happy one. According to a PESI filing, SEHC materially misrepresented the profitability of its existing contracts and even agreed to return $1.5 of the purchase price. PESI management stated on its conference call that it finally wound down the last unprofitable contract this quarter so it should no longer create a drag on earnings going forward.
Chart 6: PESI share price vs. its book value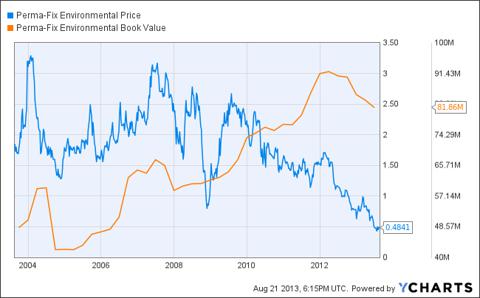 I am personally skeptical of the technical analysis and would not argue that PESI should bounce back to its "historical range" simply because its share price has traded there for many years. Capital structure, number of shares outstanding, and dividends and buybacks can often decouple the stock price from the value of its underlying business. Nevertheless, the chart is showing a company going through constant "ups and downs" until 2012 when the fundamentals of the business started to deteriorate.
A much better approach is to look at the enterprise value and its "book value": Enterprise Value = Market cap + Debt - Cash on hand and Book Value = Assets - Liabilities. Enterprise value indicates that today the market believes that the full business may be bought out for a mere $40 million while the "accountants" believe that just the equity in the business is worth at least twice as much.
Chart 7: Enterprise value averaged around $100 million (the chart may differ from author's calculations):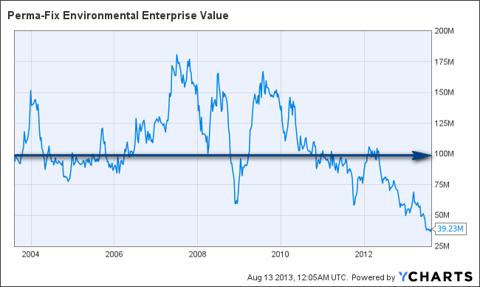 In analyzing a slowly growing or "steady-state" business, it's instructive to look at cash flow as it is usually more reflective of the state of the business compared to net income which also includes amortization, depreciation, and good will impairment charges. PESI only spent $175K this year and $412K in 2012 on capital expenditures. Therefore, cash flow from operations shows the true earning power of the business. Perma-Fix has been cash flow positive every year, based on its 12 month trailing numbers, except for a short blip during the financial crisis and a (terrible) first quarter this year.
Chart 8: Cash Flow from Operations vs. equity price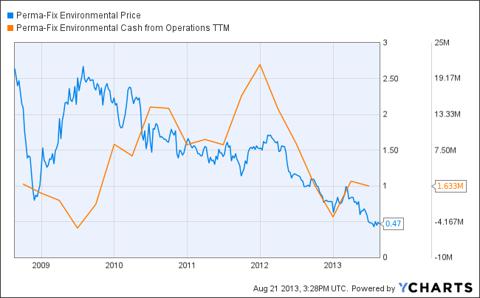 There are no publicly traded peers or direct competitors which are in a similar nuclear waste business after PESI's competitor "Energy Solutions" (NYSE:ES) was taken private earlier this year at a price some felt was way too low.
Energy Solutions, just like Perma-Fix, specializes in processing nuclear waste but derives the majority of its revenue from the private sector. Just like Perma-Fix, Energy Solutions was slow to react to stagnant revenue by paying down its debt and cutting costs and had to be rescued by Capital Energy Partners private equity.
Table 9: Comparisons of multiples of PESI and ES (author's calculation)

PESI is trading at a tiny fraction of where Energy Solutions was bought out and using a much lower leverage. To a patient private equity investor, the company may be worth 3-4x or more of its current market value, assuming the nuclear clean up business comes back to its historical average and the company has enough liquidity to last until then.
Liquidity:
Perma-Fix has run into some liquidity problem in Q1 this year when it violated covenants on its revolving loan from PNC (currently up to $18 million). The situation was, fortunately, cured in Q2 with only minimal impact (2013 Q2, 10Q):
"On May 9, 2013, we entered into an Amendment to our Amended Loan Agreement. This Amendment waived our fixed charge coverage ratio non-compliance for the first quarter of 2013. This Amendment also changed the methodology in calculating the fixed charge coverage ratio in each subsequent quarter of 2013. The minimum fixed charge coverage ratio requirement of 1:25 to 1:00 for each subsequent quarter of 2013 remains unchanged. As a condition of this Amendment, we paid PNC (NYSE:PNC) a fee of $20,000, which is being amortized over the term of the Amended Loan Agreement. All other terms of the Amended Loan Agreement remain principally unchanged. We met our fixed charge coverage ratio covenant for the second quarter of 2013."
To be on the safe side, Perma-Fix secured additional funding via $3 million convertible debt from one of its former board members. PESI issued 450K shares and 350K warrants to these lenders with a strike price of $0.5. This funding at a very attractive 2.99% rate did come with an expense of the future dilution of up to 1.4%:
"On August 2, 2013, the Company completed a lending transaction with Messrs. Robert Ferguson and William Lampson (collectively, the "Lenders"), whereby the Company borrowed from the Lenders the sum of $3,000,000 pursuant to the terms of a Loan and Security Purchase Agreement and promissory note. These additional funds allowed us to pay down the current revolver balance, effectively increasing our borrowing availability to approximately $6,200,000 as of August 2, 2013 based on eligible collateral. The loan is a fixed rate loan with a favorable rate (2.99%) that is lower than our current variable rates and thus translates to lower interest expense."

"…PESI will issue to Lampson and Ferguson (A) an aggregate of 450,000 shares (the "Shares") of the common stock, par value $.001 per share, of PESI, with Lampson receiving 225,000 shares and Ferguson receiving 225,000 shares; and (B) warrants to purchase up to 350,000 shares of PESI common stock (the "Warrant Shares") at the exercise price of "market" price on the day of close (currently $0.50 per share), with Lampson receiving a warrant to purchase up to 175,000 shares and Ferguson receiving a warrant to purchase up to 175,000 shares (the "Warrants")."
Table 10: PESI currently has an ability to borrow over $6 million to meet the following needs

As long as cash flow from operations does not turn negative, PESI should have no problem meeting obligations for at least a year.
So what can go wrong?
No new business will materialize. Last quarter backlog was soft - only $5.9 million vs. $5.9 million a year ago. Hanford service agreement with CH2M Hill will expire at the end of September, although most of the service revenue has been already tapering off. In Q4 2012 the backlog was $7.3 million and in Q1 it was $8.7 million. The backlog only accounts for nuclear treatment but not nuclear waste services. Perma-Fix needs to get to about $20 million quarterly revenue to stay cash flow positive, even with a new improved cost structure.
PESI will get delisted from NASDAQ as it is failing to meet a $1 minimum price requirement. The company got an extension until December 2 to become compliant. According to its last proxy, it will hold a September 12 vote to carry-out a reverse stock split: 1-for-2 to 1-for-7 at any time prior to November 8, 2013. If the stock price trades above $1, PESI can easily meet all other listing requirements 5550(a) and 5550(b)(1).
PESI can violate PNC covenants again and this time the lender will not be as forgiving. In a nutshell, it has to generate enough operating earnings before interest, taxes, and depreciation to cover interest of $275 thousand and operating leases of $439 thousand for the rest of the year (not counting any impairment to goodwill or intangible assets). PESI generated $1.9 million adjusted EBITDA in Q2 after losing $2.4 million in a prior quarter, before cost cuts. We have to assume that last quarter was a norm and the prior quarter was an aberration to be confident that PESI will stay compliant.
Conclusion:
Perma-Fix is a unique business with a very wide moat. Unfortunately, it's very vulnerable in its dependence on the Department of Energy funding. The last two years have been incredibly difficult for the company as two large projects sucked out all the funding from the Department of Energy nuclear cleanup budget. Both of these projects are likely to get less funding going forward, freeing up money to spend on nuclear treatment - a high margin business PESI excels at. With immediate liquidity concerns addressed and the expectation of a positive cash flow for the rest of the year, PESI may become a true "multi-bagger" equity. I realize that many investors have heard this story from PESI management before, only to be disappointed again and again. However, as someone who has followed this company for a long time, I feel the business may have bottomed out this year and the company showed an ability to stay cash flow positive with a much lower revenue base. If we think of it as a coin flip, the upside of 300-400% return greatly exceeds the downside of a 100% investment loss.
Disclosure: I am long PESI. I wrote this article myself, and it expresses my own opinions. I am not receiving compensation for it (other than from Seeking Alpha). I have no business relationship with any company whose stock is mentioned in this article.