On August 14th, Pfizer (NYSE:PFE) filed a clinical trial for its long awaited drug Remoxy. Remoxy is an abuse-resistant oxycodone formulation developed originally by Durect Corporation (NASDAQ:DRRX), licensed to Pain Therapeutics (NASDAQ:PTIE) and partnered to PFE.
PTIE and DRRX have a market cap around 121 million. Keep this information in mind. Now, I will introduce you to a company that is similar, but has far greater potential.
IntelliPharmaCeutics International Inc
IntelliPharmaCeutics (NASDAQ:IPCI) is a biotech company specializing in the development and manufacturing of generic and novel drugs as well as proprietary drug delivery systems. The company's strategy in the pharmaceutical space is to turn currently marketed drugs that are developed for immediate release into patentable extended release drugs. The company is also currently working on new drug delivery technologies which could attain a large value if successfully brought to market.
Pipeline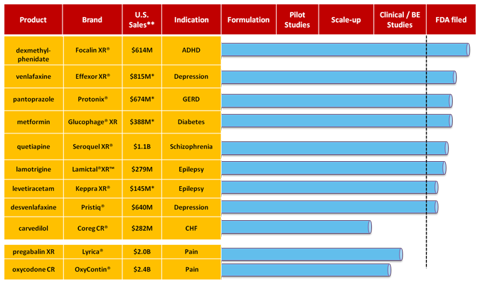 A total of 9 ANDA have been filed. IPCI lead product candidate (at this time), is a generic of Focalin XR, is partnered with Par Pharmaceutical Inc. Par Pharmaceutical Inc. markets generic drugs and innovative proprietary pharmaceuticals for specialty markets. Under the agreement, Par is to pay IntelliPharmaCeutics 15 million dollars upon approval, and royalties that are expected to be around 40 million per year. This will bring the company into profitability. Decision for approval of Focalin XR is imminent as you can see in this link.
REXISTA
On Jul 15, IntelliPharmaCeutics provided an update on its Rexista oxycodone development program which included: 1) results of the current stage of development and physico-chemical tests to assess abuse-deterrent properties of its Rexista oxycodone 2) stability studies and 3) successful phase I study of its Rexista abuse-deterrent oxycodone, designed around its proprietary drug delivery system.
Results from the physico-chemical studies demonstrate that Rexista oxycodone when pulverized and reduced to particles should be difficult and time consuming to syringe or inject and also inefficient to snort or inhale. Rexista oxycodone should be difficult to abuse through crushing, chewing or licking and should not dose dump, or instantaneously release the entire dose of oxycodone, in the presence of ethanol over a range of concentrations. Release of oxycodone from Rexista oxycodone is likely to be slower or not instantaneous in a range of beverages and solvents and it should be insignificant or inefficient via heating and vaporization.
The data from the phase I study of Rexista oxycodone in comparison with Purdue Pharma LP's OxyContin was positive. The data revealed that a single dose of 40 mg Rexista oxycodone was bio-comparable to 40 mg OxyContin. OxyContin is approved for the management of moderate to severe pain when a continuous, around-the-clock opioid analgesic is needed for an extended period of time.
IntelliPharmaCeutics intends to seek a Special Protocol Assessment from the FDA for assistance in conducting a pivotal phase III study on Rexista oxycodone. IntelliPharmaCeutics also has plans to look for a licensing partner for the phase III studies.
Additional phase I studies are expected by the fourth quarter of 2013, and IntelliPharmaCeutics expects to commence phase III studies by the first half of 2014.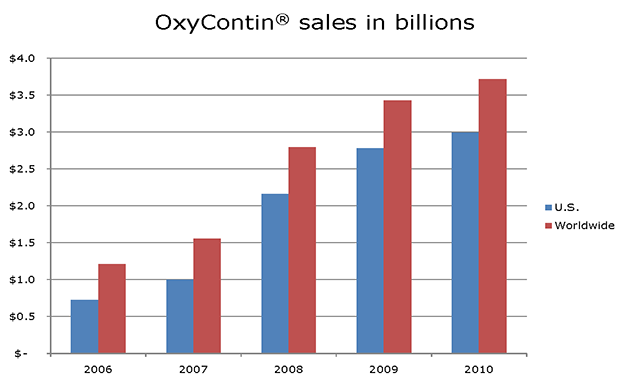 Conclusion
IPCI currently has a market cap of around 44 million at a price per share of 2.14. It is waiting on imminent approval on Focalin XR (one of their 9 pending ANDAs) and expects to be starting phase III studies on a tamper resistant Oxycodone in the first half of 2014. Compare it to a company like Pain Therapeutics, I can't come up with a logical explanation as to why the market cap is tripled compared to IPCI when PTIE only has Remoxy in their potential pipeline. I guess you could invest in the soap opera of PTIE or DRRX on the hopes that Pfizer will give the ok on Remoxy, or you could invest into a player who has shown positive results and are currently on track to put Rexista on the market. Astute investors are urged to do further due diligence on IntelliPharmaCeutics International, as it will likely reward investors with substantial gains in the near future.
Analysts $7.00 price target consensus:
Date
Firm
Type
Rating
(Past)
PT
(Past)
Start $
End $
% Chg.
Details
1/31/2013
Maxim Group
New Coverage
Buy
(N/A)
7.00
(N/A)
2.24
2.14
-4.46%
Details
9/11/2012
Brean Capital
New Coverage
Buy
(N/A)
7.00
(N/A)
2.86
2.14
-25.17%
Details
6/24/2011
Ladenburg Thalmann
New Coverage
Buy
(N/A)
N/A
(N/A)
3.43
2.14
-37.61%
Details
Disclosure: I am long IPCI. I wrote this article myself, and it expresses my own opinions. I am not receiving compensation for it (other than from Seeking Alpha). I have no business relationship with any company whose stock is mentioned in this article.