With real questions about whether retailers as a whole can maintain [their recent] bull run -- and serious near-term headwinds in the teen retail space -- American Eagle is in a precarious position right now. And it seems likely that things will get worse before they get better.
So I wrote earlier this month, after American Eagle Outfitters (NYSE:AEO) pre-announced disappointing second quarter results, with earnings per share guided down from 19-21 cents per share to 10 cents per share. But neither I, nor likely anyone else, anticipated just how quickly more bad news would come, and how worrisome that news would be.
On Wednesday, the company announced official results for the quarter, with earnings coming in at the guided 10 cents per share. Unfortunately, guidance for the coming quarter again disappointed, coming in at 14-16 cents per share, versus analyst estimates of 35 cents per share and year-prior profits of 41 cents per share. Shares would drop nearly 10 percent, as AEO would set a new 52-week low of $14.76 per share. All told, the stock has fallen over 25 percent in barely two weeks.
It's not hard to see why. Comps fell 7 percent in Q2, after a 5 percent decline in Q1, with guidance for another drop "in the mid- to high single-digits," according to AEO's post-earnings conference call. CEO Robert Hanson blamed some of the struggles on the company's women's business; but on the men's side, same-store sales fell 4% year-over-year in the second quarter. Gross margin fell 360 basis points to just 33.8 percent, well below the company's historical range of 38 percent-plus.
Meanwhile, the company's commentary did little to assuage investors. Hanson opened by saying "we're not at all happy with our second quarter performance," blaming a focus on fashion at the expense of the company's "foundational items" such as denim and T-shirts. CFO Mary Boland added that the quarter saw an "unacceptable financial performance." Beyond the company's errors of execution, both executives noted the intense discounting in the space, with Hanson noting an "unprecedented" level of price promotions. AEO has been forced to keep pace; indeed, a quick visit to the company's website shows the effect of the current competitive situation: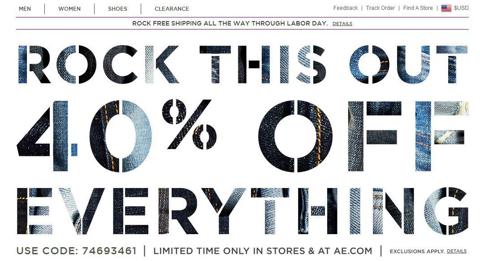 front page American Eagle website (ae.com), August 21, 2013
In short, right now everything about American Eagle looks worrisome. But, as many contrarians have pointed out, that is often the best time to buy a stock. And in AEO's defense, there are still some reasons for bullishness. At the midpoint of Q3 guidance, the company will have earned 94 cents per share on a trailing twelve-month basis; meanwhile, the company expects to have $600 million in cash -- over $3 per share -- at the end of FY14 (ending January). Even assuming the company hits the low end of Q3 guidance, and fourth quarter earnings fall by half year-over-year, AEO would earn about 62 cents per share for the fiscal year. At $14.76 per share, that would still be a fairly reasonable earnings multiple of roughly 19x EPS + the company's net cash; and, again, that assumes that AEO's weakness will continue for the next two quarters.
The question here, of course, is whether American Eagle can right its ship. Certainly, the macro factors cited by Hanson and other executives are very real; one need only look at the struggles at rivals Abercrombie & Fitch (NYSE:ANF) and Aeropostale (NYSE:ARO) for proof. (ANF is down 19 percent in early trading Thursday after its same-store sales fell 10 percent in Q2.) Teen unemployment remains stagnant, mall traffic appears to be dropping, and the back to school season looks likely to disappoint.
But it's worth pointing that American Eagle has historically been the strongest of the teen retailers; as an analyst noted on the conference call, even AEO's depressed margins remain well above those of Abercrombie and Aeropostale. While management has cited concerns outside of the company's control, they have also taken responsibility for their own failures. And as CEO Hanson pointed out on the conference call, the team that has struggled so far in 2013 was the same team that delivered record sales and earnings the year before.
All told, AEO has -- very quickly -- become a turnaround play, but the company's long history of profitability, its focus on returning capital to shareholders (AEO's dividend yield is now over 3.4 percent, and it paid a $1.50 per share special dividend late last year), and its traditional advantage over its rivals should give investors some confidence that a turnaround is possible, perhaps even sooner rather than later. In the short term, AEO may very well become a falling knife; the pressure from Abercrombie's weakness and the potential for further sympathy pains from Aeropostale's earnings report (after the bell Thursday) could easily drove AEO down toward the $12-13 per share level.
But at that level, American Eagle remains a best-in-breed retailer with solid fundamentals, even from a depressed earnings base. At some point, AEO will fly again.
Disclosure: I have no positions in any stocks mentioned, and no plans to initiate any positions within the next 72 hours. I wrote this article myself, and it expresses my own opinions. I am not receiving compensation for it (other than from Seeking Alpha). I have no business relationship with any company whose stock is mentioned in this article.